 ](http://careyindiana.com)
INDIANAPOLIS – When Chuck Pagano took the podium on Monday to discuss matters pertaining to the Colts' thrilling 39-33 victory over Denver, his emotions painted the moment.
After discussing injuries to other players, he arrived at Reggie Wayne, who tore his right ACL – an injury that derails for a period one of the NFL's greatest receivers ever.
"We hate to lose anybody.  This one stings," said Pagano.  "You just don't replace guys like 87, but he'll be back.  I know how he's wired.  I know what his DNA is, know how he is as a man.
"Everybody is going to say, 'No way,' but after the conversation I just had with him just wait and see.  We'll all put on the gloves for Reggie and help him get through this and get him back."
Pagano paused quite noticeably, not punctuating the words for effect.  The pauses were to strengthen himself while talking about a player very dear to his heart.
Pagano and Wayne were paired years ago at the University of Miami, forming a bond that extended through the years and was enhanced when Pagano came on board with the Colts in 2012.
One of his first efforts was to solidify Wayne's return from possible free agency, and Pagano saw Wayne reward the move by toiling unselfishly in a newer role.  Wayne had his fourth 100-reception season and helped the team jump from 2-14 to 11-5. 
Wayne this year had a team-leading 38 receptions and 503 yards before suffering the injury with 7:15 remaining.  Wayne was attempting to catch a pass from Andrew Luck that was a little off mark when he collapsed.
"What I'll do is I'll put the gloves on now.  He wore them a year ago, I'll wear them now," said Pagano of how Wayne led the team through Pagano's bout with leukemia.  "We'll get him through this, be there every step of the way with him.
"He's not going to leave this game like this.  There's no way.  He'll fight, get his surgery, get his rehab and grind line nobody's ever grinded.  He'll do whatever it takes to get back on the field, even if it's to catch one pass, make one more block, do one more thing to help this organization win one more game.  He's not going out like this."
Pagano regained composure the longer he spoke, and he knows Wayne will continue to contribute however possible.  To Pagano, Wayne is about integrity and winning.
"We've known each other for a long time," said Pagano.  "The way he is, the first thing out of his mouth is he feels he let his teammates down because he can't be there now.  That's how unselfish this guy is. 
"He could give a hoot about the numbers.  He just wants to play and help us win a championship.  That's what he's dealing with right now.  It's a (tragedy)."
Pagano said the team would get Wayne into meetings as quickly as possible, via "stretcher, wheelchair or (if) we have to carry him in" so he can be a counsel to others, particularly a young receiving corps.
"It's easy for the young guys, I told them, 'Just get in his hip pocket.  Do exactly what he does on a daily basis.  You want to stick around for a long time, you want to be productive, you want to write your own legacy, you want to be a guy in the NFL and not an also-ran who collects a paycheck and just sticks around for a couple of years, just do exactly what Reggie does,' said Pagano.  "From a leadership, mentoring standpoint, it's off the charts.  He's a pro through and through."
Wayne is one month shy of turning 35.  Last week at San Diego, he became the ninth NFL player to top 1,000 receptions.  His 13,566 yards rank 11th in history, and Wayne was halfway toward notching only the 17th 1,000-yard season ever done by a player at least 35 years of age.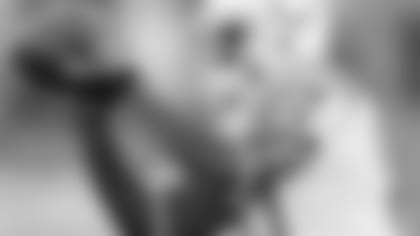 Wayne's 189 consecutive games played ranks second among active players.  The six-time Pro Bowler has not missed a game since November of 2001, and he stands as one of only six Colts ever to start more than 100 straight games.
Sunday was the 132nd regular-season victory in which Wayne has participated in his career, tying John Unitas and Jeff Saturday for second-most in franchise history (141, Peyton Manning).
Pagano is certain Wayne will rebound and continue a career that could end in Canton. 
"Just look in a man's eye and when he tells you he's going to do something, I can just look in his eye," said Pagano.  "I've known him a long time and watched him work over the years.  (If) he says, 'I'll be back.'  I trust he'll be back."
Wayne is the fifth Colts offensive player lost for the year, joining running backs Vick Ballard (knee) and Ahmad Bradshaw (neck), guard Donald Thomas (quadriceps) and tight end Dwayne Allen (hip).
INJURY UPDATE – Pagano said the club still was waiting test results on Greg Toler (groin strain), Josh Gordy (groin strain) and Mario Harvey (hamstring).  Cam Johnson's ankle injury was not serious, and MRI results on Samson Satele's knee were negative.  Satele is day-to-day.  Pagano has given the team the rest of the week off.
JIM IRSAY AWARDED GAME BALL – In the locker room following the win, Pagano awarded Jim Irsay a game ball, saying, "I think he earned it.  I don't think I'd be standing here today without the support of Jim Irsay and what I went through, what he did for my family. 
"The way he feels about his players, past and present, he would do anything.  The guy's got a heart of gold.  When he talks about faith, family and football, it doesn't vary.  It's in that order.  He gives us everything we need to win on the field.  He's the best there is in the NFL.  It was a way to thank him for his support."
RATINGS BONANZA – The Denver-Colts game had a 17.3 overnight rating and 29 share to make it the best primetime overnight for an October game in 15 years.  It was the fourth-best overnight rating in the eight years NBC has telecast Sunday Night Football.  In Indianapolis, the game drew a 49.1 rating and 71 share.  In Denver, the numbers were 49.6 and 71, both local-market records.