 ](http://careyindiana.com)
INDIANAPOLIS – Down 12-0 late in the first quarter against undefeated Seattle, Chuck Pagano's Colts rallied with two touchdowns in just more than two minutes.
Down eight points in the third quarter against a team that outscored opponents 44-7 this year in the fourth period, the Colts tallied 17 points in the final 19 minutes (11 in the last period) to gain a thrilling ninth comeback win under his tutelage – Colts 34, Seattle 28.
Nine comeback wins in 21 games since Pagano arrived.  How?  Why?
"It starts with our general, Coach Pagano.  He sets the tone," said Reggie Wayne.  "From day one, he tells us we're built to be a four-quarter team. 
"We're not going to be a three-quarter or three-and-a-half-quarter team.  Guys continue to keep fighting, work through adversity and find ways to do it."
Seattle scored 10 points in its first 13 plays, while the Colts gained but two yards.  A third Colts possession ended with a blocked punt rolling out of the end zone for a 12-point Seattle lead.  On a rain-soaked afternoon, it looked like a Seattle-type day indoors.
Four plays later, Andrew Luck found T.Y. Hilton for a 73-yard touchdown.  Eight plays later, Lawrence Guy blocked a field goal that Delano Howell plucked out of the air and returned 61 yards for a score.
Dubbed a heavyweight fight during the week, Pagano and his club saw Seattle move to a 25-17 third-quarter lead that was reduced to 25-23 before a Seahawks field goal bumped the count to 28-23 entering the last 15 minutes.
The Colts owned the final round, scoring 11 points, holding the ball 12 minutes, stopping two final drives, one with an open-field tackle of Russell Wilson by Jerrell Freeman and the final one where Freeman pressured Wilson into a game-ending interception.
"We knew it was going to be a heavyweight fight, 15 rounds," said Pagano.  "We knew they were going to make plays.  Our guys hung in, just an unbelievable effort.  This is the most resilient team I've ever been around.  They have more grit than any team I've ever been around."
Luck was among those hanging tough, hitting 16-of-29 passes for 229 yards and two scores, both to T.Y. Hilton (73, 29 yards).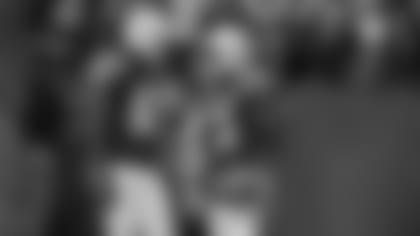 Luck hit 11-of-16 passes for 132 yards in the second half, with the second touchdown cutting into the eight-point deficit.  He later directed the two fourth-quarter scoring drives that iced a ninth final-quarter/overtime win in 21 career outings.
"I don't think it's in the DNA of a Pagano-coached team to hang your head, or to get too high when you're doing something well," said Luck.  "There's a certain consistency and coach is very methodical and always has a great energy that you're playing hard no matter what the circumstances." 
Pagano said his players responded to a halftime talk by promising to rush the ball and tackle better than in the opening half when it gained 29 yards on the ground compared to Seattle's 144.  For the game, Seattle had 210 rushing yards to the Colts' 109.
"We got into the fourth quarter.  Nobody's built better to win these close games, especially in the fourth quarter than this team," said Pagano.  "(It's) character, resiliency, toughness, grit, never quit, belief, faith. 
"We've got something special.  These guys know and understand it's a team top-to-bottom, all three phases.  Coaches, players (know) if you don't move away from the process, stick to preparing, executing the best you can, don't judge, keep playing, good things will happen."
So much of coaching is messaging.  Pagano gets his team's rapt attention.  The theme this week was a boxing match.  Wayne threw the last jab.
"We knew we had to keep playing, not give up.  We knew it was a 15-round bout, old-school boxing," said Wayne.  "I'd say Ali-Frazier, but that would be cliché.  It's one of those Ali-Sonny Liston (laughs), I don't know.  We'd keep counter punching, keep punching and hope at the end when they said 'ding-ding,' they'd raise your hand. 
"They definitely had us in the early rounds.  We kept playing.  Nobody gave up.  Once we got in the fourth quarter, we knew we had an opportunity."
COLTS NOTES – Seattle had won nine straight games…Indianapolis has won 10 of its last 11 games decided by seven points or less, 2-1 in 2013…Robert Mathis had his fourth straight game with multiple sacks…he is within a half-sack of his fifth double-digit season and he became the 30th NFL player 100 career sacks…"I can appreciate it (the milestone).  I never take it for granted.  It is a big milestone.  I'm very blessed.  I don't have time to (sit back and reflect).  We have a team goal, to play in New York in February.  Any and everything it takes to get there, that's what it takes," said Mathis…Trent Richardson rushed 18 times for 56 yards, while Donald Brown had six carries for 37…Hilton (140) had a seventh 100-yard game…Indianapolis held the potent Seahawks to three second-half field goals...the win left Indianapolis in first place in the AFC South.