In locker rooms everywhere, the 'next man up' mentality is preached because of the unpredictable nature of professional sports. Even the players who seem indestructible can miss a game from time to time, necessitating someone else to step up in their absence.
That was the case for the Colts ahead of their Week 9 game against the Carolina Panthers. MIKE linebacker and four-time team captain Zaire Franklin was ruled out of Sunday's game after battling a knee injury all week. It was the first game he'd missed due to an injury since being drafted in 2018.
That meant that second-year linebacker Segun Olubi had to play in his place.
"Going into Wednesday and Thursday, they kind of let me know like, 'Hey, there's a possibility you could get going on Sunday. So, just make sure you're prepared," Olubi said. "My mindset was to just to go in there and don't do anything spectacular in a way, just do what I normally do. I'm here for a reason, you know? I told myself to prepare the same way, so I can just execute and do my job."
Upon finding out he was going to start, Olubi began getting advice from several players around the locker room, including the man he was stepping in for.
"I understand what it's like to be a young guy put in a tough situation and expected to perform. You do so much and just try to make sure mentally that you're prepared and ready and don't miss anything," Franklin said. "But at the end of the day, it's just football. I told him before the game just go play. It's football, let it go. It's never gonna be perfect, it's not always gonna be right and that's a part of the game. But, just go out there play fast, play hard."
While Olubi had seen the field some prior to Sunday's game, it was in a minimal capacity. In the team's first eight games, he had played just nine defensive snaps.
Unsurprisingly, that number catapulted in his first career start, with Olubi playing 71 of the defense's 78 snaps. He took advantage of his increased playing time and racked up five tackles, a pass deflection and his first NFL interception in the 27-13 win.
"I thought he did a really good job of stepping in. We always talk about next man up, and he had five tackles and then obviously had the interception there down the middle of the field," head coach Shane Steichen said. "But for him to go in and do what he did was awesome to see. That's always good for any player on the team that has the opportunity to go in and make some plays when their number is called. It was really good to see from him."
Just as impressive as his play on the field was, the way that he took command of the defensive huddle was also commendable.
Wearing the communication dot on his helmet during the game, Olubi was responsible for reiterating the plays defensive coordinator Gus Bradley called to the rest of the defense.
Though it could be a daunting task getting those plays to everyone in a timely and efficient manner, cornerback Jaylon Jones said that Olubi held his own.
"He did amazing," Jones said on Monday. "He was a leader out there, definitely getting us the play calls and getting us in position to make plays and just being that guy - being that MIKE linebacker. It definitely paid off for him. He got a pick yesterday in his first start, so that's definitely huge. I couldn't be more happy for him."
By all indications, Olubi had made the most of his first NFL starting opportunity, which has become a common theme for the 24-year-old.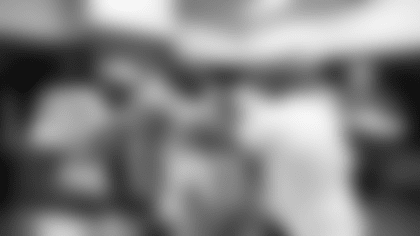 Though every player's path to the NFL is different, it's hard to find a player who's had more twists and turns than Olubi.
It all began in 2017 when he started his college football career at the College of Idaho as a safety. Despite finishing second on the team with 85 tackles, 0.5 sacks, 10 pass breakups, an interception and a blocked kick, he'd transferred to Saddleback College the following year. After spending a season there and the next at Harding University, Olubi returned to California where he walked on at San Diego State University in 2020.
"One of the things that I really appreciate about my college journey is that I got really good at getting better," Olubi said. "So, I think that one of my gifts is just being one of the best at getting better. Last year was a lot of development, just staying on that one percent mentality, trying to get better every step of the way. And that's led me to where I'm here now where I still have so much room to grow, but I understand how to get to that point."
Ahead of the 2021 season, Olubi earned a scholarship and was voted a team captain by his peers. He started seven of the team's 14 games that year and had 53 tackles, two sacks and two forced fumbles. His performance earned him a nomination for the Burlsworth Trophy, which goes to the best player who started his college career as a walk-on.
Despite not being selected in the 2022 NFL Draft, it was not long before NFL teams came calling. Ultimately, Olubi signed with the San Francisco 49ers as an undrafted free agent.
While he'd made a strong impression on the team throughout the offseason program, he wound up being released as a part of their final roster cuts.
Dealt yet another tough blow, Olubi refused to let himself feel dismayed.
"The drive that I have within myself, giving up just never really felt like an option," Olubi said.
His faith was rewarded as he was signed to the Colts' practice squad shortly thereafter. Following the 2022 season, he'd been signed to a reserve/future contract.
Now a member of the team's 53-man roster, Olubi's Week 9 outing has further established him as a player that the coaching staff can trust in a pinch.
"We felt really good about him being a backup to Z (Zaire Franklin). All of the sudden now it was like, 'Hey, here's an opportunity for him.' He did a good job," Bradley said. "We changed some things with him in there maybe that we game planned on Tuesday. But he handled it really well. For his first game to go out there and manage the defense, get us in and out of calls and make the checks – there's never a perfect game but we felt like he did a really good job for his first opportunity."
If for some reason his number is called again and he has to start another game, Olubi said he will be better than he was this past Sunday.
"Obviously, we looked at the tape and there was a lot of good, but there's also some bad," Olubi said. "Just look at that bad and make sure you know how to correct it and correct it fast. That's what the league is about, finding mistakes and correcting them quickly."