 ANDERSON – Robert Mathis is starting his 11th year with the Colts.  Mathis has been a driving force for the defense since 2003.  A man of few words, his words carry impact.  With training camp underway, Colts.com catches up with him.
Most fun thing I did during the summer – I took a vacation with my family.  To see my sons when they're old enough (18 months) to rip and run and break stuff, see how they act and how I was when I was that age was fun.  People told me what I used to do at that age.  Of course, I don't remember.  Seeing them do it, I know that it was me all the way.  It's Robert Mason Mathis II and Robert Jason Mathis III.  My wife is Brandi, and my daughter is Amyiah.  We did our vacation here.  We're Hoosiers.  We're deep-rooted and seeded here.
Teammate I expect to have a great camp and why** – Of course, Andrew Luck is the obvious answer.  I expect great things from LaRon Landry and also Bjoern Werner.  He's a smart guy.  He's (Werner) going to turn the corner faster than a lot of people think.
Song(s) and artist(s) I listened to the most this summer – Books?  Right now being a newly-married man, it's, '52 Things Wives Need From Their Husbands.'  I'm kind of reading that.  Music?  I always pretty much stick with T.I., a rapper from Atlanta.  He gives me motivation.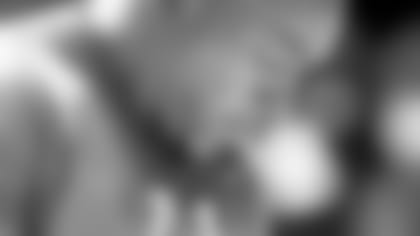 What I want to accomplish in camp – Just to get better and lead the team as well as I can.  I didn't come in that way, but it's my role now.  Things change over the years.
Toughest thing about training camp – Getting in and staying in the mental mindset.  You know when camp is coming, and you have to prepare, then do it daily.  Also, the first-week soreness is tough to deal with.
Most fun thing about training camp – The only fun thing is when it ends.  Any other answer would be less than the truth.
What you know now about training camp that you didn't as a rookie – The depth of the bonds formed is one thing.  It's kind of like forced friendships.  Once the bonds are set, it's set.  You develop bonds with your brothers, guys you go to war with.  In camp, the blood, sweat and tears, it means something.  To go through three weeks of it means a lot.
Best advice you received before entering the NFL and who gave it to you – I am here by no accident because of the truth of the saying, 'It's not the size of the dog in the fight, but the size of the fight in the dog.'  I'm the smallest male in the family.  I always was told to fight, but I had it in me anyway.  You have to fight to exist in every walk of life.  It's particularly true in my line of work.
The perfect meal is – Steak, potatoes and salad.  You can't beat the combination.
Who are the teammates you eat most often with in training camp and why – It's still the guys I've been around with – Reggie Wayne, Antoine Bethea, Adam Vinatieri.  The older guys with the team, we're like joined at the hip.  Also Cory Redding and now Ricky Jean (Francois).
Who was the NFL player you wanted to meet the most before you made the league and why – I have two, **Barry Sanders (see video)** and **Deacon Jones (see video)**.  Barry turned lemons into lemonade.  There were some years he had a couple of hundred or so yards in losses, meaning his 1,500 yards were a lot more.  He was tough and always ready to explode.  There's no one like him.  Deacon Jones = Sackmaster.  There are some things in this game identified with a player.  You always identify Deacon Jones with sacking the quarterback.