 ](http://careyindiana.com)
INDIANAPOLIS – Today marks the first practice day for the Colts without Reggie Wayne since 2001.
Wayne, who was targeted 1,597 times in his career by Colts quarterbacks, including 253 times in 2012-13 by Andrew Luck, is out of the mix for the rest of the season.
The wide receiving unit stands now with Darrius Heyward-Bey, T.Y. Hilton, David Reed, LaVon Brazill and Griff Whalen.
Chuck Pagano mused Monday that a detailed pecking order was up in the air, but he also felt talent on hand would have to emerge, and that included Heyward-Bey.
"We know from an athletic standpoint, speed standpoint, talent, what he's capable of doing," said Pagano.  "He's going to have to take on a bigger role as far as leadership in the classroom and on the field.  We feel like he's trending in the right direction and in a good place.  He's eager about this opportunity."
There is no doubt Wayne was the kingpin of the attack, though the targeting of the top three receivers by Luck this year was more balanced.
Luck directed 58 passes in Wayne's direction through the Denver game, with 54 going to Hilton and 35 to Heyward-Bey.  In 2012, Luck aimed at Wayne 195 times and Hilton on 144 occasions.
Monday, Luck said he did not see the offense being altered much.
"I don't think it changed," said Luck.  "I think we've got guys that will step up and fill that hole. It's too big of a hole for one guy to step up and fill, it will take a collective effort, but I don't think things will change too much."
Heyward-Bey has been a top receiver during his 2009-12 stint in Oakland.  Playing under multiple head coaches, coordinators and quarterbacks, he secured 140 receptions for a 14.8 average while being targeted 335 times.
Darrius Heyward-Bey Career Statistics

C.Palmer/J.Campbell/K.Boller
"I understand what my role on the team was, and I understand what it's going to be," said Heyward-Bey.  "Roles change week-to-week.  I just keep on reminding myself that I've done this before.  I've been the number one receiver for my team before."
Heyward-Bey had four receptions for 44 yards and a touchdown against Denver, plus a 30-yard reverse, having what he termed a "fun" outing on which he wants to build. 
Even prior to Wayne's injury, he saw himself as a prime target in the offense.
"I've always been, even with Reggie here," said Heyward-Bey.  "When the ball comes my way, I'm going to try to make a play.  Some of the routes I've been running were a lot of under routes, shallows, nine-yard stops.  Those things could change, but as long as we're getting first downs and moving the chains (I'm fine). 
"Whatever the coaches ask me to run, I try to run to the best of my ability and try to go out there and make plays."
Andrew Luck's Career Passing Totals*
Luck will be at the controls of a morphing offense, one with a power-running attack and a veteran target acquired earlier this year with a desire to establish a firm relationship with a talented quarterback.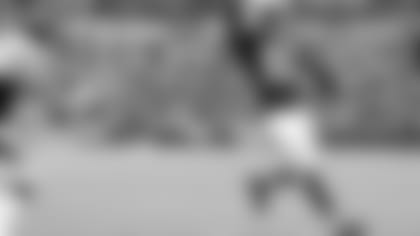 "He's a tireless worker, hard worker, and I think he's really starting to find his rhythm as well," said Luck.  "Great teammate.  I was real happy for him to get that first touchdown, sort of get that monkey off your back, if you will.  
"Offensively, we're excited about him and expect big things from him."
Said Pagano of Heyward-Bey, "We're still going to utilize him basically the same way we have been, try to put him in situations where he can be successful.
"He's a quiet guy.  He's a worker.  (He) leads probably more by example and hasn't had to.  I think some of those qualities will come out of not only him, but the other guys now with Reggie being gone."