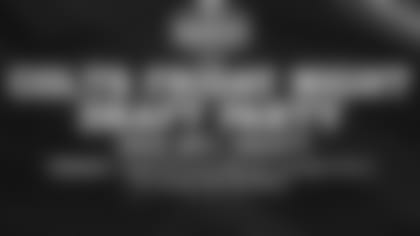 FREE TO THE PUBLIC
The Colts will be hosting a Draft Party at Lucas Oil Stadium on Friday, April 27th, from 6:00-9:00pm.  The Colts Draft Party is proudly presented by New Era and sponsored in part by Bud Light.  Fans in attendance will partake in a special appearance by the Colts #1 Draft Pick, collect autographs from current and former Colts players, meet the 2012 Colts cheerleaders and enter to win several prizes from the Colts.  The 2nd and 3rd rounds of the NFL Draft can be viewed from the field at Lucas Oil Stadium on the large jumbotrons.
During the Colts Draft Party, volunteers from Keep Indianapolis Beautiful will be collecting monetary donations to support a tree planting commemorating the 2012 Draft.  Each fan who donates will receive a coupon for an additional 20% off all sale and clearance items at the Colts Pro Shop and will have the opportunity to write a message welcoming the new draft picks to Indianapolis.  Some of those messages will be featured on the jumbotrons during the Draft Party.  In addition, Colts Owner and CEO Jim Irsay will match fans' donations up to $5,000.
Colts Draft Party Elements
6:00-9:00pm (Gates opening at 5:45pm)
*Free public parking in the Tire Barn South Lot
*Fans will enter the Lucas Oil North Gate or hhgregg South Gate
Special Appearance by the Colts #1 Draft Pick
Live Press Conference with the #1 Pick from Lucas Oil Stadium at 6:00pm
Autographs from Current and Former Colts Players
Colts Cheerleader Autographs and Performance

First Full Squad Appearance by the 2012 Cheerleaders Limited Edition Colts Draft Poster

Register to Win – Season Tickets, Autographed Items, Colts Merchandise and more!
Live Remove Broadcast from 1070 The Fan
Colts Inflatables
Play 60 Zone on the field
Locker Room Tours with the Vince Lombardi Trophy
Half Price Concessions
Colts Pro Shop Merchandise Sale
811 Call Before You Dig Chopper by Paul Jr. Design
Draft Coverage and more
About Keep Indianapolis Beautiful
Keep Indianapolis Beautiful, Inc. is a private, nonprofit organization uniting people to build community and transform public spaces through aesthetic and environmental improvement.  In 2011, KIB worked with more than 40,000 volunteers on over 600 community projects throughout the city.  To learn more, visit www.kibi.org, or follow us on Twitter @kibiorg and like us on Facebook at www.facebook.com/kibiorg.
The line for player and cheerleader autographs may be cut off at any time to ensure the players schedule remains on time.  Fans will be allowed one autograph per person, however fans may get back in line for additional autographs. 
The NFL Draft returns to primetime in 2012, with the first round taking place Thurs., April 26 at 8:00pm, followed by the second and third rounds on Fri., April 27th at 7:00pm.  Rounds 4-7 will be held Sat., April 28th beginning at 12:00pm.
For more information on the Colts Draft Party*, *media may contact Chuck O'Hara, Colts Sr. Director of Marketing at (317) 297-2658.  The on-site Colts Draft Party contact is Joe Fonderoli (317) 997-4376.