Emceed by the Colts' Jimmy "Mad Dog" Matis, it was a chance to catch up with former Colts center Jeff Saturday before his induction into the Colts Ring of Honor during the game that night.
Now settled back home in Georgia, Saturday said he misses Indiana and the people, but the transition has been a good one for his family. And like many others with young kids, life these days moves pretty fast.
"Oldest is in high school, which is mind blowing. Daughter in middle school, and one in elementary school. So, we run the gamut and everybody does sports, activities, Cub Scouts, you name it. So, we run, my wife Karen and I, we stay busy," he said.
In addition to working for ESPN, Saturday helps coach his son's high school football team.
"You can go talk ball, which is a ton of fun. You can stay involved in the game without having to live the game, like you used to as a coach or a player. And it's been a lot of fun."
"And you feel better on Mondays?" Matis asked.
"Much better," said Saturday. "Come Monday or Tuesday morning, I can get right out of bed, excited, wins or losses don't affect you nearly as much."
Joined on stage by his ESPN colleagues and Monday Night Football announcers Mike Tirico and Jon Gruden, Tirico called Saturday one of the most amazing stories in the NFL.
"For a guy who came into the league, he wasn't expected to be an All Pro, a Pro Bowler, or a Super Bowl Champion. What a great career you had," he said. "Congratulations to you for going into the Ring of Honor tonight."
Saturday summarized the entire experience as unbelievable.
"I tell people my career, if I summed it up, is better than I deserve. And to be here for 13 years and the greatest fans in the NFL and the support not only on the field, but off the field as well, to watch my name get permanently put up in the stadium, I could not be more humbled."
For Gruden, it was a humbling experience on Monday Night Football he chose to share.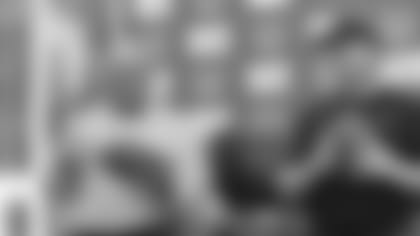 "I was coaching Tampa Bay, the defending world champions. We were playing the Indianapolis Colts. We were ahead 31-14 with five minutes left. We lost. When I think of Monday Night Football, I think of the pain inflicted on me by Jeff Saturday. He had a pretty good quarterback, didn't he? Peyton Manning."
And all three had praise for Indianapolis and the fans.
"As good a sports city pound for pound or person for person as there is in the country. And it's not just a statement because you're in this town. I mean that," said Tirico.
Another memorable Monday night for one of the greatest Colts players, in front of the greatest fans he could ask to play for.