 ](http://careyindiana.com)
INDIANAPOLIS – Eric Dickerson and Marshall Faulk will be inducted into the Colts' Ring of Honor this Sunday.  Dickerson joined the Colts in a trade on Halloween Night of 1987, and he provided treats for Colts fans for five seasons. 
In 61 games with the club, he rushed for 5,194 yards and 32 touchdowns on 1,258 attempts and had 138 receptions for 1,082 yards and three touchdowns.  Dickerson had three rushing titles with the Rams (1,808, 1983; 2,105, 1984; 1,821, 1986) when he joined Indianapolis in a three-team trade also involving Buffalo.  The blockbuster trade landed Dickerson in Indianapolis, while the Colts sent LB-Cornelius Bennett (their 1987 top pick) to Buffalo.  The Rams got six draft picks (three each from the Colts and Bills) and two players.  Dickerson added a fourth rushing crown with 1,659 yards in 1988, becoming the second Colts player to do so.
Dickerson left the Colts after the 1991 season, playing then for Oakland and Atlanta.  He retired after 11 seasons with 13,259 rushing yards and 90 touchdowns, 281 receptions for 2,137 yards and six TDs for 15,396 scrimmage yards
Dickerson was inducted into Pro Football Hall of Fame in 1999, and he receives a cherished honor in Indianapolis this weekend.  Dickerson talks about his days as a Colt: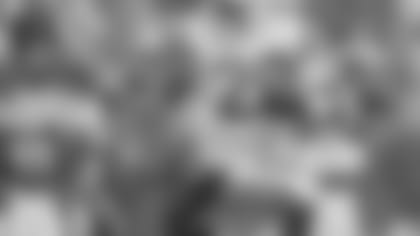 What does being inducted into the Colts Ring of Honor means to you?
It means a lot.  I played in Indianapolis for four years.  We had some good teams there, some really good teams, some great guys.  This is an honor for me, really it is. 
Your name is going on the stadium wall here, you're honored with the Rams and at the Hall of Fame.  Does that seem real to you?
Not really, because I did not play football for that reason.  I didn't play for all the accolades.  I played because I loved the sport.  The main thing is one day my kids can look at my bust at the Hall of Fame, or see my name at the top of the stadium in Indianapolis and St. Louis.  That's what it means to me more than anything.  I think it's for your children.
Are rewards like this humbling or exciting?
They're a little bit of both.  It's exciting because a lot of people who know me are looking forward to it.  I've gotten so many calls from guys I know and who I've played with who want to come in for it.  It's a humbling experience also.  There are not a lot awards left for guys my age.  To be put in a stadium that I've never played in even though I played for the Colts, that's exciting.  Any time you wear an NFL uniform, no matter what team it is, it is an honor.  It's an honor to play.  Only a very few guys get a chance to play in the National Football League.  I don't they realize that until it's over.  I realized when I was playing how fortunate I was from where I came from – a small town in Texas.  I appreciate the talent God gave me.  It's a very humbling experience for me.
What are your favorite memories about Indianapolis?
I would have to say that Monday Night Football game in **1988 (click here for 1988 review)** against Denver (laughs).  As a player, that was a special game.  We made the playoffs the first year I got there.  That was a crazy experience for the team, the city.  When I came there, there was an excitement about it and our team.  Those are things I remember.  There were guys I played with and keep in touch with, and we talk about the times when we played there.  We talk about some of my old games.  It's fun to reminisce.
How good were the 1987 and 1988 teams?
We had some pretty good teams.  Like most teams, you're missing a few ingredients.  **The 1987 team, we had a good, solid team (click here for 1987 review)**.  I just got there that year, so I was part of a nucleus that was already playing.  The 1988 team was another good team.  We had a tough schedule and played some tough teams.  Football is football.  You get some breaks and you don't get some breaks.  I think that's what happened to us with that team.  We didn't get some of the breaks, but we had a good team.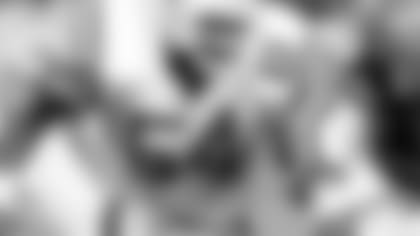 Who were your closest teammates, and how did you like running behind the offensive line you had?
My closest teammates were Jeff Herrod, Harvey Armstrong, Chris Hinton.  We had characters like Andre Rison (laughs).  We had some good character, Kevin Call, Ray Donaldson.  We had some fun guys on the team, and it was great to run behind that offensive line.  We kept together.  Those guys took pride in blocking just as much as I took pride in running the football, and that's what it's all about.  You have to take pride in your job and what you do.  We tried to instill that in our running game.  When you go to play, you're always going to run the ball, and they're trying to stop you.
What do you remember about playing Ron Meyer?
Oh, man, I love Ron Meyer.  Ron is my guy.  He told mother when she was alive and he was recruiting me to go to SMU, 'I'll treat him like he's my own son.  I'll get on him like he's my own son also.'   He did, he kept his word on that.  Until the day my mother died, she loved Ron Meyer.  Ron is a good friend of mine.  He's one of the best coaches I ever played for.  He's a stand-up guy for me.  I can't speak for everyone else, but as far as I'm concerned he's a stand-up guy.  I enjoyed playing for him.
CHECK BACK LATER TODAY FOR MORE WITH ERIC DICKERSON.