 ](http://careyindiana.com)
INDIANAPOLIS – Each member of the Colts' offensive line played every snap when Indianapolis beat Oakland 21-17 in the opener.
After 16 snaps in week two, things changed when left guard Donald Thomas suffered what he knew was a major injury against Miami.
"When it happened, I knew it was serious.  When I couldn't move my leg when they asked me to, I knew I was going to be out for a while," said Thomas.  "Initially, I thought I tore my ACL, but it was the quad tendon.  It's a little more serious than an ACL.  It's by far the most serious injury I've had."
In a sport where teams adapt on the fly, Thomas was taken off the field in an eye's blink.  It was the onset of an arduous rehabilitation and recovery.  
"It's a long recovery for this injury.  The (trainers) and I feel like I'm ahead of schedule," said Thomas.  "I feel good, but (not) as good as I want to feel.  I don't feel 100 percent yet, but I'll get there.  It's a daily grind.  The target is to return for training camp.  Every day is a progression, and I'll be ready for the season."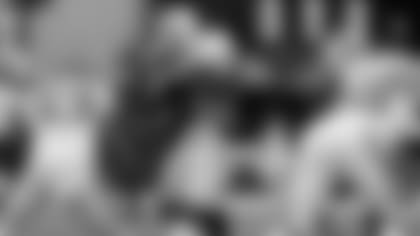 Thomas joined the Colts last year when Indianapolis inked eight unrestricted free agents in the first two days of the signing period.
He was to join Gosder Cherilus in bolstering the line, but Thomas ended up being one of four key offensive starters felled for the year in the team's first three games.
Thomas' 2008 debut season in Miami ended with a lisfranc injury to his left foot in the first game.  He feels a veteran perspective helped this time in coping with injury. 
"Absolutely.  I got hurt my rookie year, and that was tough to handle.  Six years later, I knew what to expect," said Thomas.  "I knew what to do to keep myself mentally stable.  Guys can lose it when they're on IR.  They don't know how to handle it. 
"I got a chance to focus on (family) as well knowing how to take care of myself.  I made sure to be where the doctors told me to be when they checked in on me.  Each time I had to hit a goal strength-wise with my quad I did.  I knew how to approach it."
Thomas arrived in Indianapolis with 21 starts and 43 games played, but he admits restlessness in that he still is an unknown talent for Colts fans.
"I still kind of feel like people (think), 'Is he really that good?  Is he able to help out with the offense,' " said Thomas.  "It was disheartening because I don't want to seem like I'm a letdown or bust. 
"That always runs through your head, but I know what I can do when I'm healthy.  I don't plan to miss a beat."
As Thomas medically progressed, he was able to be on the sidelines.  Missing physical competition was the hardest aspect for Thomas and even though he always has been a player to respect the game, he noticed a deeper regard for it.
"When you come into this game, you always know the injury bug is around and you don't know who it's going to bite," said Thomas.  "I've always had a huge appreciation for the game.  You never take it for granted.  You appreciate it even more when you have to sit back and watch it. 
"You see the camaraderie you miss.  You're not as able to be into it as you were before.  You appreciate it 10 times more, but, hey, you roll with it."
Thomas is among a handful of players who have maintained a daily presence rehabilitating at the Indiana Farm Bureau Football Center.  The target is to be an every-game performer in 2014 like he did in rebounding in 2009 from the lisfranc injury. 
"I've been blessed to have a few years when I was healthy the whole time," said Thomas.  "Gosder (Cherilus), (Anthony) Castonzo, they held in there strong last year.  I want be one of those ironmen with them.  I know what I need to do to be healthy for every snap.
"I look at this season from all sorts of angles.  The coaches know what I can do.  It's proving to myself that I can get going again and be better than I was before I got hurt." 
Thomas has faith in himself.  He has it from coaches, and he is hitting all marks in his recovery.  He hopes all of that will be visible to onlookers later this year.
"An angry Donald Thomas is what fans are going to see," said Thomas.  "There's going to be a chip on my shoulder each rep, each game.  That's the way I've always played. 
"I'm out there to put a stamp on my career, and I want to be here a long time."