 ](http://careyindiana.com)
INDIANAPOLIS – One arrived from the Rams in a 1987 blockbuster trade and one arrived as the 1994 draft's second pick before departing to the Rams, but Eric Dickerson and Marshall Faulk each spent five noteworthy seasons with the Colts that helped solidify them places in the Pro Football Hall of Fame.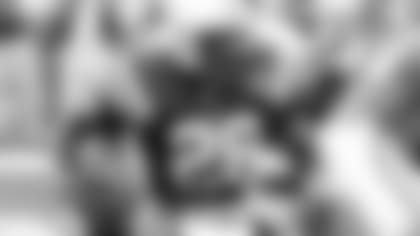 Those seasons with Indianapolis – 1987-91 for Dickerson; 1994-98 for Faulk – now have earned them enshrinement in the Colts Ring of Honor.
Owner and CEO Jim Irsay, who triggered the trade for Dickerson and oversaw the drafting of Faulk, has announced the pair will join the franchise's Ring of Honor on December 15 when the Colts host Houston.
"For me, it means a lot," said Dickerson.  "I played in Indianapolis for four years.  We had some good teams there, some really good teams, some great guys.  This is an honor for me, really it is. 
"For any player, especially for me, when you play for a team, you hope you do something that is pivotal for that team so that one day they will honor you for your playing career.  I've been out of the league for so long.  When you get to be my age (53), there are not a lot of honors left, except that white robe, hopefully, some day (laughs)."
Irsay landed Dickerson on October 31, 1987 in a three-team trade involving the Rams and Buffalo that sent Cornelius Bennett (the Colts' top pick that year) to the Bills and six draft picks and two players to Los Angeles.
Dickerson arrived having topped the NFL with 1,808, 2,105 and 1,821 rushing yards in 1983, 1984 and 1986, and he added a fourth crown in Indianapolis with 1,659 yards in 1988.
Dickerson earned three of his six Pro Bowl honors (1983-84, 86-89) with the Colts, as well as two of his five All-Pro selections (1983-84, 86-88).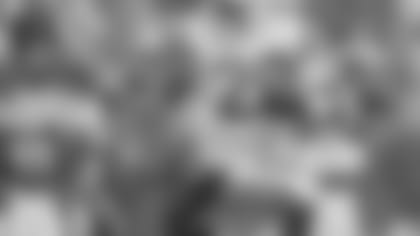 In 61 games for the Colts, Dickerson had 1,258 rushes for 5,194 yards and 32 touchdowns, along with 138 receptions for 1,082 yards and three scores.  He retired after the 1993 season having played also for Oakland and Atlanta and had 13,259 rushing yards and 90 touchdowns.
"He had the full package," said Albert Bentley, who started before Dickerson's arrival and shared time afterward.  "Part of what makes you a great running back is speed, agility and vision.  He had all three.  Eric could put it together very well. 
"He was a smart player on top of that.  Eric just had all the tools to be a great player in the NFL."
Dickerson was the second Colt to win a rushing title (Alan Ameche, 1955).  He remembers that 1988 title season well.
"At one point I was ahead of the pace for 2,000 yards, and then I started seeing more eight- and nine-man fronts (laughs)," said Dickerson.  "It was big for me to come out of the NFC where I led the conference in rushing and then join the AFC and do the same thing. 
"It showed the quality of team we had and the kind of player I was.  That's the biggest part of it.  I've always said football is the ultimate team sport.  No matter who you are, you have to depend on every guy on every play.  It's such a team sport." 
Dickerson left the Colts after the 1991 season and after two years, Faulk arrived and continued a franchise rushing heritage that also included Lenny Moore and Lydell Mitchell. 
Mitchell (5,487), Faulk (5,320), Dickerson (5,194) and Moore (5,174) all topped 5,000 rushing yards with the franchise.  Edgerrin James (9,226) eventually passed them as the Colts stand as one of five teams with five 5,000-yard rushers.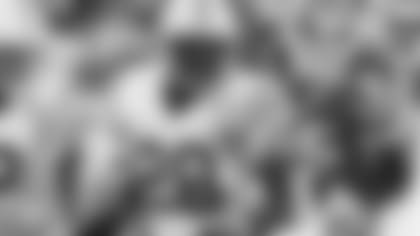 Faulk became the seventh league player to debut a career with consecutive 100-yard games, and his totals (1,282 rushing yards; 1,804 scrimmage yards; 12 TDs) led him to consensus NFL Offensive Rookie-of-the-Year honors and to the Pro Bowl, where he won the MVP award.
Faulk had four 1,000-yard rushing seasons (1994-95, 97-98) and earned three Pro Bowl and second-team All-NFL honors (1994-95, 98).
Faulk had a superlative 1998 season with 1,319 rushing yards and 86 receptions for 908 yards for 2,227 scrimmage yards, a club seasonal-record eclipsed in 2000 by James (2,303). 
Faulk joined Moore and Mitchell as then the only Colts with five straight 1,000-yard scrimmage yard seasons, and his 267 scrimmage yards at Baltimore that year still is the franchise record.
Four times in his five Colts seasons, Faulk accounted for at least 30 percent of the team's net yards, maxing out at 43.5 percent in 1998.  His 42.6 percent of gross yards that year then was the fifth-best NFL total behind O.J. Simpson, Walter Payton, Cliff Battles and Dickerson.
Faulk finished his Indianapolis career with receptions in his first 77 career games, a streak broken by Marvin Harrison (190).
Peyton Manning often said he "owed a debt" to Faulk for the 1998 season and how it made his rookie season easier. 
Faulk's acumen and talents aided Manning, and Faulk's first Colts coach, Ted Marchibroda, knew right away he had a special talent.
"The first thing that comes to mind about Marshall is he didn't miss an assignment," said Marchibroda.  "Right away we realized we had an intelligent football player, in addition to a natural athlete.  He was on top of everything, which was an indication of his intelligence, determination and willingness to learn. 
"The thing that impressed me the most was that in his second or third step he was running almost full speed.  He was able to do that and be quicker in that respect more than any other back I'd had ever seen.
"Marshall had his own style.  He was just a natural athlete.  He was a great runner.  Marshall had great, great vision.  He could cut on a dime and could make the big play running and in the passing game.  Marshall backed everything up with his ability."
Faulk remembers joining the Colts and being glad to have a chance to play a sport he adored growing up in New Orleans.
"I worked in the Superdome and sold popcorn just so I could get in the stadium," said Faulk. "I'm always reminded of being drafted second overall by the Irsay family and Bill Tobin believing in a kid coming out of college and giving me a chance to live my dream."
Those dreams took root with the Colts and led to the Rams, an inverted order than for Dickerson.  They both ended up in Canton, and Faulk shares the same wonder as Dickerson on being honored there and with two franchises.   
"To know in three buildings related to the NFL my name is going to be on those walls for my kids and my kid's kids to see, it's unbelievable, almost undreamable and unfathomable," said Faulk.   "I'm appreciative of it.  It means a lot. 
"It's (the Colts Ring of Honor selection) just awesome.  I cherish my time (in Indianapolis).  That was 1994 and almost 20 years later to be recognized by the organization, it's a great feeling."
Like Dickerson, Faulk cited teammates for helping make the induction possible.
"For Jeff Herrod, Kirk Lowdermilk, Randy Dixon, Zefross Moss, Will Wolford, Joe Staysniak, Roosevelt Potts, Marcus Pollard, Ken Dilger, they're going to look up there and share what I feel," said Faulk.  "They (and others) know every yard I gained was because of what they did.  My name being up there is my name, but they know everything I accomplished I did it because of their effort in blocking and doing their jobs."
Intertwined as closely as possible in jersey numbers with the Colts and Rams, Dickerson and Faulk share a friendship.  Faulk finds it appropriate to be honored along with Dickerson.  Dickerson shares the sentiment.
"Marshall was a great player, a great player, period," said Dickerson.  "The funny thing is our numbers were 28 and 29.  That's the funniest thing of all.  It's an honor to be going in with a player like Marshall."   
Dickerson and Faulk will join those previously inducted – Robert Irsay (1996), Bill Brooks (1997), Chris Hinton (2001), Jim Harbaugh (2005), Ted Marchibroda (2007), the 12th Man (2008), Tony Dungy (2010), Marvin Harrison (2011) and Edgerrin James (2012).