INDIANAPOLIS – Guys picked No. 151 overall don't do what David Parry did in his rookie season.
When the Colts saw Parry still on the board early in Round Five of the 2015 Draft, they had to make a move.
Trading up, the Colts were selecting a very sound interior defensive lineman for a position group needing new blood.
Unbeknownst to many at the time, Parry was about to be the Colts' starting nose tackle in 2015.
Parry was one of just 10 NFL rookies to start every game last season.
Seven of those 10 were taken in the first two rounds of the draft. Parry, selected No. 151 overall, was the lowest pick among the 16-game rookie starters.
With no true nose tackle joining the Colts during the 2016 offseason, Parry again looks to be the guy in the middle this season.
He's doing it with a slightly different looking 310-pound frame.
"My main offseason focus was to get a little leaner and increase my strength and explosiveness," Parry says.
When Parry looks ahead to his second NFL season, he wants to see the numbers on the stat sheet grow for No. 54.
Applying proper statistical data to guys playing nose tackle in a 3-4 defense isn't easy.
Parry's main responsibility is to eat up space, be gap sound, thus allowing for the linebackers behind him to rack up the tackles.
Take this play for example: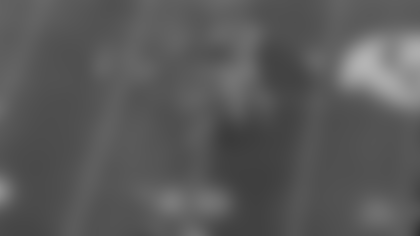 A third-and-one, facing Jets Pro Bowl center Nick Mangold. Parry makes this stop happen, yet such a note won't appear in the box score.
But as Parry looks ahead to 2016, he still wants to see his numbers rise in quarterback hurries (10), tackles for loss (4.0) and sacks (1.0), while maintaining his other nose tackle duties.
"Last year I was really focused on trying to take care of my gap, trying to make sure that I did my assignment," Parry says. "That's not going to change, but I also want to be an impact player out there."