 ](http://careyindiana.com)
INDIANAPOLIS – When the Colts walked off the Lucas Oil Stadium playing field on October 20, they had just beaten undefeated Denver in a thrilling prime-time affair, 39-33.
A bye weekend that followed did not dampen the Colts' cardiac capabilities.  Indianapolis traveled to Houston last week and erased an 18-point halftime deficit to produce a 27-24 victory over the Texans. 
The win kept Indianapolis, 6-2, two games ahead of Tennessee, 4-4, in the AFC South race.
With a four-game dose of divisional play looming, the Colts reach week 10 with a home date against St. Louis, 3-6.
The Rams will be making their first-ever appearance in Lucas Oil Stadium in league play, and they arrive after a 28-21 loss last Sunday to Tennessee.
This will be St. Louis' first regular-season visit to Indianapolis since 2005, though the Rams did meet the Colts in this venue to open 2012 preseason action, the first year for Indianapolis under Head Coach Chuck Pagano.
The Pagano tenure has been a very good run to date.  He has guided the Colts to wins in 17-of-24 outings, and the Colts never have lost consecutive games under his leadership.
The 24-game stretch to open a career places Pagano four games behind the franchise record for a coach starting his tenure as a field leader. 
Don McCafferty posted a 28-game streak from 1970-71 without consecutive losses when he inherited a veteran-heavy team from Don Shula.
Pagano has developed a tight-knit Colts bunch that has owned or shared the divisional pace in all but one week this season.
Key to maintaining that lead is a 2-0 AFC South record this year that was bolstered when Indianapolis overcame a 21-3 Houston lead last Sunday with a 24-3 second-half response in earning a road win.
It marked the 10th time under Pagano's command that Indianapolis has come from behind or in a tie with a fourth-quarter or overtime burst.
It did so last year against Minnesota, Miami, Green Bay, Tennessee (twice), Detroit and Kansas City.  This year, the Colts surged back to post late victories over Oakland, Seattle and Houston.
Last week, Indianapolis was playing without Reggie Wayne for the first time since 2001, and the club opened in uneven fashion in falling behind.
With 10 minutes gone in the third quarter, the Colts made their move by piecing together touchdown drives that covered 78, 67 and 52 yards. 
The possessions ended each time with Andrew Luck finding T.Y. Hilton on scoring passes covering 10, 58 and nine yards.  The last one came with four minutes remaining and the Indianapolis defense held Houston twice to secure the win.
Sunday's game with St. Louis is the third NFC West game this year for Indianapolis.  In addition to the 34-28 comeback home win over Seattle in week five, the Colts posted a dominant 27-7 win at San Francisco in week three.  The Colts visit Arizona on November 24.
St. Louis will be closing its AFC South schedule and hopes to gain a third win over the division.  Prior to losing to Tennessee, the Rams beat Jacksonville, 34-20, on October 6 and earned a 25-point win at Houston (38-13) on October 13.
St. Louis is led by Jeff Fisher, who for many years battled the Colts twice annually as Tennessee's head coach.  Fisher is in his second season at the Rams helm and has earned a 10-14-1 record.
The Rams suffered a disappointment on October 20 when starting quarterback Sam Bradford, the top overall pick in 2010, tore the ACL in his right knee at Carolina.  Kellen Clemens has started the subsequent games and has hit 37-of-70 passes for 387 yards.
Clemens, in his eighth season, will be making his 15th career start, his sixth with St. Louis.
Luck is but one Colts player who has starred through the first eight games.  Luck has hit 154-of-264 passes for 1,845 yards, while holding a plus-10 touchdown-to-interception bulge (13-3).
The offense has had three turnover-free games this year, and six giveaways rank first in the NFL, while the club's plus-seven ratio is third in the AFC.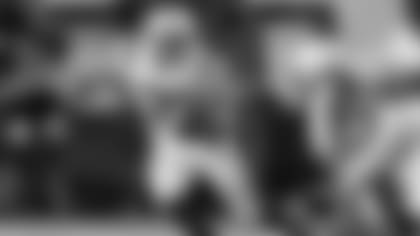 Despite losing two running backs for the season, the Colts are averaging 121.8 rushing yards per game, with Trent Richardson (248) and Donald Brown (244, 6.3 average) leading the way. 
Hilton's five scoring receptions top the team, and he is averaging 15.7 yards per reception, a solid follow-up to his 17.2 rookie mark.  The dynamic Hilton has six career scoring receptions of at least 40 yards, four from beyond 50 yards, and he owns a 37.6-yard average on his 12 career touchdown receptions.
Defensively, Robert Mathis paces the NFL with 11.5 sacks.  He amassed his total through seven games, the fastest pace to 11.5 in franchise history.  Mathis has produced his fifth double-digit season and is within reach of the club seasonal mark of Dwight Freeney (16.0, 2004), the only time the Colts have had the NFL's sack champion.
Adam Vinatieri (779) last week moved past Marvin Harrison (778) as the third-leading scorer in franchise history.  Vinatieri needs five points to motor ahead of Dean Biasucci (783) for second place behind Mike Vanderjagt (995).
Vinatieri has 70 points this year to top the club.  Thirty more would tie him with Jason Elam (16) for the most 100-point seasons in NFL history.
All numbers aside, the most important one for Sunday is seven.  A win to open the second half of the year would keep Indianapolis among AFC front-runners (9-0, Kansas City; 7-1, Denver; 7-2, New England; 6-3, Cincinnati).
It has been a gritty start evidenced by last week's win over Houston, the two-time defending AFC South champions.
"It was a great team win," said Pagano.  "One thing we know by now, this team never quits.  (It's) very resilient.  Our guys, we stick to the process – 60 minutes, all you've got one play at a time.  
"I don't know if there's a tougher quarterback in the league (than Andrew Luck), one that can make the plays under duress.  Credit him.  Credit our players for manning up and stiffening their spine and bowing their necks and finding enough to get a win."
QUOTE-UNQUOTE – Chuck Pagano on how he instills the importance of taking care of business at home):
"We always talk about win your home games, split on the road and you're probably going to make the playoffs.  You've got to dominate at home.  You've got to protect your house.  Our guys, we were 7-1 last year.  I think we're 3-1 currently.  It's the next game, good football team coming in here, it happens to be at home.  Is it a must-win?  Yeah.  We want to win them all. We prepare to win them all.  
"It seems like it's been a long, long time since we played at home.  Our guys are really excited.  No greater fans in the National Football League.  What they've done to this point and what they'll do Sunday at one o'clock will be outstanding, so it'll be great to be back at Lucas Oil."
* *
COLTS LARGEST COMEBACKS (*Playoffs)