 ](http://careyindiana.com)
INDIANAPOLIS – The Colts last week played a game at San Francisco many thought they could not win.  The result was a 27-7 victory.
Facing a winless Jacksonville team Sunday in a game many thought the Colts could not lose, they did not.  After allowing the first three points of the game, the Colts rolled to a 37-3 triumph.
"Credit these coaches and players for staying the course," said Chuck Pagano.  "We talk process, preparation (and) execution.  These guys were just amazing. 
"We've got such great veteran leadership.  They understand what's at stake – a division game on the road.  The performance by the defense to put back-to-back performances like that (is) a great team performance."
Since a disappointing home loss to Miami, the Colts have outscored their last two opponents 64-10 to push their record to 3-1, the ninth time in 12 years Indianapolis has had that mark or better.
The defense held firmly throughout the game and held matters in check until the offense hit its stride.
"It wasn't an ideal start.  It was more of a terrible start to the game offensively for us," said Andrew Luck.  "We followed the defense and took their lead.  They really set the tone for us.  We sort of woke up in the second half.  Those two scoring drives were big for us.  That is what we needed."
After snapping 11 plays, getting two first downs and committing a turnover on three game-opening possessions, the offense tallied on five-of-six drives to settle the matter. 
Luck hit 22-of-36 passes for 260 yards and two touchdowns, while the Colts' rushing attack rolled to 154 yards and a 5.3 average.  Three receivers caught five passes – Reggie Wayne (100 yards, one TD), Coby Fleener (77 yards, one TD) and T.Y. Hilton (48 yards).
Luck threw on 17-of-21 first-down plays in the first half as Indianapolis scored 20 points in the second period.  Darius Butler had the first touchdown with an interception return, then the offense had two touchdown drives to open the third quarter.
"A lot times, that's just how it goes," said Fleener of the offense that took to the air so often in the opening half.  "I think Andrew did an awesome job of taking what the defense gives him out there.  If it means throwing on first downs, so be it.  We're comfortable either way (rushing or passing).  With Andrew back there, I'm comfortable with any play call."
Luck hit his first eight passes of the second half for 120 yards and two touchdowns.  Luck and Fleener combined on a 31-yard scoring play for a quick-strike just moments into the third quarter. 
He and Wayne collaborated on a five-yard strike to extend the lead to 31 points as Indianapolis marched 12 plays on a drive that consumed 8:35. 
It was the second straight week Indianapolis had an extended drive that produced points.  Last week at San Francisco, the Colts had an 11-play, fourth-quarter drive that took 7:01 off the clock and ended on a scoring run by Luck.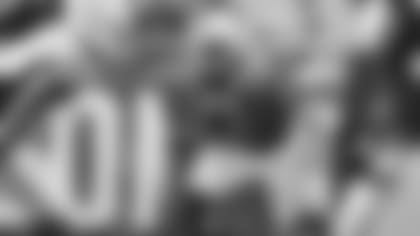 Indianapolis now has 12 10-play drives in four games, along with eight possessions that have milked at least five minutes off the clock.  Those numbers are among league leaders in both categories.
"It's huge," said Fleener of the sustained marches.  "Any time we can score at the end of the game to close it out, that's what it takes to win games." 
The Colts were missing a number of starters again this week.  After being down six last week against the 49ers, four more missed the Jacksonville game.
Samson Satele and Jeff Linkenbach again started at center and right guard.  Indianapolis was able to rush for 154 yards, the fourth straight game it has topped 100 yards.  Only twice in the past 30 years (1984, 1988) have the Colts opened a season with five straight 100-yard games.
NOTES – The Colts have consecutive road wins by 20-point margins for the first time since 2009, when they had three straight (9/27 at Arizona, 31-10; 10/11 at Tennessee, 31-9; 10/25 at St. Louis, 42-6)…the Colts have had 36:25 and 36:38 time of possession in the last two games, the first consecutive 36-minute TOP non-overtime games in the club's Indianapolis era...since 2003, the Colts are 26-10 in September, the NFL's best record during that month…the Colts have 4.9, 5.1, 4.6 and 5.3 team rushing averages in the first four games…this is the first time in more than 30 years the club had topped a 4.5 average in four straight games when it has rushed a minimum of 25 times…the Colts are plus-six in turnover ratio…the Colts have 12 10-play drives this season and eight five-minute drives…Matt Hasselbeck ran the Colts' last six offensive snaps…Luck started his career by taking 1,364 consecutive snaps before sitting…it is the fifth-longest streak by a quarterback in the club's Indianapolis era, with Peyton Manning holding the other streaks…Manning took the first 1,590 snaps to start his career before sitting down as Luck did in a wide-margin victory…Manning sat with a 41-point lead at Philadelphia in 1999, while Luck departed Sunday with the Colts ahead by 31 points...Reggie Wayne is the 11th NFL player ever to top 13,000 career reception yards and 80 career touchdown receptions.