When offensive line coach Tony Sparano Jr. found out that he had been hired as the Colts' new offensive line coach, he had one mission in mind: to get his unit to play five guys as one.
Over the past several months, he has effectively drilled that message into his players, which has helped revamp an offensive line that for years was viewed as one of the best in the NFL.
"He definitely emphasizes playing together and doing stuff outside of the facility and building the relationships because it actually does translate onto the field," left guard Quenton Nelson said. "When the defensive line runs stunts in games, you need to be able to pass that off. You need to set together in order to do that. Coach Sparano's been instrumental in the success of that."
But, what does it really mean to play five guys as one?
While the verbiage may change depending on who you ask, the central theme is that no matter who is on the field, everyone is playing in concert with one another.
"Playing five as one means everyone has to be on the same page every single play. But, if anybody messes up at any time, obviously everybody sees that and offensive linemen, that's our world," center Wesley French said. "You can only do positive things and if you don't, then the play doesn't work. So, being on the same page is number one for everybody. All five players have to be on the same page at all times. And after that, you just let it loose and you play and you have some fun. So, that's what it means to me is basically making sure that everyone's on the same page every single play. Mistakes are gonna happen, but just keep rolling and making sure that everybody's good."
The origins of the collaborative mentality came from Sparano's father, Tony, who coached in the NFL for 17 years.
"That's what he believed in, trying to take five guys and mold them into one unit and make them believe in one another, play for each other and see things really through the same set of eyes," Sparano Jr. said. "As I've begun my own journey in coaching, the best [offensive] lines I've been around have been the closest ones. The ones that I've been around that have struggled have been the ones that maybe haven't been as close. So, to me, that's the most important thing. I just think that's the foundation for everything. You have to start somewhere. You have to have like a bedrock of what you believe in and that's mine. So, if you can get them all together and build the group dynamic then you have a real chance to do something special."
A way that Sparano has encouraged his players to build chemistry has been for them to spend time with each other outside of the Indiana Farm Bureau Football Center.
Whether it's as simple as going to each other's houses or going out to eat, right guard Will Fries said those opportunities to get to know one another on a personal level have been key for the group's advancement.
"It's something where you go and spend time to [get to] know other people more personally and know them on a deeper level," Fries said. "Not always just talk football - we get to know each other on and off the field. Asking questions like, 'What's your family like?' and just joking around with each other. I think that's so important in building chemistry and building the unit. That's just been really fun this offseason doing a bunch of activities together and going to the guys' houses and getting dinner together. That's been super important to the whole unit's growth."
All of that time together has appeared to pay off through the first eight games of the season.
According to Pro Football Focus, the unit has a 71.7 pass-blocking grade (10th highest in the NFL), 72.8 run-blocking grade (fourth highest) and has allowed just eight sacks (tied for eighth-lowest).
Crediting their strengthened connection for their strong play, left tackle Bernhard Raimman said it is easier to play well when you know your teammates have your back.
"On the one hand, obviously, it helps with the chemistry on the field. The communication gets easier and you just learn so much more about the person playing next to you," Raimman said. "And then also on the other hand, when times get hard you're able to stick together in a whole different way than when you're not that close. You build these bonds outside of football and then when there's something going on with someone either football-related or not, we're there for each other. That just brings this whole football thing from like a fun level to a family level. It feels like a family business."
For Sparano, he knows the group is playing five guys as one by the way they cooperate with each other during a game.
"It shows up in little things, the way they're finishing blocks together, the way they're covering down the field, helping our guys off the ground (our running backs or receivers), the way they're helping each other up," Sparano Jr. said. "The way that they're kind of interacting with one another between plays, the way they're communicating with each other on the field certainly is a big one and then just what the synergy is in what we're doing.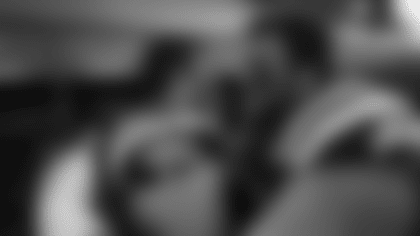 "Are they fitting combinations together well? Are they setting together well? You can see really easily – and I just use pass protection as an example – you can see really easily in my opinion when a player trusts those around him and when he's unsure of where guys are gonna be around him. So, that's big to me just watching how they play together, watching how they solve problems together and communicate together."
As the offensive line prepares for the grind of the second half of the season, Sparano knows that things will not get any easier for his group. However, as long as they continue to stay united and make the most of their time together, he said they can weather the storm.
"You get through that adversity by leaning on each other because you know the guys you're playing with really care about you. They don't only care about number 78 or number 56, you know? They care about the actual human being and they're there for you," Sparano Jr. said. "The term 'brothers' gets thrown around a lot in this game and to really play like that and build that kind of bond, I just think that's a special opportunity you have being a member of a team like this and being in one of these locker rooms to actually build that bond.
"I feel like if you don't, you'll leave the game with regrets and you never really quite achieved what you could. So, I just think you can't fake it. If you really want to get the most out of yourself and the group, you need to invest that time and you need to take the time to get to know each other and really care about each other."