 ](http://careyindiana.com)
INDIANAPOLIS – Readers of Colts.com may submit questions during the week and have a chance to have them answered during the middle of each week.  **Submit your question here**.
Here are responses to some of the questions received recently.  We thank you for your interest in the Colts.  Please make an effort to be concise when submitting a question.
THOMAS H. (from Richmond, IN) What can we expect from the Colts this year and are they going to be a power-running game?
A:  Chuck Pagano has expressed no retreat in his 'run the ball, stop the run' philosophy and won't until "they run me out of here."  I expect us to see great competition from Ahmad Bradshaw, Trent Richardson and Vick Ballard and even with a deep cast of receivers and tight ends, I think you'll see a blended look.  Last year's inability to run well on early downs partially led to a rash of games at mid-season where the team habitually played from behind.  Also, running the ball to drain the clock is something we seek.  I think the near-10-minute drive we had in Chuck's first year against Houston where we ran on 14-of-15 plays was something he'd probably donate salary to replicate consistently.  Well, maybe not, but you get the picture.  We are building that way, and we have selfless players who buy into the philosophy.  To answer your question, if we can do it, you'll see it.
ISAK H. (from Mexico City, Mexico) I think I found the perfect draft formula for the draft.  Draft Shayne Skov, Gabe Ikard, Ty Zimmerman, Aaron Colvin and John Urschel.  If that happened, the Colts would have four players formerly regarded as first-rounders who were forgotten in their senior seasons because of injuries or lack of media attention.  You also get Urschel, who is said to be a genius.  What do you think?  I have seen many comments on Ikard in the mailbag.  He has been compared to Brandon Burlsworth, but he resembles Jeff Saturday better.  Do you like the combination of players?**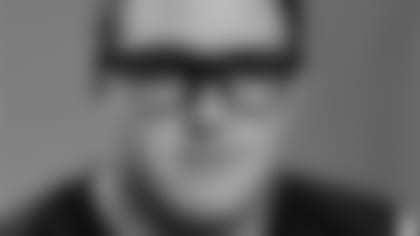 A:  The combination of the players you mention would fit areas some perceive as needs for us.  I see nothing wrong with how they played their careers.  I have no idea how our personnel staff views their abilities.  Each was productive in his own way, and you have regard for where they played.  They seem to possess the traits we like as an organization.  As for Urschel, he and Brandon Burlsworth epitomize the term 'student-athlete.'  The passing of Brandon in 1999 in a car accident was a tragic day for his family, Arkansas and the Colts (**please read this feature on Brandon**).  The loss of life was incalculable.  The loss of a player was very sad on its own.  I hope John gets the chance that Brandon prepared himself to have.  Thanks for the letter and your feelings for our team.
JOHN C. (from Bellerose, NY) Just looked at the schedule for this year.   Usually, I say do we win two games?  LOL.  I guess the good news is the rest of the division gets the same.  Do you see this year as a .500 division winner?
A:  I said the other day when someone says a team has an "easy" schedule or the "easiest schedule of any team," that person rarely played or coached.  Will it be easy?  No way, it never has been.  There's no doubt the AFC South was not the toughest division in the league last year, but that doesn't mean anything for this year.  We have a tough schedule.  While it's true only four upcoming opponents made last year's playoffs, it doesn't mean there won't be new faces in there this year.  In fact, that's usually the case, at least since 1990. 
NUMBER OF PLAYOFF TEAMS NOT IN PRIOR PLAYOFFS

1991, 1993-94, 1996-98, 2002, 2004, 2010, 2013

1992, 2000-01, 2007, 2009, 2011

1990, 1999, 2005-06, 2008
If we work hard, stick to our philosophy and stay healthy, we have a great chance to win.  I don't think you will see a .500 division winner.  I think whoever wins the South will win at least 10 games.  It's never failed to be the case.  This year's AFC South winner will not buck history, in my opinion.
RECORDS OF AFC SOUTH CHAMPIONS
Your question has pertained to some other divisions since 2002 realignment.  In the current format, there have been 10 division winners that did not win at least 10 games:  9-7 – 2002 Jets, 2004 and 2006 Seahawks, 2007 Buccaneers, 2008 Cardinals, 2011 Giants; 8-8 – 2008 Chargers, 2011 Broncos; 8-7-1 – 2013 Packers; 7-9 – 2010 Seahawks.
KERVENS P. (from Atlanta, GA) Why can't we learn how to play in cold weather with the roof open?  Champions can manage in any weather, not just a certain type. Also I am a musician.  I want to be close to the team as possible.  Can I give the Colts a theme song or something to motivate to get them and the crowd pumped?
A:  We have proved we can play well in any conditions, but we do not want to open our roof in inclement conditions.  We also listen to the feelings of our fans, and we likely would not open the roof if temperatures were forecast below 50 degrees.  We never would open the roof if precipitation were in the forecast.  There is too much computer equipment that cannot get wet to take the chance, plus there is no crown on the field.  We won last December at Kansas City in 22-degree weather and at Tennessee (in November) in 44-degree weather.  The times we have lost on the road usually have come down to execution, and the weather elements are not the problem.  (You never get in the excuse-making business, plus we do practice outdoors on weeks leading into a cold-weather game.)  As for a song, thanks for the interest in the team.  We're up for all ways to engage our fans (well beyond making them comfortable weather-wise).  If you want to send something along, I'm sure our entertainment staff would give it a listen.  Thanks again for your loyalty to the Colts, and the mailbag.
DAVE H. (from Sebring, FL) I was very disappointed with Phil Costa.  He had to be considering retiring when he signed.  Why go through the motions and waste teams' time when you're going to walk away.  I know the Colts will be better without him.**
A:  Let's just chalk it up to a move that did not work out.  Phil obviously made the decision that was best for him.  If there's a silver lining, his decision came at a time when we can shift gears.  There's time on the clock to prepare a different direction, if necessary.  We wish him well, and we'll forge on.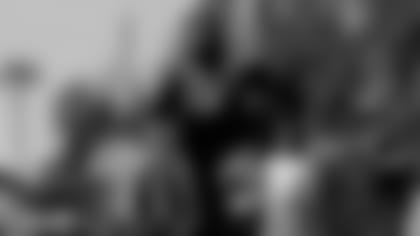 RICHARD T. (from Fort Wayne, IN) I read the mailbag last week and saw the comments on the draft's centers.  Maybe Marcus Martin is the guy to draft because we fans dislike him, as some of the previous centers.  I also saw that many Colts fans do like Gabe Ikard.  He has been mentioned in three or four mailbags in recent editions.  What side do you take, Martin or Ikard?
A:  If you want to see how I am ranking the top five centers, you'll need to read our site on Saturday.  We're running a series of draft preview/reviews, and the offensive line is scheduled for then.  Check it out.  Both Martin and Ikard are in my top five.  Other than that, I don't take either side, really.  I do want to convey we appreciate the opinions of our fans and we don't do things intentionally to fly in the face of their opinions.  I do sense you're having fun with your letter, so I am doing the same with my answer.  Phil Costa's retirement lessens the numbers we have at a critical position.  Khaled Holmes, who I think can make a difference for us, said he understood why the team made that move.  If Ryan Grigson and his staff are targeting that spot in the draft, we'll know before too long.  Both Martin and Ikard played pretty well in big programs.  They both should have a chance to develop in this league.  Here?  I don't know.  I'm curious just like you.  We do need solid line play for us to go where we want to go.
TED H. (from Indianapolis) With all of the new recent uniform/logo changes in the NFL, I was wondering if we can expect any type of new updated uniforms for the Colts any time soon?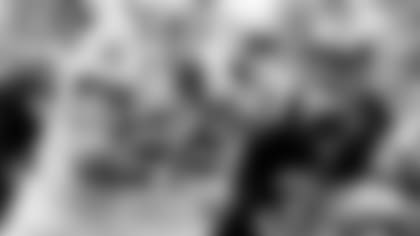 MATT C. (from Indianapolis) Now that the schedule is out, is there any word about wearing white jerseys again at home in preseason?
A:  We will be wearing white jerseys in the preseason home opener against the Giants.  It continues a tradition we started a couple of years ago.  There are no plans for any other things out of the ordinary (ie: throwback uniforms) during the regular season.
THERESA M. (from Fishers, IN) In the opening game against the Broncos, could we send Reggie (Wayne) out with the defensive unit to run routes?  I don't think Peyton could resist throwing the ball to him if he was open.  Too bad we couldn't do this last year in our stadium!
A:  It's not exactly the Pro Bowl where Peyton jumped conferences to take a snap from Jeff Saturday, but it's not a bad idea.  Reggie and Peyton have teamed on 779 previous completions, but we both know that number likely will stay intact.   It's fun seeing where your heart is with two of our greats.  I'm thinking you want us to be 1-0 when that one is over.