 INDIANAPOLIS – When Chuck Pagano took the field reins of the Colts in 2012, he said it was a priority to re-establish Lucas Oil Stadium as one of the toughest venues in the league.
"In the NFL, we've always said this, 'You go undefeated at home and split on the road, you'll be in the playoffs every year.'  This our home turf," said Pagano at the time.  "We're going to play great football here.  This is our house, and that's how we plan to go."
It was almost as if Pagano had a crystal ball.
Indianapolis split on the road and went 7-1 at home – presto, 11-5 and a playoff berth.
The Colts did it with a first-year head coach and general manager and a roster where most players were newcomers, including a rookie class that gained more yards (3,108) than any in the NFL since 1970.
They did it by jumping nine games in the won-loss column and without dropping consecutive outings all year.
Now the time comes to do it again.
Indianapolis has 34 returning players from last year, along with an incoming cast of veteran free agents that includes Darrius Heyward-Bey, Donald Thomas, Gosder Cherilus, Ahmad Bradshaw, Aubrayo Franklin, Ricky Jean Francois, Matt Hasselbeck, Erik Walden, Greg Toler and LaRon Landry.
There could be 10 new starters compared to opening day last year as the Colts begin their 30th season in Indianapolis.
The Colts host Oakland today in the season opener, the 16th* *time Indianapolis has christened a season with a home game.  The Colts are 12-17 in season openers in Indianapolis, 6-9 in home openers.
Since 1999, the Colts have produced a regular-season mark of 151-73, the NFL's second-best record, and some of the initial steps to building that mark have been in home openers.
During that span, the Colts have a 10-4 record in the first home game of a season, including wins in eight of those last 10 outings.
A LOOK BACK AT THE 10 VICTORIES IN HOME OPENERS SINCE 1999
Colts 31, Buffalo 14 – The Colts beat Buffalo to earn only the fourth opening-day win in their Indianapolis era.  Peyton Manning was 21-33-284, 2 TDs passing, while rookie Edgerrin James (26-112, 1 TD rushing) had a big day, along with E.G. Green (5-124 receiving), Marvin Harrison (8-121, 2 TDs receiving), Chad Bratzke (three sacks) and Tony Blevins (74t interception return).  James joined Alan Ameche, Randy McMillan and Marshall Faulk as Colts with 100 -yard rookie rushing debuts.  Indianapolis held Buffalo to 47 yards on 15 rushes.
Colts 42, Buffalo 26 – The Colts rolled to 555 net yards and scored touchdowns on six straight possessions in beating Buffalo.  Peyton Manning was 23-29-421, 4 TDs passing, while Marvin Harrison (7-146, 3 TDs receiving), Jerome Pathon (9-168, 1 TD receiving) and Edgerrin James (23-111, 1 TD rushing) had big days.  Manning tied then a career-best with four scoring tosses before adding a 1t rush.  James set then a franchise record with his fifth consecutive 100 rushing game.  The Indianapolis defense yielded 19 points and had four sacks.  The club scored 35 first-half points.
Colts 33, Tennessee 7 – Behind a defense that produced five sacks and two takeaways (one a 75t interception), the rushing of Edgerrin James (30-120, 1 TD rushing) and four Mike Vanderjagt field goals (29, 41, 23, 48 yards), the Colts beat Tennessee.  Indianapolis trailed only for two and a half minutes of the contest, erasing a 7-3 second-quarter deficit to earn the win.  Peyton Manning was 14-21-173, 1 TD passing, teaming with Marvin Harrison (3-59, 1 TD receiving) on a 35t strike.  The win was the first for the Colts over Tennessee since joining the AFC South.  Four different defensive linemen had sacks, including two by rookie Robert Mathis.
Colts 45, Green Bay 31 – Passing on the first 22 plays from scrimmage and totaling 35 first-half points, the Colts beat Green Bay.  Peyton Manning (28-40-393, 5 TDs passing) had then the third 5 -TD game of his career, while Reggie Wayne (11-184, 1 TD receiving), Brandon Stokley (8-110, 2 TDs receiving) and Marvin Harrison (5-65, 1 TD receiving) had big days.  Mike Vanderjagt booted a 45-yard field goal, tying his club-record streak of 21 consecutive games with a field goal.  His kick was the 177th of his career, setting the new club record (176, Dean Biasucci).  The Colts led at intermission, 35-17.
Colts 10, Jacksonville 3 – In a game that entered the third quarter scoreless, Indianapolis earned a comeback win over Jacksonville.  Jacksonville's Josh Scobee hit a 28-yard field goal 8:01 into the period, but Indianapolis responded two possessions later with a 17-play, 88-yard march that consumed 8:59 and ended with a 6t rush by Ran Carthon.  Mike Vanderjagt hit a 41-yard field goal with 1:54 to go.  The Indianapolis defense held at its 22 as time expired.  Edgerrin James was 27-128 rushing, while Peyton Manning was 13-28-122 passing.  Indianapolis had six sacks, three by Montae Reagor.
Colts 43, Houston 24 – Taking a 7-0 lead 2:12 into the contest in a game it would never trail, Indianapolis beat Houston. Peyton Manning (26-38-400, 3 TDs passing) directed an attack that produced 515 yards, including Marvin Harrison (7-127 receiving) and Reggie Wayne (6-135 receiving) topping the 100-yard mark.  Manning (2,820 career completions) moved past John Unitas (2,796) for most career Colts completions.  The Colts defense produced four sacks and four fumbles.  The victory started an eventual undefeated home record, making the Colts then only the 11th NFL team ever to produce a 10-0 home record (counting the playoffs) during a season.
Colts 41, New Orleans 10 – Scoring on five consecutive drives, the Colts turned a 10-7 deficit to a 34-10 lead on the way to beating New Orleans.  Indianapolis tallied on its first four second-half possessions behind Peyton Manning (18-30-288, 3 TDs passing), Joseph Addai (23-118, 1 TD rushing) and Reggie Wayne (7-115, 2 TDs receiving), while the Indianapolis defense produced three takeaways to fuel the offensive burst.  Manning hit Wayne on 28t and 45t plays, while Addai's 2t rush and Matt Giordano's 83t interception return pushed the Colts to victory.  The Indianapolis defense yielded only a field goal, and the 31-point victory margin was the largest in club history for opening-day.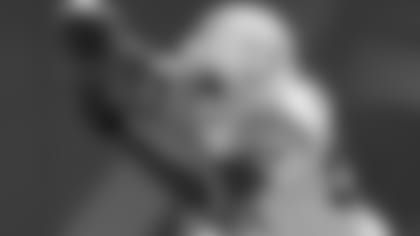 Colts 14, Jacksonville 12 – With a last-minute defensive stand near midfield, Indianapolis topped Jacksonville.  Indianapolis led most of the way in a contest whose outcome was not settled until the defensive stand.  Peyton Manning was 28-38-301, 1 TD passing, teaming with Reggie Wayne (10-162, 1 TD receiving) on a 35t third-quarter pass to provide a 14-6 cushion.   Jim Caldwell became the eighth Colts head coach to win his career opener (Keith Molesworth, 1953; Don McCafferty, 1970; Ted Marchibroda, 1975; Mike McCormack, 1980; Ron Meyer, 1986; Lindy Infante, 1996; Tony Dungy, 2002).  The victory gave the Colts their sixth 10 -game regular-season winning streak in franchise history (13, 2005; 11, 1964; 11, 1975-76; 11, 1999; 10, 2005-06).
Colts 38, New York Giants 14 – Indianapolis amassed 38 points, rushed for 160 yards and had three receivers tally touchdowns, while its defense recorded four sacks, forced three fumbles, had one interception and scored a touchdown in beating the New York Giants **(click here for photo gallery)**.  Peyton Manning (20-26-255, 3 TDs passing) led an attack that included Joseph Addai (20-92 rushing) and Donald Brown (16-69, 1 TD rushing), while Reggie Wayne (7-96, 1 TD receiving) and TE-Dallas Clark (5-83, 1 TD receiving) had solid outings.  Manning and Wayne teamed for their 63rd career TD connection, T2nd-most in club history (112, Manning-Marvin Harrison; 63, John Unitas-Raymond Berry).  Manning and Clark teamed for their 43rd career TD connection, T2nd-most in NFL history for a QB-TE duo (45, Drew Bledsoe-Ben Coates; 43, Sonny Jurgensen-Jerry Smith).  DEs-Dwight Freeney and Robert Mathis each had two sacks, while Freeney had two forced fumbles and Mathis had one.  Pat McAfee had five touchbacks on kickoffs (tying Adam Vinatieri at Denver 10/29/06 for the most single-game touchbacks in club history since the 1970 NFL Merger).  The game pitted QBs-Peyton and Eli Manning for the second time (2006), the only NFL games ever featuring a brothers as starting QBs.
Colts 23, Minnesota 20 – Indianapolis let a 14-point lead evaporate in the fourth quarter before earning a great comeback win.  Andrew Luck was 20-of-31 passing for 224 yards and two touchdowns to stake the Colts to a 20-6 lead, but he had to lead a 45-yard drive in the last 31 seconds to set up **Adam Vinatieri for a 53-yard field goal with eight seconds left (click here for Vinatieri photo gallery)**.  It was the first September game-winning drive led in the fourth quarter by an NFL rookie quarterback since 1971, and it was the first of seven comeback wins the Colts had in an 11-5 season.  The Colts' defense held eventual league rushing champion Adrian Peterson (2,097) to 60 rushing yards, his seasonal-low total.  It was Chuck Pagano's first win as Colts head coach.
COLTS HOME OPENERS AGAINST AFC WEST TEAMS (*Denotes Season Opener)
September 28, 1970, Kansas City, 24-44 Loss
September 28, 1975, Oakland, 20-31 Loss
September 11, 1983, Denver, 10-17 Loss
September 10, 2000, Oakland, 31-38 Loss