 ANDERSON – Sightings of Colts players in Anderson hardly are rare occurrences, but viewers of practices are seeing something new to the team – fullbacks.
The Colts have two on board in camp, Stanley Havili and Dan Moore.  People wanting to see fullbacks should look for the center of action.
"If you just follow the ball, a lot of times the fullback will be somewhere around," said offensive coordinator Pep Hamilton.
These are different times in Indianapolis.  An emphasis on a blended offense is in style and the intent to run effectively to relieve pressure on the passing offense is the intent.
Last year, Indianapolis attacked vertically and ran only about 40 percent of the time.  The sought-after blend does not necessarily relate to play-call percentages.  It is the goal of doing both effectively to create conflicts defensively.     
Hamilton chuckled Saturday when asked again what the offense would be named since he downplayed the "West Coast" label that was affixed upon his hiring.
Calling it the "No Coast" offense during the spring, he dubbed it the "2013 Version of Chuck Pagano's Colts Offense" yesterday.
Regardless of title, fullbacks will be prime components.
"I think we have to have a true sense of balance in our offense," said Hamilton.  "We got to be able to run the football as well as pass the football.
"We're going to do whatever we need to do to score ultimately, but a fullback, for us, being able
to run the power schemes, being able to run the football, is a prized piece in our offense."
Colts fans may scratch their heads now if picking Havili and Moore out of a crowd.  That is normal given the inattention paid to the position in recent seasons. 
Paul Shields, Jim Finn, Tom Lopienski, Craig Heyward were but a few of the fullbacks used during the Peyton Manning era, and debate could be made which were pure fullbacks. 
Of Manning's club-record 399 touchdown passes, the only one thrown to a fullback in regular-season action was to Luke Lawton in 2007.  The last fullback who started a majority of the games in a season in the club's offense was Zack Crockett in 1997.
Havili was drafted by Philadelphia in 2011, with Ryan Grigson serving as director of player personnel.  After a year on the practice squad, Havili started two of 15 games in 2012, when Grigson was in Indianapolis.
Now, Havili is in Indianapolis after a trade, and he is trying a position new to the offense, a position once more prevalent in the NFL.
Almost on cue, on the first snap of the morning walk-through Havili was in the backfield.  
"It's physical, doing what they ask you to do.  (I) just try to open up holes," said Havili.  "I played running back in high school.  I moved to fullback my freshman year in college. 
"It was frustrating at first, but it was a blessing in disguise.  I'd not be in the NFL now if I were a running back.  I love fullback, and I've embraced the position since my freshman year."
Havili says he still is unsure completely how he will fit in and cited the next three weeks as a proving ground.
As for Andrew Luck, who had the same backfield structure at Stanford, he is not tipping a thing about Hamilton's offense.
"You'll have to see in practice and the games," said Luck.  "There's a little bit of a different feel."
In team drills, Cassius Vaughn intercepted a Matt Hasselbeck pass and returned it about 20 yards for a touchdown.  Chuck Pagano wants the club to be plus-2 in turnovers in games this year.
Andrew Luck appeared in nine different sessions in 7-on-7 or 11-on-11 drills during the afternoon practice, hitting 22-of-34 passes for two touchdowns and one interception.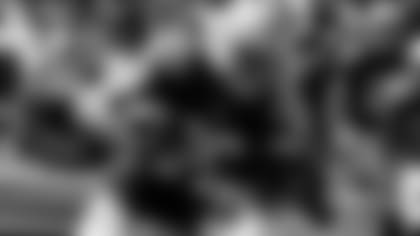 Luck teamed with Coby Fleener on a 20-yard TD pass in red zone work and with T.Y. Hilton from closer in during the same drill.  Hilton had tight coverage from Greg Toler on the play.
Luck hit mid-range completions to Reggie Wayne and Fleener for his longest plays.  He found seven different targets, with Wayne (seven) leading the group.
Toler had three passes defensed in afternoon work.
Pat McAfee hit tackle Bradley Sowell for a touchdown off a faked field goal.
Ben Ijalana practiced twice.  It was the camp-opening practice last year when he suffered a second serious knee injury.  Guard Hugh Thornton did not practice on Sunday, wearing a boot in both sessions.
Ryan Grigson said he hoped by next Tuesday free agent linebacker Josh McNary would join the club.  McNary, from Army, is fulfilling his military obligations.
PAGANO SAYS(On the need of creating culture and having new players learn it)
"It's huge, it's everything to me.  We went out and brought in a lot of new faces, I think 35.  Ryan and our scouting staff went out and found guys who have 'horseshoe' qualities that fit the culture.  These guys came in during the spring and the participation was great.  To come in and fit into the locker room, develop relationships with your teammates, that's how you win.  That's all part of the formula – guys who love to win, love to compete and buy into the culture."
"Yeah, he has (welcomed me).  I always just tell him, 'Trust me out there.'  I think he will." – Darrius Heyward-Bey on Andrew Luck.
Today is an opportunity to make things right & to make the best of what you are given. Make it great! – Matt Overton.
Chronologically, name the Colts' head coaches who brought teams to Anderson University for training camps.  ANSWER:  The Colts head coaches (chronologically) who brought teams to Anderson University for training camp were Frank Kush (1984), Rod Dowhower (1985-86), Ron Meyer (1987-91), Ted Marchibroda (1992-95), Lindy Infante (1996-97), Jim Mora (1998), Jim Caldwell (2010-11) and Chuck Pagano (2012-13).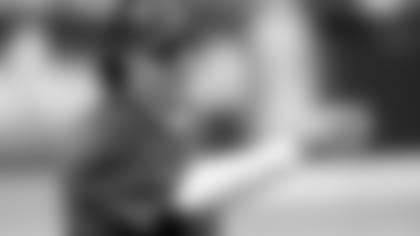 The Colts will face two former Horseshoe heroes this season in battling Jim Harbaugh (San Francisco) and Bruce Arians (Arizona).  The Colts faced two opposing head coaches last year with Colts coaching ties.  Who were they?  See the next Colts Camp Notebook for the answer(s).
TODAY'S NATIONAL COVERAGE
Bob Holtzman of ESPN and Kim Jones of the NFL Network attended camp.
AFTERNOON ATTENDANCE:  4,200.
The weather in Anderson on Sunday was mostly sunny and cool.  The morning walk-through was held in 54-degree temperatures, while the high for the afternoon session was 68 degrees with cloud cover.  Monday's outlook is dry and a bit warmer, with temperatures reaching the mid-70's.
Monday's practice session open to the public is 1:50 to 4:30 p.m.