 ANDERSON – Robert Mathis has authored memorable moments throughout his 10 seasons, but he penned one on Wednesday that made a training camp moment stand out.
The 6-2, 246-pound linebacker was teamed in pass rush drills against left tackle Anthony Castonzo, a third-year talent who checks in 6-7, 307 pounds.
Many times in camp, on-rushing defenders have been swallowed up when facing against Castonzo. 
Not this time.  Not Mathis.
A man of few words is a man of many moves, and his mental rolodex clicked into gear.
At the snap, Mathis sold an outside move, then spun left, went low and got past Castonzo.  He would have added to his 91.5 sacks had the dummy been human and it had been a game.
"That (move) was something I came up with like nine, 10 years ago when I was a young pup," said Mathis.  "It was just brought out to have fun and show him an old man still has it (laughs).
"I had my mind made up I was going to do it, just to see if he was going to take the bait.  I was able to pull it out and have a little fun with it."
Mathis has performed stealth missions since joining the Colts, ranking as the second-leading sacker in franchise history, with a chance to overtake Dwight Freeney (107.5).  That particular move, however, has remained under wraps.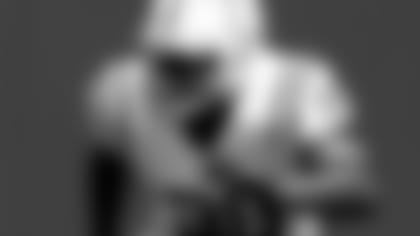 "In practice, it's worked a few times," said Mathis.  "It's not something I'm going to go out and do every, single time.  I've done it once, and it was years back in a Tennessee game.  I got a quarterback pressure.  That's about it."
Mathis has used speed, force and guile to get where he is.  Teamed with Freeney for years, Mathis hardly is flying solo in the club's 3-4 defense, though he has assumed the 'Rush' position played last year by Freeney.
"I'm really comfortable doing a little bit of both, left and right," said Mathis of how he is adapting.  "I've been kind of doing it for a few years, more so left side.  I'm a little more comfortable now."
Mathis admitted he may be a bit more of a marked man with Freeney in San Diego ("It comes with the territory, right?"), but he knows the big picture seen by Ryan Grigson and Chuck Pagano means he will have assistance from others.
"The guys they brought it, they brought them in for a reason," said Mathis.  "You have to trust in it.  Trust that he's going to get the job done.  No one is trying to replace anybody.  Just come in and do what you're brought in for.
"For the most part, we feel like we're coming together and we're going to make a lot of people proud of us."
Defensive first-teamers will see more action Sunday against the New York Giants.  Most saw only two series last week against Buffalo, and Bills running back C.J. Spiller gained 32 yards on two game-opening rushes.
Buffalo rushed for 136 yards, gained 451 total, rolled to 27 first downs and completed almost 80 percent of its passes for three touchdowns.
"We didn't go out there and intentionally lay an egg.  We're going to right the ship," said Mathis.  "I've been around 11 years, and preseason is about seeing who can play and who can play together as a unit. 
"It's kind of crawl, walk, run type of deal.  Every week we'll get better and just put it together as one unit."
Particularly in the sights this year for the unit is to tighten up a run defense that allowed 137.5 yards per game and a 5.1 average in 2012.  Year two in the system and the personnel imported will aid the matter.
"It's a greater point of emphasis," said Mathis.  "We're able to play faster because we're in the second year of it.  A lot of guys know what they're doing, what to expect from the coaches.  Coaches know more what to expect from players.  It's a little more of a comfort level."
Mathis said the vibe in practice this week from players is one of dissatisfaction over a sub-par opener.  The approach is to sharpen details. 
Owner and CEO Jim Irsay voiced his concern over the showing, too.  Andrew Luck praised Irsay for being a great owner and one who passionately wants to win.  Mathis is of the same mind.
"He's the keeper of the brand, the protector of the shoe (horseshoe), that's his job," said Mathis.  "He's the boss."
Matt Hasselbeck and LaVon Brazill provided the play of the day early in practice when they teamed on a deep pass behind Johnny Adams.  Hasselbeck hit Brazill perfectly in full stride to complete a long scoring pass.
Luck hit 15-of-18 passes on a day when he completed his first 11 passes.  The streak was stopped when he underthrew Reggie Wayne in the end zone, but Vontae Davis could not hold onto the interception.  Luck is 287-of-412 for 25 TDs in 7-on-7 or 11-on-11 drills in during camp. 
Luck and Darrius Heyward-Bey teamed up four times in practice, one of the few days when Wayne was not the most-often target.
Hasselbeck and Chandler Harnish teamed up on nice mid-range completions to Nathan Palmer and Dominique Jones, respectively.
Sergio Brown had a leaping interception of Harnish.
WR-Griff Whalen (groin), CB-Teddy Williams (quadriceps), S-LaRon Landry (knee), RB-Ahmad Bradshaw (foot), FB-Dan Moore (shoulder), LB-Josh McNary (hamstring), C/G-Khaled Holmes (ankle), G-Hugh Thornton (ankle) and TE-Dwayne Allen (foot) did not practice. 
S-Joe Lefeged suffered a strained calf during practice and did not finish.
Coby Fleener (concussion) practiced and still needs to gain clearance to play Sunday.  He will be observed tomorrow.  DT-Montori Hughes (stinger), Cassius Vaughn (wrist), LB-Mario Harvey and G-Danous Estenor returned to practice.  Pat Angerer was in pads and worked individually in conditioning drills.
PAGANO SAYS(On wanting a balanced offense)
"We want more balance, obviously.  A little bit has to do with the defenses that you're seeing.  There were probably a few more runs called that you go to the line with a, 'Check with me.' Rather than just slam your head into a brick wall, they force you into a run-pass check.  You get out of run and maybe throw a quick gain.  Having said that, we need more balance and we'll work on that this week.  We don't want to be 16 runs and 47 passes, ever."
FEATURED QUOTE (Antoine Bethea on if mistakes from Buffalo game are fixable)
"Yeah, most definitely.  We're just focusing really on communicating and just being honed in on not beating ourselves."
During the club's Indianapolis era (counting the playoffs) Peyton Manning threw six touchdown passes of 80-plus yards.  Who were his targets?  Also, name the franchise's five other quarterbacks during the Indianapolis era who threw one touchdown pass of at least 80 yards, and who were their targets?  ANSWER:  Peyton Manning (Dallas Clark (twice), Brandon Stokley, Marcus Pollard, Terrence Wilkins, Marvin Harrison), Curtis Painter (1, Pierre Garcon), Jim Harbaugh (1, Marshall Faulk), Jack Trudeau (1, Bill Brooks), Chris Chandler (1, Clarence Verdin), Mike Pagel (1, Wayne Capers).
When was the last time and who was the opponent when the Colts played a regular-season game where both benches were located on the same side of the field?  See the next Colts Camp Notebook for the answer.
TODAY'S ATTENDANCE:  739.  TOTAL FOR CAMP:  37,012.
The weather during Thursday's morning work was 66 degrees.  The temperature for the afternoon practice reached 71 degrees with sunny skies. 
The next practice for public viewing is Friday from 10:30 a.m. to 12:30 p.m.  It will be the final practice at Anderson University.