 ](http://careyindiana.com)
INDIANAPOLIS – When Chuck Pagano leads Teams Sanders onto the field at the Pro Bowl today in Honolulu, it will mark the first day of his third year at the Colts' helm.
Consecutive 11-5 records and playoff berths highlight Pagano's achievements, but the culture he has established has gone far beyond the numbers.
The feeling he instills inside is a major factor in a winning heritage continuing with a new leader.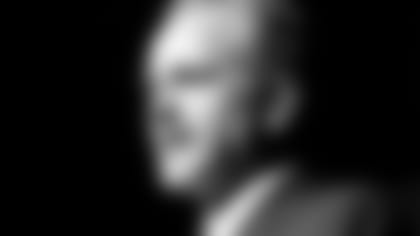 "It wasn't about the previous record (2-14) before Chuck (Pagano) came over here," said Cory Redding, "it's knowing that he was the head coach is the reason I came here, hands down, no ands ifs or buts about it."
Redding followed Pagano to Indianapolis after two years under him in Baltimore.  He had seen Pagano in a position coach role in 2010, then as coordinator.
Redding said the bond grew tighter as Pagano's status elevated, thus he knew the man patrolling the sidelines with the Colts still would be a perfect match.
"Coming here knowing the situation and the kind of team before he got over here didn't even matter because Chuck was in this position," said Redding.  "I knew that whatever he was going to do was going to be great.  Our relationship is just tight like that.  (I) came here and went on this journey (with him)."
Redding has been along as Pagano became just the eighth coach in history to have consecutive 11-win seasons to open a career. 
NFL Coaches Starting Career with 11-Plus Wins in Consecutive Seasons
*Made Playoffs   #Won Super Bowl          
He saw Pagano have a winning path that equates among the franchise's top coaches, and the 22 wins Indianapolis earned under his command in a career-opening two-year span tie for the seventh-most in NFL history. 
MOST WINS IN FIRST TWO CAREER SEASONS

George Seifert, S. Francisco

Steve Mariucci, S. Francisco

Jim Harbaugh, S. Francisco

Allie Sherman, N.Y. Giants
Numbers are numbers and wins are wondrous, but it is what Pagano contributes that is telling.
"The poise, it's contagious," said Robert Mathis, who stayed in Indianapolis under Pagano.  "It comes from him and it just flows throughout the team that nothing is ever done until it's done.
"Keep playing and just don't know any better besides playing until the last snap.  It's a 60-minute ballgame, just go and keep going."
FASTEST STARTS AMONG COLTS COACHES

*Denotes 10-plus wins/playoff berths in consecutive seasons to start career
Pagano has his players toiling for each other.  One team approach is there will be enough credit for everyone when good things happen. 
Pagano wants his players to refrain from judging predicaments when they occur and play each play at full speed and with complete commitment because key plays turn games.
"Chuck set the foundation – believing in one another, not judging, pointing fingers," said Redding.  "(There's no) saying, 'You ain't doing this, you ain't doing that.'  It's, 'It's my mistake fellas, I let y'all down.  I'm going to get y'all back the next play.'
"It's the sense of family.  We lay our lives on the line for each other every day.  When you have a group of men who do that on a daily basis, a tightness and bond develops, and there's nothing that can break that."
The longest-tenured Colt, Reggie Wayne, re-upped with Indianapolis when Pagano came.  Wayne had known Pagano from collegiate days and wanted to be part of the process.
Antoine Bethea, like Wayne, played under successful coaches in Tony Dungy and Jim Caldwell and feels the program built by Pagano and Ryan Grigson is special.
"I think it pays dividends just having him in the building, laughing and joking on the field, just leading this team and being our leader," said Bethea.
Grigson went out of his way last week to praise Pagano for his efforts over the two years they have led the charge.
"Our head coach, who in less than a year, took on the task after beating cancer and got a team to 12 wins in less than a year from defeating an illness the likes of cancer (is amazing)," said Grigson.  "His leadership, the foundation he's laid is one that's been made of stone, and it's been a rock through the storms we've had to take on the last two years.  It's a credit to him."
Indianapolis has roared from behind to win under its leader 10 times in fourth quarter or overtime.  The most recent comeback from a 28-point deficit against Kansas City was the second-largest in NFL playoff history.
Coaches join players in enjoying the process under their leader.
"It's great.  He holds everybody accountable," said Pep Hamilton.  "He has his own style of leadership.  Accountability is at the top of the to-do list.  
"Know your job and do your job, and he expects you to.  We take a lot of pride in the (Horseshoe) and making sure that we support our head coach, the leader of our locker room."