 ](http://careyindiana.com)
INDIANAPOLIS – When the Colts lined up defensively last year for the first play of the third quarter at Kansas City, they had held Jamaal Charles to 48 yards on 10 rushes.
Seconds later, he had 134 yards on 11 carries, and his 86-yard scoring burst and eventual 226 rushing yards ranked among career marks set against a franchise that was in its sixth decade.
Last week, Charles almost scored six touchdowns, and he attacked from the outset.
Charles took an Alex Smith pass 49 yards for a score on the first play at Oakland, and his red-hot performance in the Black Hole was Canton-like.
Charles became the first NFL back with four touchdown receptions in a game and the first player regardless of position to score that many times via the air plus once on the ground.
"He's everything.  He drives the bus," said Chuck Pagano.  "Everything goes through him.  As he goes, they go.  The guy is Public Enemy No. 1."
While Pagano coaches a handful of miles from John Dillinger's resting place, he does not want Charles (1,181 rushing yards, 4.8 average, 11 TDs) breaking the Colts' bank.
"He's a rare athlete, a combination of speed, power and vision," said Pagano, "(an) unbelievable receiver (who) leads their team in receptions (65).   The numbers (655 reception yards and seven TDs) speak for themselves. 
"It's going to take more than one guy to get him down.  If you don't set an edge (and) give him the sideline, he can take it the distance.  It's 11 guys on defense doing their job.  Everybody's got to be singing out of the same hymnal."
Last week, Charles became the 11th player ever with five scrimmage touchdowns in a game, and his four first-half tallies made him just the 10th player since 1940 to get them in the opening half of a contest.
"It's pretty much everywhere," said Greg Manusky of where Charles stresses a defense.  "He has great sightlines, vision, can catch the ball out of the backfield.  We have to make sure we're going to play for 60 minutes.  The most important thing (is) surrounding him with as many hats as possible."
The four-time 1,000-yard rusher ranks fourth in NFL rushing, fifth among NFL backs in receptions, second in league scrimmage yards (1,836) and first in NFL non-kick scoring (108 points).
"Jamaal Charles is the key to the offense.  We all know that," said Cory Redding.  "We saw what he did against the Raiders last week (eight rushes, 20 yards, one TD; eight receptions, 195 yards, four TDs), and he's very capable of being that kind of player every week. 
"We have our hands full.  We're ready for the challenge again and looking forward to facing him."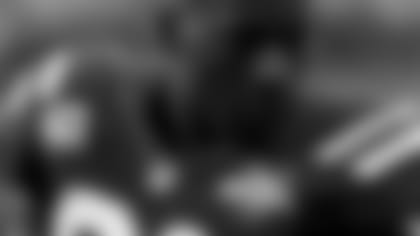 Robert Mathis reiterated Pagano's point about being in concert as a unit, saying each player should, "just do your assignment, play football and (follow) technique.
"He's a special talent, a guy you have to account (for).  You cannot lose track of him at any down because he can make you pay running, passing, whatever."
Beyond the quick-strike ability, Charles is helping the Chiefs average 125.6 rushing yards per game (11th in NFL), and their 31:31 possession average is fifth.
Charles has scored on four career rushes of at least 80 yards, has amassed three 200-yard outings and had 5,523 career yards on his 1,000th career carry, a total more than, among others,  Adrian Peterson, Maurice Jones-Drew, Chris Johnson, LaDainian Tomlinson, Edgerrin James, Curtis Martin and Marshall Faulk.
"He's a tremendous player," said Alex Smith.  "The thing that's special about him (is) he doesn't come out of the game.  The guy's out there for every situation.
"You don't find that very often in the NFL, a guy who can be out there on first and second down. He can be out there on third down.  He can be out there on short-yardage and goal-line.  It speaks to his versatility, mental capacity and preparation.  There's not many backs that do (that), and he's a weapon in all those situations."