Moving around the football field is nothing new for Penn's Auden Jones.
"I welcome challenges," explained the 6-foot-2, 310-pound senior lineman. "I have dedicated myself to the game and want to help my team in any way possible. I just love the game of football. I love contact and I love being able to be physical and nasty on the line of scrimmage.
"At 6-foot-2, I may not have the elite height, but I feel no one is going to match my grit and toughness."
During his freshman and sophomore seasons at South Bend Adams, Jones was a fixture at one of the tackle slots for the Eagles.
All of his hard work earned him a spot on the 2021 Northern Indiana Conference's East-West Division first team.
After transferring to Penn last fall, he started out up front as a guard, only to make the switch to the center position during the course of the season.
When all was said and done, he once again was an all-NIC East-West Division first-team selection.
However, he can't take all of the credit for his success and versatility.
"I couldn't have done it without my father (Antwon Jones) and my trainers from Velocity Football Academy (coach Josh Richardson and Luke Schultheiss) in Atlanta, Georgia." Auden Jones said. "We have gone to Velocity during my spring break for the past few years to receive training from them as they specialize in training offensive and defensive linemen. They are incredible coaches and mentors.
"My dad has always preached the importance of being able to play multiple positions on both sides of the ball and I bought into that. My dad and I worked a ton this summer after practices and in our spare time to get me ready for this year. I have also worked a ton with (Penn wrestling coach) Brad Harper on getting my weight right and I plan to dominate on the (wrestling) mat this winter."
This was definitely evident on August 18 in the season opener at defending Class 5A state champion Valparaiso when Auden and company paved the way for the Kingsmen to accumulate almost 300 yards rushing and over 400 total yards in a 38-21 victory.
"Auden is a determined young man," said Penn assistant Antwon Jones, also Auden's head coach at Adams. "He has come so far on the gridiron and is constantly working and studying the game. The kid would give up his spring breaks and travel to Georgia to work on his craft at Velocity Football Academy in Atlanta. He just keeps getting better and going into his senior year, he has become more determined to help his team and leave his imprint as a Kingsmen.
"Just watching him and his interactions with his teammates on the sidelines, you can see his enthusiasm and energy is infectious. When we get home and watch film, he's constantly telling me what he has to improve on or how he should have taken a better step. He is extremely hard on himself and has high standards for his performance.
"I feel he does a great job of being receptive to different styles of coaching (attendance at camps and working with different coaches) and being a team player. Auden is motivated and believes this year he will make people forget he's only 6-foot-2 and they will see the monster he has become. I firmly believe he will do that.
Growing up on the sidelines and practice fields with his dad, who played at the University of Notre Dame (1996-1999) was definitely a learning experience for Auden.
"Having your father as a coach has definitely helped me greatly in my development as a player and with my football IQ," explained Auden Jones. "Being the son of a coach can sometimes be hard because you are always being watched by some parents or players so you have to have higher expectations of your performance. Otherwise, people will say 'Oh, he's the coach's son', but over time you learn to embrace that and use it to your advantage. As far as my dad playing at Notre Dame, I think it's absolutely awesome. At first, when you get into high school, everybody comes up to you and asks 'Hey, are you going to be as good as your dad?'
"You could say it was difficult playing for my dad as he has always been known for being a tough coach, but one that also cares deeply for his players. I have embraced having higher expectations set upon me by my father, being my head coach. It has taught me that you always have to push yourself because someone is always looking and waiting for you to underperform. I wouldn't change it for anything in the world.
"When I was younger that was intimidating, but my dad has always told me he doesn't care where I play football or if I even play football. What's important for him is that I become a good man and protect those who can't protect themselves. At the end of the day, his experience and football career has helped me become the player I am today."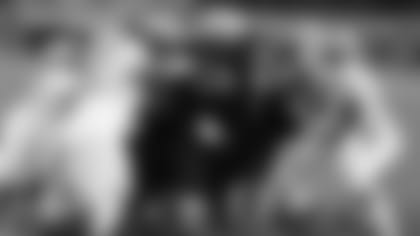 This attitude also earned Auden a spot on 2023 Indiana Football Digest's Prime Time 25.
"I've seen multiple players that played for my dad and received awards and recognition at the Griddy's (awards program), so it had always been a goal of mine to be on the cover of the Indiana Football Digest," said Auden Jones. "I was blessed to be selected this year and even being considered for such a thing is an honor. It really lets you know that people don't just watch what you're doing on the field, but they watch what you're doing off the field and how you treat people. I am truly just honored."
"Since he was in elementary school, he has protected kids and made sure they didn't feel excluded," said Antwon Jomes. "When we were members of the Unified track team together, there would be times when I would get caught up in watching Auden work with the other kids. The smiles he would bring to their faces was heartwarming. They knew they had gained a lifelong friend and protector with Auden. His mom and I are so incredibly proud of him."
When his dad, who was a South Bend policeman, decided to make a career change and take a position working with security for the Penn-Harris-Madison School Corporation, making the switch from Adams to Penn was no big deal for Auden.
"The transition wasn't that too bad as I grew up going to Penn schools and only was away from them for my freshman and sophomore year," Auden Jones said. "Most of my life, I was going to Penn district elementary and middle school, so it was nice coming back home to my lifelong friends.
"For both of us, there was a transition period and we had to adjust to some things, but we had each other to help get through it. My father sacrificed a lot as he retired from the police department and gave up being a head coach. However, he believed in (Penn head) Coach Cory (Yeoman) and in the future that being a part of the Penn family would give us. I definitely think what made it easier for us was that the Penn family welcomed us with open arms.
Getting the opportunity to get instruction from Coach Yeoman has been something that Auden has relished.
"Coach Cory is a great coach and he's helped me continue to grow as a player," explained Auden Jones. "He helps us develop both as athletes and as men. He cares about us on the field and off the field. I recently lost my grandmother the first week of two-a-days (practices) and he drove three-and-one-half hours to her viewing to show his love and support for our family.
"He is a great coach and a better person. It's an honor to play for him along with the rest of the coaching staff and I am super proud to be a part of the "Long Black Line' of Kingsmen."
Along with being a role model for younger players, he has also been someone his younger brother, freshman Kros Jones, has been able to look up to and emulate.
"When I think of Auden following my legacy and leading the way for Kros, I couldn't be prouder," Antwon Jones said. "He is such a caring individual. I love when I walk around the building and people come and say 'I just love your son, he is such a great kid.' Anytime you are a young person and you are around people and you impact them in such a way that they want to let others people know what a kind and loving person you are, you are doing something right. With Auden it's authentic coming straight from his heart."
So, what advice does Auden have for Kros as he embarks on his own journey?
"There will be adversity, but know with hard work and dedication you will persevere," Auden Jones said. "You need to continue to study in school and always look to expand your football IQ. Live in the weight room and be willing to work when it's not requested of you and when no one is watching. Always look out for those who can't look out for themselves. Be a leader no matter your age or grade. You are a Jones boy it's in your blood. I believe in you and love you little bro."
Before worrying about contributing at the collegiate level, Auden has to first take care of business against rival Mishawaka on August 25 at Everwise Freed Field.
"Our senior class has played together since Rocket football, so it's been a goal of ours to add to the rich history of Penn football," said Auden Jones. "We've worked our butts off and are ready to end our careers here with a bang. We want to add to the trophy cases.
"Although recruiting hasn't been as I envisioned, I am 100 percent grateful and blessed for the opportunities that have been presented to me so far. The slow recruitment process has been somewhat frustrating, but it has motivated me to work even harder than before. The plan is to show who I am this year. I am hungry and I will stay hungry."