 INDIANAPOLIS –The 2012 season was a coming out party for Jerrell Freeman as he compiled an Indianapolis seasonal-record 203 tackles.
What was a thrilling time for Freeman from the 'will' position was a season of great discomfort for Pat Angerer.  Angerer opened only three times in 11 regular-season appearances at the 'mike' position, and the duo started together in the playoff game at Baltimore.
A foot injury kept Angerer shelved a good portion of last season, and he never played while completely healthy.  The effects of a concussion suffered in the preseason finale kept him sidelined against Oakland.
Yesterday marked the fifth overall time Freeman and Angerer started together, and it represented the first time Angerer was closer to full strength.
"It was fun.  I did some 'first-game' stuff, some stuff that wasn't very good," said Angerer, who claimed responsibility for a long Miami pass completion in the first quarter.  "I had a great time, and I love playing football and with these guys."
Angerer had 75 stops last year, compared to his 146 in **2011 (click here)**.  Freeman took a bulk of the stops last year, and the duo performed capably against Miami.
Freeman was credited with eight stops, ranking behind safety LaRon Landry (11) and Angerer (11) for the club lead.  Freeman had his first-ever multiple sack game, along with forcing a fumble and having an additional quarterback hit.  His six solo tackles tied Landry for the club lead. 
Angerer's had three solo stops and a quarterback hit, while he and rookie linebacker Bjoern Werner collaborated on a sack.
Angerer played on 58 of the defensive snaps (88 percent), while Freeman participated on 55 snaps.  In the 3-4 set, they were joined by strongside linebacker Erik Walden (46 snaps) and rush 'backer Robert Mathis (61).  It is a foursome the Colts hope to employ moving ahead.
Angerer, Freeman and Landry totaled 30 of the team's 65 credited tackles, and the pairing of the duo on the inside is something many want to become more commonplace.
Last year, Freeman led the club in tackles in each of his first seven games, and he led the team in 13 outings.  It was only the second 200-tackle season in Indianapolis history (200, Jeff Herrod, 1994). 
Freeman had 13 games with double-digit totals.  It was a season like Angerer's the year before when he had six games with double-digit totals.
Freeman has had more of a chance to get acclimated to the 3-4 scheme, and Angerer liked the room he had to roam against Miami.
"Our d-line was tremendous.  Those guys are unbelievable," said Angerer.  "They did a good job all game.  I barely had to take on any offensive linemen.  It was a great job by them all game.  I picked it up and played better."
Angerer was like a number of Colts who had moments both ways Sunday and knows a consistent performance level is necessary.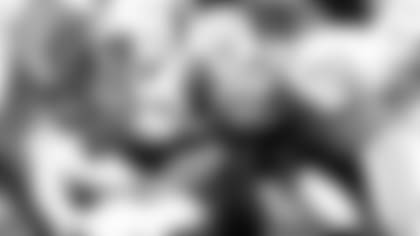 "It's tough.  We didn't make the plays that we needed to. Credit goes to them. They capitalized on a couple of mistakes, especially early," said Angerer.  "That long pass was my fault.  The good thing about it is we continued to fight.  We came up short, but we can't say enough good things about the effort from everybody."
A 1-1 start now feels like a setback for a team that had better visions.  The vision now is attacking next Sunday in San Francisco.
"We have a great group of guys.  There definitely are no pity parties," said Angerer.  "The positive about (yesterday) is we are going to be a better team because of it.  
"We are going to grow from it, and I look forward to seeing how good we can become.  We have the right players, and the coaches call the right plays.  (With) just a little play here and there and we can be great.  I look forward to watching us become a better football team."
PERSONNEL MOVE – The Colts have signed running back Miguel Maysonet to the practice squad.  Maysonet (5-10, 210) originally was signed by Philadelphia.  Maysonet spent three seasons at Stony Brook University (2010-12), totaling 4,725 career rushing yards and 48 touchdowns on 695 carries (6.8 avg.).