 ](http://careyindiana.com)
INDIANAPOLIS –Andrew Luck has taken the vast majority of the Colts' 2,132 offensive snaps in his first two seasons.
The highs and lows taught numerous lessons, but one of the most dramatic feelings he experienced was after last year's playoff game at Baltimore. 
After dropping a handful of games at Stanford and five as a rookie, the 24-9 loss gave Luck a harsh, but exhilarating, appreciation of playoff football.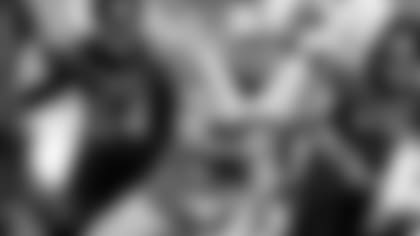 "After the game, after losing, the finality of it all," said Luck of what the loss taught him as opposed to any other career setback.  "The sort of 'one-and-done, win-or-go-home,' I think that's special.  It's what makes the NFL playoffs awesome. 
"There are big games during the regular season.  We've won some, lost some.  The finality of if you lose afterwards (is real)."
Luck piloted 11 starting wins in each of his first two seasons, a total that ties the second-most by any quarterback in his first two seasons since 1970, but he lost the chance to be the only top pick of a draft to win a first-ever playoff game.
On Saturday against Kansas City, Luck will up his total among quarterbacks for the most consecutive seasons starting playoff games to open a career during the Super Bowl era. 
He will be one of nine players to do so in back-to-back career-opening seasons, with the leader being Baltimore's Joe Flacco (five).   
* *
Most Consecutive Seasons Starting Playoff Games to Open Career (SB Era)

131-234-1,680-13-10, 79.4
*If starts team's first playoff game this season
Luck is not driven by personal accomplishments, never has been.  What offers the biggest buzz for him is the competition.
"The chance to win the big one, that's exciting," said Luck.  "It's fun to be in the playoffs.  I feel fortunate to be a part of a team that's done it these past two years.  I'm excited to play a darned good football team in the Chiefs."
Luck helped the Colts set a franchise mark and lead the NFL with only 14 turnovers this year.  The club shaved its total from 27 last year, while Luck whittled his personal turnovers from 23 to 11.
Indianapolis had seven turnover-free games in 2013, and it finished strongly by converting possessions into points in winning its last three games.  Luck wants that recipe against Kansas City.
"I think that mistakes carry so much more weight (in the playoffs)," said Luck.  "You can't come back after the game and say, 'Alright, we made these mistakes.  Let's fix it next week and get back on track.' 
"It seems like mistakes are so much bigger.  I think you really have to take care of the football, convert third downs, get first downs.  If you're in the red zone, you have to score points."
Chuck Pagano said teams largely will play to their strengths during the playoffs, echoing the Bum Phillips phrase, 'You dance with who brung 'ya.'
Luck says the importance of not making mistakes will not hinder his normal play.
"I don't think so," said Luck.  "We realize we've done some very good things that have gotten us to this point. 
"There won't be changes, per se.  There can be a little more focus during the week.  There can be some more distractions (than normal).  As far as playing the game, we've gotten to this point doing some things well.  Let's keep doing those."
Luck says he has benefited by the 'one-and-done' nature of his first playoff experience.  It is one more thing in his arsenal as he tries to prolong his second season.  Last year's sting, however, is not a source of motivation.
"We want to win," said Luck.  "Going out to try to win is enough motivation.  I honestly haven't thought too much about last year.  Winning is motivation enough.
"Having that (playoff) experience is always helpful.  I feel more comfortable this year as a football player in this league because of that experience."
VINATIERI HONORED – Adam Vinatieri has been named AFC Special Teams Player of the Week, his 15th such honor.  In scoring 12 points, Vinatieri (2,006) moved past George Blanda (2,002) and Matt Stover (2,004) into fifth-place in NFL career scoring.  Vinatieri is the NFL's playoff leading scorer with 196 points, and he has made the playoffs in 14 of year years.
"He is a security blanket, he's great," said Luck.  "He surpassed 2,000 points, that's amazing.  I hope one day many years from now I can sit down and tell (people), 'I got to play with Adam Vinatieri.'  I'll gloat about that.  He's awesome.  He's such a solid dude, solid teammate."