INDIANAPOLIS — While recovering from surgery to repair a torn labrum in his throwing shoulder in 2017, there were times that Indianapolis Colts quarterback Andrew Luck questioned whether he'd be able to return to football and regain his previous perennial Pro Bowl form.
There were even questions from the outside this time last year, as Luck had "yet to throw a regulation NFL football."
Fast forward to the present and Luck is the league's reigning Comeback Player of the Year and was a candidate for the NFL's Most Valuable Player award.
He proved a lot of people wrong with his stellar performance in 2018, but even more importantly, he proved to himself that he is still Andrew Luck. The scary thing is that he seems to be getting better.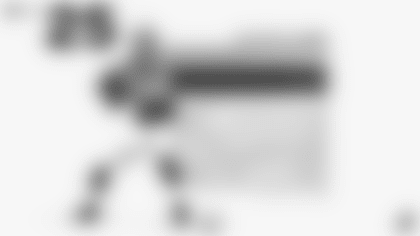 "In Weeks 7-17 of last year, Luck earned the fourth-best overall grade of any offensive player in football at 91.4. He proved his ailing shoulder issues were no longer a concern and was rightfully named the AP and PFF Comeback Player of the Year as a result.
He finished the season ranked third among all quarterbacks in PFF grade at 91.1 behind only Patrick Mahomes and Drew Brees. If it weren't for the brilliance of those two, his name would be soundly in the MVP conversation. After that 1-5 start, the Colts only lost one more game the rest of the season, and it was due largely to Luck showing that the shoulder issues that plagued him for over a year were in the rear-view mirror and he was still in the elite tier of quarterbacks.
For the first time in his career, Luck was at the helm of an offense designed to make him better rather than have him lean on the surrounding talent, and it resulted in him receiving a career-high overall grade (91.2) in 2018. The sky's the limit for Luck heading into Year 2 under Frank Reich."
After joining forces with new head coach Frank Reich last year, not only did Luck look like his old self, but he arguably had the best season of his career.
He finished the season completing 430-of-639 passes (67.3%) for 4,593 yards (7.2 YPA) and 39 touchdown passes with 15 interceptions and a 98.7 passer rating (71.5 ESPN QBR).
In two playoff games, he went 38-of-68 passing (55.9%) for 425 yards (6.3 YPA) and three touchdown passes with just one interception and an 83.3 passer rating (56.3 ESPN QBR).
Luck set new single-season career highs in completions, pass attempts, completion percentage, passer rating, ESPN QBR and Pro Football Focus grade.
He also set numerous in-season and single-game records, breaking the franchise record for pass attempts in a game (62) and tying the record for completions (40) in Week 4. His 464 passing yards that day ranked second.
Luck tied former Colts quarterback Peyton Manning (eight) for the second-most consecutive games with at least three passing touchdowns in NFL history when Luck did so between Weeks 4-12. Luck trails only Tom Brady, who had 10 consecutive games in 2011.
The field general did a great job of spreading the ball around, as the Colts had four players with at least 50 receptions for just the fifth time in a single season team history (T.Y. Hilton [76], Eric Ebron [66], Nyheim Hines [63], Chester Rogers [53]).
By season's end, Luck had thrown a touchdown pass to 13 different receivers, which tied the single-season NFL record with Matt Ryan (2016) and Drew Brees (2018).
Despite Luck's excellent play, the machine that was the Colts' seventh-ranked offense was put together by a team effort, especially by the offensive line that did a terrific job of keeping Luck upright.
Between Week 5-12, the Colts went 239 consecutive passes attempts without allowing a sack, which is the third-longest streak in NFL history behind Dan Marino (759) and Mark Rypien (252). The five consecutive games without a sack is also tied for the third-longest streak since 1982 with the 2010 New York Giants and 2008 Tennessee Titans. Overall, the Colts allowed the fewest sacks in the league (18) and had the top sack rate (2.7 percent).
The Colts' offense also finished No. 1 on third down (48.6 percent), and its 6,179 yards of offense was the third-most in a single season in franchise history.
Because of all of these accomplishments, it was a decorated season for Luck, who won the FedEx NFL Air Player of the Week for Week 12, AFC Offensive Player of the Week for Week 11, AFC Offensive Player of the Month for November, was a 2019 Pro Bowl selection and was ultimately named NFL Comeback Player of the Year by the Associated Press, Sporting News, Professional Football Writers of America and PFF.
The Colts were something of a Cinderella team in 2018 with very little outside expectations when the season began. However, they ultimately became just the third team in NFL history to make the playoffs after starting the season 1-5, and they did it on the shoulders of their leader, Andrew Luck.