INDIANAPOLIS — Ahh, first place.
It's a familiar feeling for most Indianapolis Colts fans this late in the season, but after the rollercoaster ride that's been 2016, those in Indy have certainly learned not to take it for granted.
The Colts on Monday night went into MetLife Stadium, where they proceeded to blow out the New York Jets, 41-10, to move to 6-6 and put themselves into a three-way tie atop the AFC South Division standings with the Houston Texans and the Tennessee Titans.
That Indianapolis is even in this position after such an up-and-down season to this point is an amazing feat in itself, but the Colts certainly wouldn't be here without being both fortunate (the Texans have now lost three in a row) as well as their knack of sustained dominance over the Titans, whom Indianapolis swept this season.
…And then there's the Jacksonville Jaguars, who find themselves at 2-10 and mired in a seven-game losing streak.
The Colts play their biggest game of the season on Sunday at Lucas Oil Stadium, as the Texans come to town; the winner gets sole possession of first place in the division with just three games to go (despite what happens in the Titans' upcoming game against the Denver Broncos).
But before we jump too far into that all-important game and everything that goes along with it, let's take a comprehensive look around the AFC South during Week 13 of the 2016 regular season, via the AP (the Titans, mind you, were finally on their bye week):• Denver Broncos 20, Jacksonville Jaguars 10
With a rookie quarterback and one of the NFL's best defenses, the Denver Broncos were content to play conservatively at Jacksonville.
It was the perfect formula against the self-destructing Jaguars.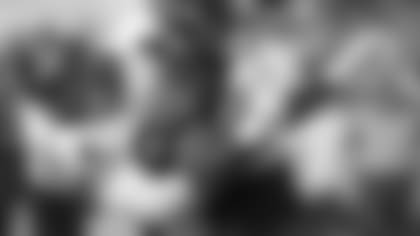 Bradley Roby returned an interception 51 yards for a touchdown, and the defending Super Bowl champions beat the mistake-prone Jaguars 20-10 on Sunday and gained ground in the AFC playoff picture.
Roby picked off Blake Bortles' wobbler across the middle in the third quarter -- star linebacker Von Miller hit Bortles as he released the ball -- and went untouched the other way. It was one of three turnovers for Denver's defense.
"They were exceptional," Broncos coach Gary Kubiak said.
It was the 11th pick-6 of Bortles' three-year career and his third in the past four games. Houston and Detroit also returned interceptions for touchdowns in games the Jaguars lost by fewer than seven points.
"It's the biggest nightmare possible," said Bortles, whose 37.9 quarterback rating was the worst of his career.
"But what are you going to do about it? You can't sit there in a corner and pout. You can't blame people. You can't feel sorry for yourself because I think all that's going to do is affect the way I play. ... All you can do is put your head down and continue to play as hard as you can and prepare each week."
Bortles' latest pick-6 resulted in a seventh consecutive loss for Jacksonville (2-10) and secured another miserable milestone for the small-market franchise.
The Jaguars became the fifth team in NFL history to post double-digit losses in six consecutive seasons, joining Tampa Bay (1983-94), Detroit (2001-06), Oakland (2003-09) and Cleveland (2008-13).
Jacksonville had a chance to tie in the final minutes, but Bortles fumbled trying to make a play in the pocket.
The Broncos (8-4) rebounded from an overtime loss against Kansas City, and with Miami's loss at Baltimore, moved into position to get one of the conference's wild-card spots.
They did it without quarterback Trevor Siemian, who missed the game with a sprained left foot. Rookie Paxton Lynch made his second career start and first on the road. Denver didn't ask him to do too much. He didn't need to, either.
The Broncos scored all 20 points with help from Jacksonville, including two turnovers and two 15-yard penalties.
Denver was 1 for 13 on third downs and finished with just 206 yards, the fewest allowed in Jaguars coach Gus Bradley's four-year tenure. It was the franchise's fewest since giving up 146 yards in a victory against Baltimore in 2011.
"We're playing good defense right now," said Jaguars defensive tackle Malik Jackson, who played his first game against his former team.
The Broncos were gouged on the ground for 154 yards, but the defense made several game-changing plays.
Roby's interception was the key. It was huge for the third-year pro who gave up a late touchdown to New Orleans two weeks ago and surrendered an 11-yard catch on fourth-and-10 last week against the Chiefs.
"There was no way we were going to lose this game late like we did last week," Roby said.• Green Bay Packers 21, Houston Texans 13
Aaron Rodgers threw for 209 yards and two touchdowns, and the Green Bay Packers pulled away from the Houston Texans with two fourth-quarter touchdowns for a 21-13 win Sunday to get back to .500.
The Packers (6-6) weathered snowy conditions at Lambeau Field, making just enough plays on the cold turf to even their record for the first time since they were 4-4 after losing to Indianapolis on Nov. 6.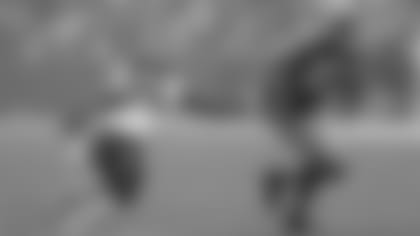 "Well, that was a good bad-weather win. A lot of fun to play in that type of atmosphere in Lambeau Field," coach Mike McCarthy said.
Brock Osweiler connected with DeAndre Hopkins for a 44-yard touchdown pass with 1:51 left to get within eight for Houston. Nick Novak missed the extra point, with footing slippery at Lambeau.
The Texans (6-6) had one last shot after the Packers failed to run out the clock. But Osweiler's last-ditch pass-and-lateral play from Houston's 12 with 4 seconds left failed, handing Houston its third straight loss.
The Texans are tied with idle Tennessee and a half-game ahead of Indianapolis, which plays the New York Jets on Monday night, for the AFC South lead.
"We're at a tough stretch right now, three in a row," Texans coach Bill O'Brien said. "Played OK at times, but obviously not good enough to win."
The Packers broke a 7-all tie when Rodgers found Jordy Nelson open in the end zone for a 32-yard touchdown pass with 12:42 left after Texans cornerback Charles James slipped on the turf.
Nelson, who missed last season with a knee injury, finished with eight catches for 118 yards.
"I don't know how much more Jordy needs to prove," McCarthy said. "He's going through what every great player goes through in that first year back from major injury."
Aaron Ripkowski's 3-yard touchdown run with 4:11 left proved to be the decisive score for Green Bay, which has won two straight following a four-game losing streak.
Hopkins finished with just two catches for 55 yards for the Texans.