With tackling machine Jerrell Freeman now a member of the Chicago Bears, the Colts have two talented playmakers who are ready to make their case to start alongside D'Qwell Jackson in the middle of first-year coordinator Ted Monachino's defense in 2016.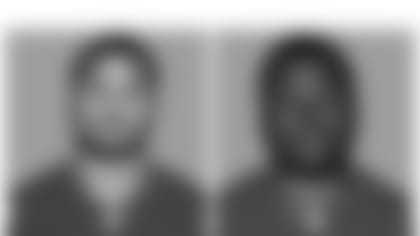 Those linebackers — Nate Irving and Sio Moore — have each been utilized with the first-team defense throughout the offseason, and enter training camp next week, as well as the upcoming preseason slate of games, with the mindset of "let the best man win" when it comes to the open starting job.
Behind Jackson, Irving and Moore are several young pieces who could make a significant contribution on special teams for the Colts this season.
Here's a look at the state of the Colts' inside linebackers heading into training camp:NOTABLE RETURNERS:
- Nate Irving
- D'Qwell Jackson
- Josh McNary
- Sio MooreNOTABLE ADDITIONS:
- Antonio MorrisonNOTABLE CAMP BATTLES:
- Amarlo Herrera
- Edwin Jackson
- Junior SylvestreNOTABLE LOSSES:
- Jerrell Freeman (free agency; signed with the Chicago Bears)
Last year, the Colts kept four inside linebackers to open up the regular season against the Buffalo Bills: Freeman, Moore, D'Qwell Jackson and Irving. By mid-September, the team had signed McNary to its active roster, and in early December, Irving was placed on IR with a knee issue.
D'Qwell Jackson returns in 2016 at the MIKE as the unquestioned leader of the linebacking corps. In 2014, his first season with the Colts, Jackson racked up an impressive 167 total tackles, three passes defensed, one forced fumble, four fumble recoveries, four sacks and one defensive touchdown. Last season, he followed that up with 150 tackles — ranking second in the league — with nine passes defensed, one interception (returned for a touchdown), three sacks and one forced fumble.
"Right now it's still fun," Jackson who turns 33 in September, told Colts.com this offseason. "I wouldn't be playing if it wasn't fun. It's like a chess game to me, and the more you know the better you play."
So with Jackson planted firmly at the MIKE linebacker position, the aforementioned battle for the WILL linebacker spot between Irving and Moore should be a good one.
Irving suffered a torn ACL during the 2014 season, and after signing with the Colts in 2015, he said he struggled staying in shape as he continued to fully recover.
Those issues ended his season early last year, but since that time, Irving has dropped more than 20 pounds and feels just as good as he did in 2014, when he started eight games for a top-5 defense with the Denver Broncos.
"I'm blessed to be in the position I'm in because this time last year I was limping around the training room still trying to get my knee right," Irving said this offseason. "(My knee) feels way better. I'm not as sluggish. I feel great."
In all, Irving has played in 62 total games with 14 starts over the past five seasons, collecting 118 total tackles, three sacks, four passes defensed and one forced fumble.
Moore, meanwhile, played sparingly last season, his first with the Colts. Logging 66 total snaps in 12 games, he totaled 13 tackles on the year.
With more opportunities in 2016, the Indianapolis coaching staff is confident Moore can be the playmaker he was with the Oakland Raiders in 2013 and 2014, when he collected a combined 140 tackles, 7.5 sacks, one pass defensed and a forced fumble.
Moore wears his heart on his sleeve, and that attitude certainly carries over to the football field.
"That's what I try to give to my team, give to my entire stadium," Moore said. "That's something I want to bring, something I want to add and something I want to raise. If I had that opportunity, it's going to raise the energy level, raise the atmosphere that we play in. It's going to demand something out of myself. But I'm going to demand that out of everybody else."
Behind Irving and Moore are several players hoping to catch some eyes to secure the team's fourth and possibly fifth inside linebacker spots this training camp.
The most noteworthy is McNary, who has five starts in 33 games played with the Colts over the past three seasons. The 28-year-old Army product has 56 total tackles with 0.5 sacks during that timespan, and has been a constant on the Colts' special teams units.
Morrison, meanwhile, is an exciting prospect out of Florida. The Colts' fourth-round (125th-overall) pick in this year's NFL Draft, Morrison was the first Gators player since 1992-93 to post back-to-back 100-tackle seasons.
A hamstring injury kept Morrison out of offseason practices, so training camp will really be the first on-field exposure the coaching staff will have to see where he's at as far as progression learning the playbook and making plays.
Three others — Herrera, Edwin Jackson and Sylvestre — come into camp hoping to get some quality film out there for all to see.
Herrera was a sixth-round draft pick of the Colts last year, and played in three games in his rookie season, bouncing back between the active roster and the practice squad.
Jackson was signed to the Colts' practice squad in December 2015 after spending training camp with the Arizona Cardinals as an undrafted college free agent out of Georgia Southern.