 ](http://careyindiana.com)
INDIANAPOLIS – This time almost a year ago, LaVon Brazill was away from the Colts while finishing school.
On opening day, Brazill was absent for the first of four games while serving a conduct suspension.  The sixth-round pick in 2012 rebounded to play in 10 games, catching 12 passes for 161 yards and two touchdowns.
As the team's off-season program starts April 21, Brazill says his focus will be working with teammates.
"I definitely will be with the team this off-season.  This year when the time comes, I'll be there," said Brazill.
Brazill has 23 career receptions for a 15.1 average and three scores, showing flashes like a 42-yard scoring reception as a rookie in a comeback win at Detroit, hauling in 19- and 29-yard TD receptions at Cincinnati last year and 38- and 35-yard TD snares at New England in the Divisional Playoffs.
In a sport where availability is the best ability to possess and where the game waits for no player, Brazill says fans this year will observe a different performer.
"People will see a more mature player out there, a guy who will take what has gotten him here and work even harder," said Brazill.  "I've made some plays, and I will keep catching the ball and making them.  Year three is here, and it's flying by."
Chuck Pagano has built a program that has yet to drop consecutive games.  That streak ranks among the best in franchise history.
To keep it going, he will need players to remain focused and productive.  Pagano sees Brazill as a player who can help.
"He certainly looks like he's taking the steps and doing the things necessary to grow," said Pagano.  "We saw a lot of great things with him.  We know the type of player he can be in his first year.  He made a big play at Detroit in a comeback win.  He scored two touchdowns last year at Cincinnati, then he did it again at New England in the playoff game. 
"He's a talented guy.  It's a matter of being consistent and continuing to grow."
A learning tool last year was placing Brazill's locker next to Reggie Wayne's.  Just as T.Y. Hilton says he has benefited from Wayne's encyclopedic knowledge and exemplary leadership, Brazill feels the same way.
It was a new offense for Brazill last year, just as it was for any Colts player not from Stanford, and the third-year player looks forward to a second season in the same attack.
"It was kind of tough learning all the plays.  Reggie helped teach me," said Brazill.  "This year, I'll be ready.  I've been studying all the notes I made last year.  I'm trying to get a leg up so I can come in and take over all opportunities. 
"It will benefit me being in the same offense for a second year.  I'll be ready for anything this year.  I'll be ready."
Brazill likely will take note of the talent vying for playing time.  Wayne is recovering well from a knee injury that cost him the last 10 games.  Wayne's participation may be limited until training camp.
T.Y. Hilton, taken 114 slots ahead of Brazill, has emerged as a star with 132 receptions and 12 touchdowns in two seasons.  He owns a 37.6-yard average on his scoring receptions. 
Hilton's reception total ranks behind only Marvin Harrison (137) by a Colt in the first two seasons of a career, while his 1,944 yards are the franchise record.
The Colts added Hakeem Nicks as an UFA.  The sixth-year pro has 311 receptions for 4,622 yards and 27 touchdowns while being a stalwart performer after being a first-round pick in 2009.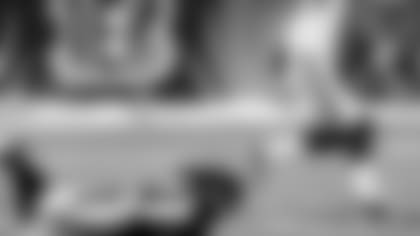 Brazill will compete also with Griff Whalen and Da'Rick Rogers, two young performers who took advantage of playing time in 2013. 
Whalen's fluency with Andrew Luck and the offense dates back to college, while Rogers is an explosive talent who also had two scoring receptions at Cincinnati.
Pagano says the potential is there for Brazill to take the same forward leap as Hilton has made.
"I don't know why there couldn't be," said Pagano.  "He's a talented guy.  When you see the evidence of him doing it once, there's no reason why he can't do it again and do it over a long period of time. 
"To me, it comes down to what you're willing to sacrifice and what time you're willing to put in.  He's grown.  He's shown that, he's maturing.  LaVon's definitely headed in the right direction."
The direction starts in about two weeks as players get immersed in a conditioning period before instruction starts later.
Brazill likes how last year went when he returned.  He feels more mature this year and has solved the areas that have taken him away from the field.
"I see this as a great opportunity," said Brazill.  "There's room for some young guys to take some things over.  I need to keep doing what I'm doing. 
"I want to come in and be (a key) receiver.  I need to help contribute with T.Y. and Reggie and be with Andrew Luck in the off-season.  That's the approach."
QUOTE-UNQUOTE (Chuck Pagano on Reggie Wayne being a mentor for LaVon Brazill):
"Give credit to Reggie for sticking around here, doing his rehab, staying in meetings and being around the guys.  It's a little different when you're not playing, practicing or running the routes.  Any time you have a veteran mentor around, it benefits the receivers.  Guys like LaVon can take advantage of it.  He has a great pro to follow."