 ](http://careyindiana.com)
INDIANAPOLIS – Year two in Chuck Pagano's defense saw Robert Mathis lead the NFL with 19.5 sacks and Jerrell Freeman top the club with 169 tackles while contributing 5.5 sacks.
Opposite Mathis, Erik Walden provided a physical presence as the Colts sought a firm edge against opposing offenses.
There were shining moments for Walden and matched against other edge defenders like Michael Johnson, Paul Kruger and Connor Barwin (according to Statspass), his 45 tackles (five for loss), 3.0 sacks, 11.5 knockdowns, 10 hurries and one forced fumble in 859 snaps compared well.
Targeted early in free agency and lauded by Ryan Grigson after the season for his "ferocity," Walden looks for more in 2014.  
"It was a progression as the season went along," said Walden.  "Playing in so many defenses (before), there were so many similarities that I got more comfortable with the schemes and the adjustments I had to make.  Having a little history in the scheme helped me a lot."
Every position is both a lightning rod for praise or criticism.  On-lookers tended toward the latter in critiquing Walden.  Walden's coach differs.
"The numbers for Erik maybe weren't what he expected from a sack standpoint, but he affected a lot of things," said Chuck Pagano.  "He may not have been credited or finished plays that other guys got to, but he affected the quarterback quite a bit.  You saw it in film cut-ups. 
"Erik's tough, hard-nosed, plays with passion and energy.  Erik's excellence in edge-setting, I'm glad we have him.  When people ask if I'm happy we got him, I say, 'Heck yes.'  We'll be that much better with him this year.  He's well-respected in the locker room."
The Colts have flourished under Grigson and Pagano by negating outside noise and focusing on what is said in the locker room and meetings.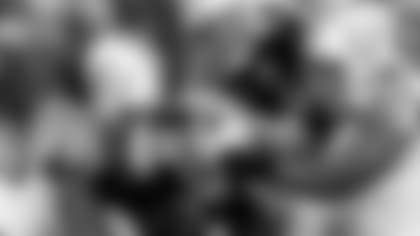 The internal feeling is Walden's pop and style is right for a linebacking corps that now has added D'Qwell Jackson to the interior. 
There were times last year the defense displayed the production sought, yet those moments were not as consistent as all parties wished. 
Some of the struggles showed up in the rush defense.
"It's just making sure that all 11 guys are on the same page at the same time," said Walden.  "Stopping the run is not just one or two guys, it's the whole team.  We need to clean up some things from last year and make sure everybody's accountable and doing their jobs the best way they can.
"We think most of the time an offense makes a big play it's something we did wrong on our end.  Sometimes you have to give the opponent credit because their guys can make plays.  The majority of the time, we had a breakdown.  You have to limit mistakes like that."
Counting the playoffs, Walden was on the field for 991 snaps.  Only three teammates had more over 18 games.  Walden's tackles ranked seventh, though his 7.0 tackles for loss were fourth (third among linebackers – Mathis, 23.5; Freeman, 9.0).
Walden's 27 QB pressures were 10 more than his nearest teammate, and he feels the team must generate pressure outside of Mathis.
"We do, and I'm taking that upon myself.  It's part of my job, so I'm going to do everything I can to be effective in that area.  I have the skills to do it.  It's a matter of consistency. 
"Sometimes, it's your time to get them.  Most of the time, Robert tells me, 'You have to go out there and make it happen.'  It's having the confidence in knowing that I'm going to get there.  No matter how many times I get close and knock the quarterback down, it's knowing that I'm going to get there.  I know we can use my rushing skills.  Other guys need to step up.  I can do that, too."
In a sport measured by numbers and sometimes mis-judged by analytic sites, Pagano knows the influence Walden has.
"It's so easy to pull up numbers on guys and say, 'He had a great year,' because of numbers," said Pagano.  "There are other positions that can get notice.  You look at Robert Mathis and see how many sacks he had two years ago (8.0) at the sam 'backer and you move him to rush 'backer and he has 19.5 sacks and leads the league. 
"Part of that is Erik's dropping in coverage more than he's rushing, compared to the other side.  His (Walden's) numbers come from him not getting as many chances to rush, especially on early downs.  You have to look at others' numbers to get a sense of what Erik does. 
"You look at the numbers the edge rushers put up here before we got here, a lot of things go into that – guys covering in the back end, receivers not getting open, D-backs and 'backers doing their jobs, the two inside rushers getting good pressure in the pocket.  There are a lot of things that go into that (a specific player's numbers)."
Last year is last year.  It was 12-6 and 2014 looms.
"People will see a guy who's having fun and loves what he's doing," said Walden.  "They'll see a guy who is productive and disruptive.  That's what it is about. 
"You don't want to be just another guy while you're out there.  Opportunities don't come around all the time, so I want to get them when I have them.  That's my mindset."
QUOTE-UNQUOTE (Greg Manusky on Erik Walden):
"(He's) a consistent player.  You don't have to worry about him.  He's going to do his job.  He's doing real well at it.  He's just a tough, hard-nosed, blue-collar football player that I love."