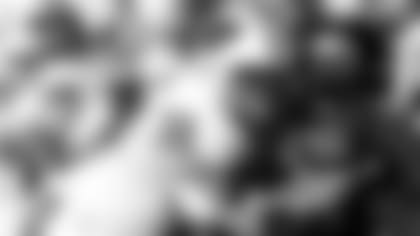 INDIANAPOLIS – **The 2009 season at Wisconsin was one of upheaval on the offensive line.
The Badgers were forced to start six different combinations along the line because of a series of circumstances.  Coming off a redshirt year as an offensive tackle in 2008, Peter Konz started nine of 10 games at center in an offense that would average 31.8 points per game while topping a 200.0 rushing average and produce 33 touchdowns on the ground.
Konz was part of a line that included guard John Moffitt, tackle Gabe Carimi and guard Kevin Zeitler, while swingman Bill Nagy missed the season but would return in 2010.  It was quite a buddy system on the line.  Moffitt became a third-round pick of Seattle in 2011, while Carimi was a first-round pick of Chicago and Nagy was a seventh-round pick by Dallas, marking the first time Wisconsin had three offensive linemen taken in the same draft since 1988.  Konz and Zeitler continued for another season in Madison and are poised to join their former teammates in April's NFL Draft.
Konz started 31 of 32 career games for the Badgers, playing in an offense that produced prodigious numbers. The 2009 offense had John Clay rush for 1,548 yards. In 2010, Konz started 11 games with his line counterparts, and the Badgers rolled to game averages of 245.7 rushing yards and 41.5 points, while amassing 48 rushing touchdowns. Wisconsin fell four yards short of becoming the first FBS school to produce three 1,000 seasonal rushers. It improved records of 10-3 and 5-3 in the conference in 2009 to 11-2 and 7-1, respectively, winning a share of the Big Ten title and advancing to the Rose Bowl.
In 2011, Konz started 11 outings as the Badgers went 11-3 overall and 6-2 in the conference.  Wisconsin followed a 42-39 victory in the Big Ten Championship game with a second straight Rose Bowl bid.  The typically-potent offense scored 44.1 points per game, while holding a 235.6 rushing average per game.  The team scored 48 of its 85 touchdowns on the ground.
Konz, 6-5, 314, wound up his career as a Rimington Trophy finalist, and he was named first-team All-America by the AFCA.  He was first-team All-Big Ten by the media and second-team all-conference by the coaches.  It was a memorable three-season career for Konz.
"I think I was first recognized because I was running out on the edges and was able to get out on the corners and safeties and not a lot of guys had been doing that," said Konz.  "I think that's one thing that helped me a lot.  Then just my size (helps).  It's not normal to see a guy who was hoping to play tackle and then move all the way inside to center.  It's been an amazing ride."
He was moved to center in the fateful 2009 season by position coach Bob Bostad, and Konz thrived with the opportunity.
"It was decided in a series of unfortunate events for other people," said Konz.  "John Moffitt, who's now in Seattle, tore his pectoral that summer.  Billy Nagy, who's now with Dallas, had a terrible moped accident that wasn't his fault.  Travis Frederick, who was the backup center at that point and was playing left guard for us right now, was in there and he got rolled up on a play and hurt his ankle.  Coach Bostad, instead of having the next center in, he grabbed me from the tackle spot and threw me in at center and we never looked back."
Wisconsin is one of only a few collegiate teams to hold a 200.0 rushing average a game for the past five seasons, and the Badgers have led the Big Ten in rushing in each of the past four seasons. Konz had help, but he enjoyed his spot and responsibilities on the talented line.
"I love it.  It's awesome," said Konz.  "I love having the ability to make the calls, to make the adjustments, to be that center guy and to be able to communicate with everybody and get everything going on the right track. … I'm a fast learner but there's a lot of things you have to know at center.  Not only do you have to know it, but you've got to let everybody else know.  That took at least a year-and-a-half.  I went to guys like Moffitt and Carimi, who were the big guys on the line, and I asked them questions every day and I'd look in my playbook and I'd watch enormous amounts of film with Kevin Zeitler.  We'd go up to the film room after every practice and go over it."
Konz was a senior captain as a two-way lineman at Neenah High School in Neenah, Wisconsin.  He dreamed of making the NFL and figured Wisconsin was his best path.  Now that he has worked that path, he will play wherever chosen and at whatever position that team says to play.
"It (Neenah) was small and we didn't have very many guys go Division I and we don't have a lot
of guys go in the NFL, so it was more important to me to go to Wisconsin and get a degree," said Konz.  "I think it was last year, I started to realize that I have a chance (to make the NFL).  You try not to think about it too much at the time because you don't want to jinx anything, but it's a dream come true.  Coming from a little kid wearing Packer and Dolphin jerseys to getting ready to wear an actual NFL jersey, that's an honor.
"Teams ask me all the time, what do you love about this game?  That's what I love is the challenge.  Throw me anywhere.  I'd be happy because I love playing football."
LOOKING AT THE 2012 NFL DRAFT'S CENTERS
The last six centers drafted by the Colts:
2008:  Steve Justice, sixth round, Wake Forest
2005:  Dylan Gandy, fourth round, Texas Tech
2005:  Rob Hunt, fifth round, North Dakota State
1991:  Rob Luedeke, twelfth round, Penn State
1986:  Gary Walker, fifth round, Boston University
1986:  Pete Anderson, tenth round, Georgia
An alphabetical list of centers expected to be selected in the 2012 NFL Draft (*-denotes underclassman):
Mike Brewster, Ohio State
Garth Gerhart, Arizona State
Quentin Saulsberry, Mississippi State
Note:  The content in this story and in the series of draft-eligible players that appears on Colts.com in no way reflects the position of the Indianapolis Colts.