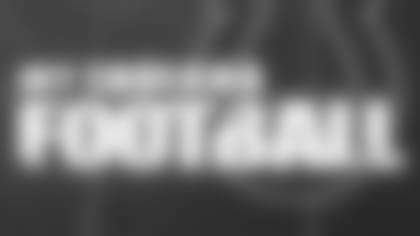 In a society where everything is bad and wrong, taking time out to recognize what is good and right is essential. For the football players at North Daviess High School they are learning to do what is right at an early age, in hopes that it impacts them down the road.
That is why winning the 2011 IHSAA/Colts Blue Horseshoe Award wasn't an objective that was set out to achieve. Moreover, it was a byproduct of core values Helms insists are part of his program.
"Winning this award really wasn't a goal of our Kids," Helms said during the Colts vs. Titans game where his team was honored. "We just wanted to help our community and our school. It means an awful lot to be recognized for it, but I think this is some that our players in our program are going to remember the rest of their lives."
Helms, entering his 19th season as the coach of the Cougars, belives in building leaders in the community, classroom, and school, then by default it will carry over onto the football field. That is why he established a leadership program ten years ago. It was designed to help give seniors to be the tools they would need in order to be effective captains for their football team. Shortly after its inception, Helms integrated a service based component, putting the kids in charge of getting involved in the community.
"We gave some examples to our kids of things they could do to help out the school and the community and they took off with it," Helms said.
The North Daviess Football Program really has been a staple in their local community. Whether it's helping farmers recover from Mother Nature, or just simply lending a helping hand in bringing in crops, the Cougars are there to assist.
"I get called all the time for things that are needed done," Helms added.
Which is why a called was made to help out a local girl battling a life-threating disease the community knew who to call.
North Daviess created "Lemonade N' for Ayden," a project to benefit four year-old Ayden Wagler.  Ayden has Neurofibromatosis (NF), a progressive disorder that causes tumors to grow in the nervous system.
Cougars head coach Scotty Helms became aware of Ayden and her family's will to fight the disease in the fall of 2010.  Ayden had undergone surgery to have her right leg amputated below the knee due to pseudoarthrosis of the tibia, a condition that results from NF.  The Cougars banded together to get Ayden a get well card and football signed by each team member.  Ayden's father, Jayson, a former North Daviess football player, addressed the team before the 2010 home opener to express his gratitude for the gesture.  After Ayden healed from her surgery, the Wagler's came to practice to thank the team.  It was then that a bond between Ayden and the Cougars was formed.
On May 1, 2011, the Cougars began a two-week campaign called Lemonade N' for Ayden; they sold t-shirts and set up lemonade stands throughout the community.  Although the weather on the day of the event was far from ideal, the North Daviess community came out in full force in support of Ayden, who traveled from stand to stand to talk and take pictures with the team and supporters.
Over the course of the day, Lemonade N' for Ayden raised $2,000 for the Wagler's to use in their battle against NF.
"I think Ayden coming out actually gave people a great opportunity to witness her strength and gave all of us the courage to battle in times of need," said Helms. "She has truly humbled our football team and coaching staff."
The Cougars have continued their support of Ayden and the Wagler family.  Last spring many players made the trip to Cincinnati, Ohio to take part in the Walk to Cure NF.  Senior captain Drew Harkness said, "This program has helped our team to realize that we have God-given talents that we need to use, not just for football and school, but to help everyone become better."
The Indianapolis Colts and the IHSAA teamed to launch the statewide program in 2009 inviting IHSAA member football teams to complete community service projects in the off-season.  The program offers opportunities for football players to develop as teammates, aid their community, and promote their school.
The participants were honored during the Colts vs. Texans game on Thursday, December 22nd. The team participated in the full-field flag with members of the Indiana National Guard and then Ayden's family, Coach Helms, and senior captain Jacob Kaho were presented the award from the IHSAA and the Colts during halftime.
"It's extremely special," Helms said about being honored during the Colts game. "I think these kids are really going to take the memory of something that will really last forever in their minds. I think it's going to make these younger players that more eager to do things together for the welfare of others."
That right there sums up Coach Helms and his philosophy to make a difference off the field at North Daviess High School. I encourage you to watch the full interview with Coach Helms where he goes into more detail about their leadership program as well as "Lemonade N' for Ayden."