Indianapolis Colts Mascot Blue Appearances | Indianapolis Colts - colts.com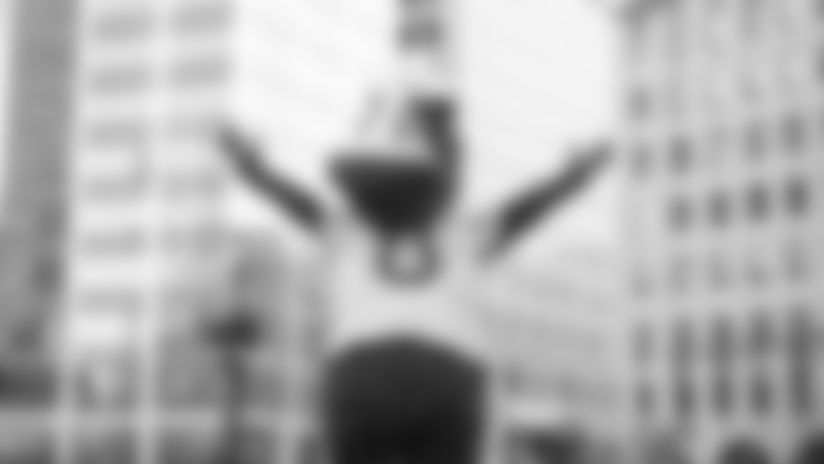 General Appearance Request
Love seeing Blue at Colts games? Then you'll love seeing him all around the state of Indiana or even from your screen! Everyone's favorite mascot makes appearances at hospitals, schools, birthday parties, corporate events, parades, and virtually - from the comfort of your own home! With the recent addition of a stage on top of his mascot van, Blue is now able to offer socially distanced appearances. We appreciate if all requests are submitted at least 4 weeks prior to the desired date.
Please call (317)808-5264 for more information or fill out the below request form.
Virtual Zoom Visit - $50
Enjoy a 10 minute visit with Blue!
Programming will vary from request to request, but Caroline Cooke will coordinate with you depending on event type and age range, if Blue is available.
Personalized Video Message - $50
Receive a personalized 1-2 minute video message, yours to keep and share forever!
Socially Distanced Special Delivery - $150
Blue installed a stage to the top of his van so he could come safely visit you! Book for birthday parties, gifts for a loved one, corporate events, and more!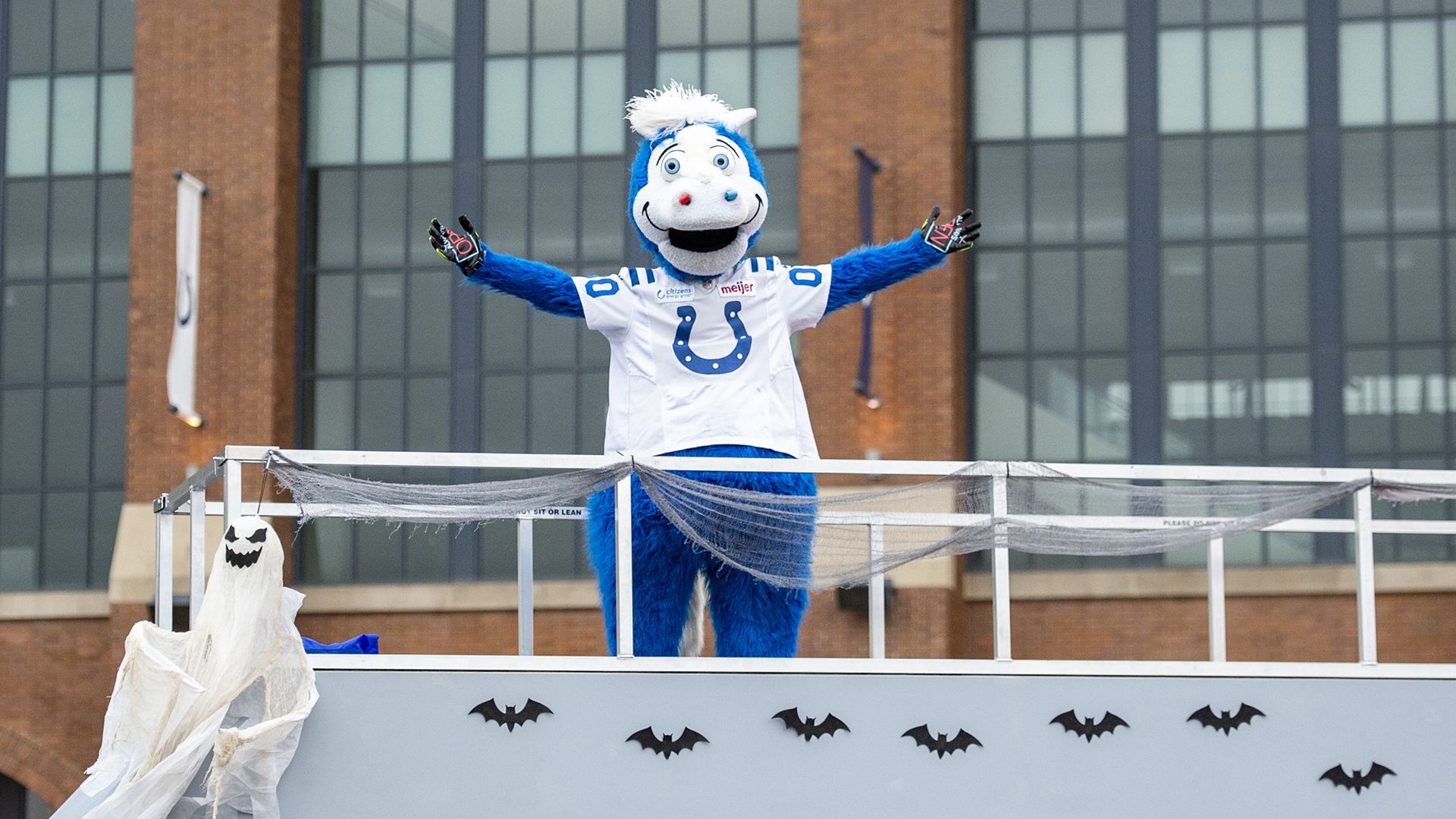 Virtual Zoom Classroom Visit
Each year, Blue spends most of his days sharing positive messages about the importance of fueling up to play 60, not bullying, and choosing love over hate in elementary, middle, and high schools across Indiana. Due to COVID-19 and local health and safety guidelines this year, he is unable to physically visit students and teachers. But that is not going to stop him from popping up in your classroom, virtually! Blue, and his emcee, will surprise a limited number of Zoom or virtual classrooms with a 10 to 15 minute pre-planned session this year. There will be dancing, some time to ask questions, and a whole lot of fun packed into this virtual visit. All school appearances are free of charge.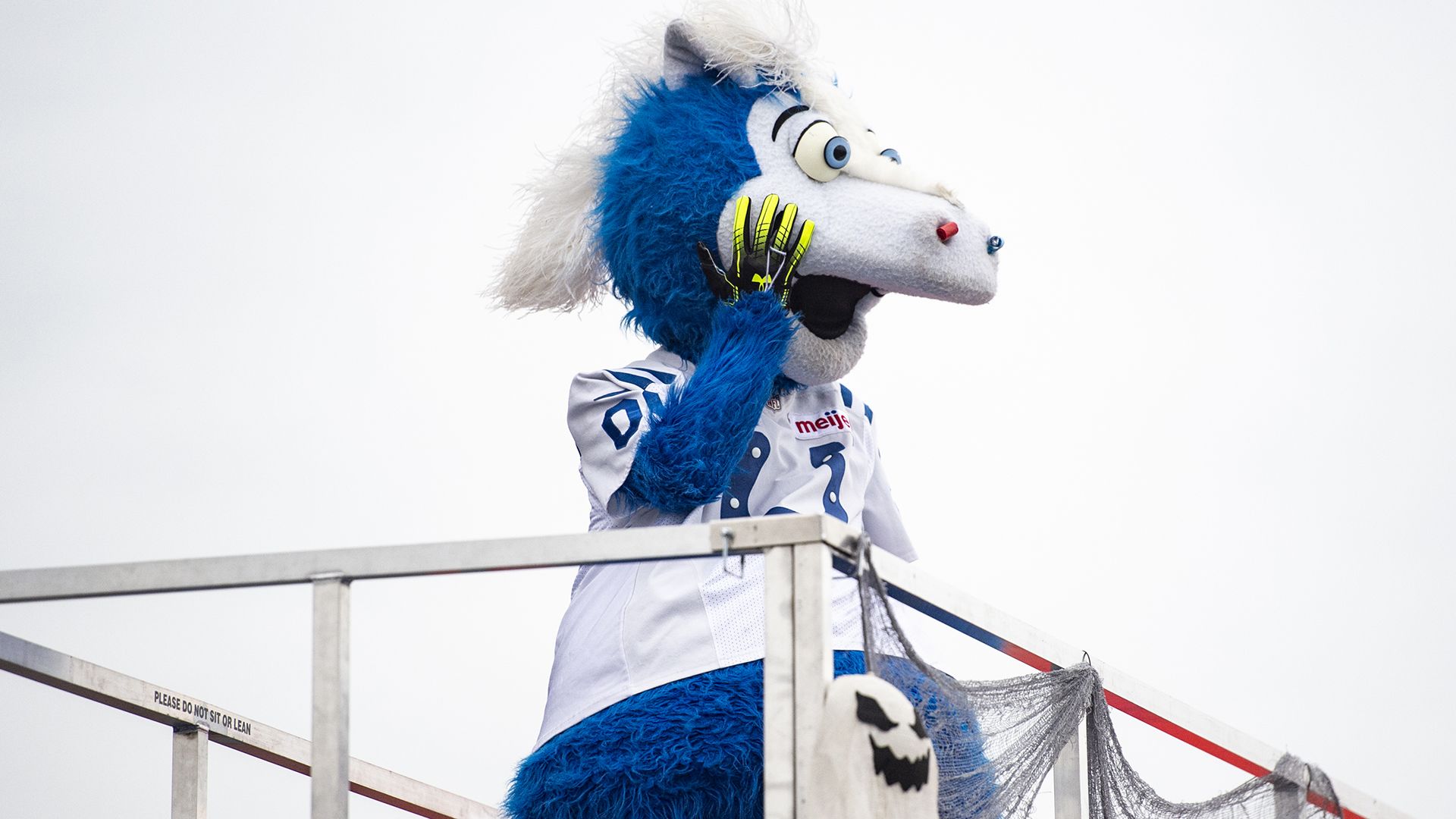 Socially Distanced School Delivery
Make coming to or leaving school a little more fun with a visit from Blue! During his off-season, Blue installed a stage to the top of his van so he can make socially distanced visits to a limited number of schools around Indiana! All school appearances are free of charge.