WESTFIELD, Ind - This Saturday, the Colts open up preseason play against the Buffalo Bills.
Though the team's veterans have been through their fair share of preseasons before, this presents a significant opportunity for the rookies.
Not only will this game serve as their first taste of NFL action, but for many, it will be their first time ever attending an NFL game.
Ahead of the once-in-a-lifetime experience, I asked rookies: defensive tackle Adetomiwa Adebawore, offensive tackle Blake Freeland, running back Evan Hull, defensive end Titus Leo and cornerbacks Jaylon Jones and Darius Rush a series of questions ranging from their emotions ahead of the game to what they hope to prove to this preseason.
Here are their responses:
How do you feel like you have grown from the moment you got drafted to where we are right now?
Hull: I would say the biggest thing is I've grown a lot of my faith just through this process because it's a lot of ups and downs. It's a lot of having to be patient. And it's a lot of moments where you're kind of in this pressure cooker a little bit, you're always being evaluated. And I had to realize at some point that like, I had to just trust God in those moments where they feel like really big moments where, you know, I'm on a big stage and I got to perform, or I got to do things right. So that was - that's the biggest thing. My prayer life has changed. And, you know, I've just been leaning into Him through this whole process.
Leo: I've been learning a lot. Just being a nine technique and moving around the defense, it's a learning process. But I've developed a lot in the sense of it's no more thinking for me. I just go out there and I know what to do. It just comes down to small technique and hand placement. But getting to the ball and making plays? It's second to none now because I'm not thinking about the playbook. That's because I believe I have a comprehension of the playbook and now it's about going out there and executing the technique.
Rush: Honestly, I mean, every level is different. Every level is much faster. At this level right here, you also got to be able to process things a little bit quicker as well. So, you got to become a true student of the game. So that means extra meeting time, meeting with coaches and things like that. So just a little bit of things I've done off the field. And then from the on the field standpoint, I just got to be the person I am and just be able to come out here and give it 100% every day. So, just to come on here and work on my fundamentals and my technique. That's a big thing for me.
From being a fan of the NFL to becoming an NFL player, where are your emotions as your first game approaches?
Adebawore: I would say it's gonna be like game day. [I'm] excited to play in front of a whole bunch of people, obviously play another team with people I don't practice against every day. So that kind of adds an extra level of intensity. And so, this is a way I can go out and prove myself, so it's a good opportunity, I think to showcase my abilities.
Freeland: It's something you dream of as a little kid growing up. You think about this when you're playing ball. It's kind of surreal that it's finally happening, you know? It's always been a goal, so this is a great opportunity. I'm excited to go out there and take advantage of that and show what I got.
Jones: It's gonna be a blessing. Opportunities aren't just given, so I have to go out there and do my thing.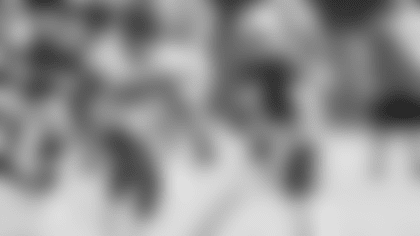 What is the best advice you have gotten leading up to this game?
Adebawore: Each day trying to find something to get better at. Today, I'm trying to work on this, next day I am trying to work on that, or it might be the same thing. So, always coming into practice with a mindset to focus on one thing that you're trying to get better at.
Freeland: I was actually just talking to [right tackle] Braden Smith and kind of asking him the same type of question like, 'Hey, you got anything for me?' He told me to just focus on my fundamentals. You've been playing this game, it's football. Don't make the moment too big for what it is. It's just football. Love the opportunity, but just go out there and do what you do.
Jones: It's all about consistency. You go out there and do your thing. Don't think about it too much. Like I said, at the end of the day it's football and something you have been doing since you were a kid. So, the best advice is to be consistent and be a pro. I got that from guys in the [defensive backs] room, coaches and even college coaches when I told them I was going to the league.
What are you most looking forward to in this game?
Hull: Just being out there for the first time. I mean, it's just - it's the start of something big. So, the opportunity to play football on this stage, you know, in an NFL stadium, and getting this thing going, honestly, I would say is the big thing, just to kick it off and get going.
Leo: Just learning from it. I mean, I know we're going to go out there, make a ton of mistakes and go out there and correct them. We're going to learn from it to become better athletes. That's really what I'm looking forward to, the growth process from it.
Rush: Really just executing my job and executing as a team and as a defense. Just go out there and compete every play and show what the Colts are about. How we are the aggressive team we want to be. We want to have that stamped on us that we're an aggressive defense, a fast and physical defense. So that's what we're trying to apply when we go out there and showcase.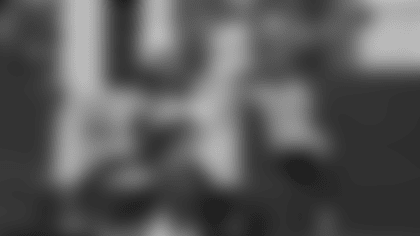 For the past few weeks, you have only gone up against your teammates. How excited are you to go up against someone else for a change?
Adebawore: I'm really excited and it's game day, so I can really just let it go. You know, at practice we have to stay up and take care of each other. But in the game, you know, we're playing real football, we're really hitting, we're bringing guys to the ground. I'm excited to really go out and attack.
Freeland: I think playing other teams helps you grow as an overall player. It tests you in different ways. I mean, there are different players everywhere. There are a lot of different types of rushers on our team, but being able to see other rushers from other teams is awesome also.
Rush: I would say it's a great opportunity to go out and compete. I'm here competing with my teammates every day. But to go out and just showcase what we have done as an organization. This is gonna be a great opportunity to showcase the progress we have made so far this training camp.
What are you hoping to prove with your performance this preseason?
Hull: Just why they drafted me, that'd be the biggest thing. What I can do out on the field with the ball in my hands, that I'm a trusted player and when they put me in positions to make plays, show that I can make those plays. When they put me in positions to block, to be on special teams, I want to show that I can do my job soundly. And, and understand my assignment and my technique. So, all those things, everything they trust me to do out there. I want to do it to the highest level.
Jones: I want to go out there and be a guy. I want to come in and show my ability not only to coaches and fans but to the world. That's my goal.
Leo: Truthfully, I just want to go out there, get a great team win, play great defense and set the standard going into the season. That would be a successful preseason for us, so we have a solid foundation going into the season.