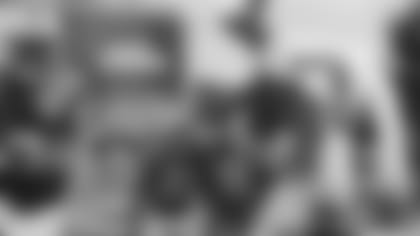 The signs say pretty soon we'll be back to living football!! Log-in!
The Colts Make it Personal Interns are making it REAL PERSONAL...Read More
MyColts.net will be changing it up in June. Read More
Richmond -- Kicking off the Make It Personal Tour

With the Tour underway the competition to find the best Colts city is also underway. As for the criteria: it will be the city that most bleeds Colts Blue and that will be left to a vote by myself and my fellow interns at the end of the season. Don't worry just because you are early in the Tour doesn't mean we will forget about you. We will fill out a recap sheet after each stop. So come on out, enjoy the events and tell us your story...

Things Are Warming Up!!!

Whew.  Deep breath!  I can feel the little butterflies in my tummy that say pretty soon we'll be back to living football!!  I get to meet Holly and I get to see Andy again.  I hope to meet more new mycolters as my original goal when I got here was to meet in person my entire friendlist!! 

June 5th

My mom and I will be heading out to the Colts Open House/Mini Camp on June 5th.  I have never been to the Luke, so I don't know anything about what exit to take or where to/not to park.  After that we will be at the Blue Crew Sports Grill.  I will be looking for everyone going!
Free Mini Camp and Fan Open House June 5!

We'll be there!  Bells optional.  LOL  In case anyone missed my blog, we plan to have a member of our group stationed near the goalpost at the window end of the stadium.  The end with the giant white horseshoe painted on the seats.  We'll stay there as long as we can.  I know some fans are coming that I haven't met and I would be really sad to miss meeting any of you.  Please come find us if you can!!  And don't forget your cameras!!

Rumor: Training Camp back at Anderson University.....

It's looking more and more likely that we're gonna have to throw a "We Get to Meet Megan Party" !!!

MyColts Site Remodel update

The date for launching changes to mycolts.net has been pushed back to June.  Likely the middle or the end of the month. We will be moving.  We are working to try and move everyone and their friend connections...

Fantasy Football

Fantasy Football is slated to launch in June on NFL.com and I was wondering how many of us MyColts plan on creating a team...