 INDIANAPOLIS –Matt Hasselbeck in his previous 14 NFL seasons has seen all manner of quarterbacks as it relates to personal comportment and individual goals.
Hasselbeck this spring had a telling observation about Andrew Luck.
"Andrew's a fascinating guy," said Hasselbeck.  "He's all about football.  He's not all about being in the NFL.  There's a difference."
That peek into Luck's psyche was something Stanford's David Shaw saw in 2011 when he went to console his quarterback after a blowout win over Washington. 
In the 65-21 win, Stanford rushed for 446 yards, but Luck had thrown only 21 times (16 completions) for 169 yards.  Shaw got an earful.
"I think I played just about my best game," said Luck.  "Forget about the yards.  See what the defense was giving us, making the right run checks, making the right pass and protection checks, I'm really excited about what I did."
Sunday at San Francisco, Luck directed an offense that rolled to 179 rushing yards, while he hit 18-of-27 passes for 164 yards and no touchdowns.
Luck was playing within miles of that performance two years earlier and in front of family, fans and Stanford types who were there that day against Washington, but outcome trumped individual totals as the Colts beat the 49ers, 27-7. 
"It meant a whole lot to the team," said Luck of what it meant to get the rushing game going. "For our offense to be successful, we are going to have to run the ball with success.  I can't give enough credit to guys like Jeff Linkenbach, who (stepped) in and (played) a full game against a phenomenal front seven.  Mike McGlynn is down in center.  You have (Hugh Thornton) the rookie starting out there against Justin Smith, you know that is a tough task for anybody.  Joe Reitz is in. 
"It was such a collective team effort to run the ball."
Luck benefited from the club's rushing prowess late in the game when he was able to score on a keeper with four minutes remaining.  Attention was paid with a ball fake that created his avenue around the left side.
Still, it was Luck citing teammates, praising coaches and feeling good for other's successes.
"I thought he did phenomenal," said Luck of Trent Richardson, who joined the Colts in a mid-week trade.  "I can't imagine practicing Wednesday in one city and then you get on a flight and you are practicing Thursday in another city.  We all know he is a football player.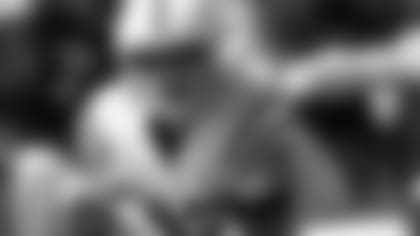 "To him, (Ahmad) Bradshaw and Donald Brown, they have worked together so well.  I think Donald and Coach (David) Walker do such a good job of bringing him up to speed that he was able to contribute and get a touchdown.  How cool was that?"
Luck is quick to set up others for success.  He did it Sunday, though the outing meant the end of a nine-game streak with touchdown passes. 
The triumph was all that mattered.  His 11 wins in 2012 were one of the highest rookie totals in history.  Luck has his Colts poised at 2-1 and tied for first-place in the AFC South.
Sure the rushing touchdown (his seventh) was nice, but the team's largest victory margin on the road in four years was better.
"Great, great team victory.  The way Andrew operated the offense (was good)," said Pagano. "I know he is grinning from ear-to-ear.  I have never seen him smile the way he smiled after this win.  This one meant a lot to him.  I don't think there was anybody that wanted this one more than number 12."
Colts fans for years were witnesses to stupendous offensive exploits.  A more balanced approach was stated from the outset this year, one that sports a power running attack.
Sunday at San Francisco, in Luck's former backyard, the Colts put together such a performance.  It made the team a winner for the 13th time in 19 regular-season games.  It may be a sign of things to come.
"This is obviously a huge win," said Pagano.  "That was a heavyweight fight, a 15-round slugfest.
It is one of those games that you look back and say, maybe five, six years down the road, you say that was a signature win – maybe one of those wins that propel you to do great things."