 INDIANAPOLIS – Necessary is becoming a word associated with Griff Whalen in 2013. 
Chuck Pagano in training camp used it when discussing the second-year receiver from Stanford.
"We always talk to everybody about becoming necessary.  Make yourself necessary, and he is one of those guys that are becoming necessary," said Pagano.
Today, the Colts placed the hard-working Whalen on the active roster, joining a receiving corps that includes LaVon Brazill, Darrius Heyward-Bey, T.Y. Hilton and David Reed – one that is minus the services of Reggie Wayne for the rest of the season.
"(I) feel good about them, feel like they'll all step up.  They have to.  They don't have a choice," said Pagano.  "Bringing Griff up, we know what Griff is.  He's a reliable guy who knows all the spots.  Obviously, (he) has a good comfort level with the quarterback, and vice versa." 
Wayne has not missed a game since 2001, when Pagano was a first-year assistant at Cleveland and no current Colts had reached the NFL.  At 5-2 and with a division game at Houston in six days, Pagano says there is no grace period for the receivers.
"(I) expect Brazill and Reed to step up," said Pagano.  "DHB has been in the room, and they've all been in the room, with one of the very best (Reggie Wayne) in the National Football League.  They understand what it takes.  (It's) process and preparation.  I feel good about the group."
With Brazill on a league suspension for the first four games, Whalen was on the active roster to start the year.
Whalen appeared in 24 total plays in outings against Oakland, Miami and San Francisco.  He had two receptions for 28 yards against Miami, catching a six-yard pass on a second-half scoring march and a 22-yarder on a game-ending possession that was snuffed out with a sack.
"At the beginning of the year I was out there," said Whalen.  "Around here, it's 'Next Man Up.'  Reggie is one of the best who has ever played the game.  None of us is going to be able to replace him.  As a group, we have to step it up.  (I have to) just keep doing what I've been doing, play the game the way I know how to play it."
Whalen had nine preseason receptions for 91 yards, ranking second on the team after topping the club with 12 preseason receptions in 2012 for 125 yards and a touchdown.
"Griff is one of those guys where you know exactly what he is.  You know his skill set," said Ryan Grigson earlier this year.  "He rarely drops the ball.  He doesn't say boo.  He just does what he's supposed to do, and he's a really good pass-catching receiver."
Pagano cites Whalen's cerebral ability and his consistency as strengths, while noting the possibility for him to weave himself into action seamlessly and quickly.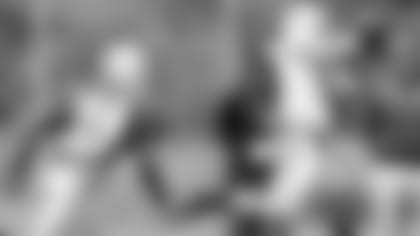 "(He) knows every intricacy of the offense, so he's able to play fast and he's got a great set of hands," said Pagano.
Said Luck, "(I'm) very excited for Griff.  (It's a) good chance for him.   He's always been ready and ready to roll."
Whalen feels his fluency with Luck and the offense, which includes coordinator Pep Hamilton, was a plus for the move being made.
"Definitely.  There's so much history (between us), kind of understanding each other.  You never know when it comes in handy, it does a lot," said Whalen.  "With how much experience I have, I'm hoping I can step in right away and not have a big drop off.  I'm good to go.  I've been doing it all year, training camp and the start of the season.  It's enough time to get back into it."
Whalen moved onto the practice squad after losing active status following the San Francisco game.  He has not missed any on-field work since camp, but knows now he will have more reps with the starters.
As for helping replace a Wayne, Whalen says it is important to focus on the basics.
"I don't feel there's any additional pressure on me," said Whalen.  "I know the coaches are going to have me prepared to do what I need to do.  I'll have myself prepared as well."