 ](http://careyindiana.com)
INDIANAPOLIS –The Colts broke from the gate this year epitomizing the potent rushing style Chuck Pagano said his 2013 team would have.
Four games into the season brought a franchise first since 1984 when the Colts rushed at least 25 times while having a 4.5 average.
Twists that followed included the losses of Vick Ballard and Ahmad Bradshaw and the addition of Trent Richardson and after opening with five consecutive 100-plus performances, the Indianapolis ground game had ebbs and flows.
Prior to the Tennessee game, Indianapolis rushed only 14 times in consecutive games, a victory over Houston and a loss to St. Louis when the Colts amassed only 18 yards for their efforts.
Heading into the divisional fight with Tennessee, Pagano said the club needed to re-establish its identity.  The result was 137 yards on 32 attempts in a 30-27 victory, and the leading performer was Donald Brown.
The fifth-year back keeps punctuating a season with solid rushing performances.
When Indianapolis had a season-best 184 yards at San Francisco, Brown netted 25 in a reserve role and got critical late yardage in a 20-point road win.
A 65-yard day at Jacksonville included a 50-yard burst on the club's initial touchdown march on offense.
A three-yard fourth-quarter touchdown run put the Colts ahead to stay in a 34-28 win over Seattle.
As Indianapolis endured uneven play afterward, Brown kept up his efforts and when the Colts were rallying Thursday at Nashville, Brown was a key figure.
Gaining 80 yards and scoring twice in a game for the first time in his career, Brown carried seven times for 43 yards on a fourth-quarter march where Indianapolis ran on 10-of-11 plays. 
On the same field and going in the same direction where he had 39 overtime rushing yards last season, Brown burst for six, 17 and eight yards to start the drive, and he ended it with an 11-yard run over right guard for a 10-point Colts lead that held up over the final three minutes.
The drive consumed almost five minutes and forced Tennessee to take its last two timeouts.  It caused Pagano afterward to say "this is who we are," and he praised Brown for his relentless professionalism.
"He's been doing it all year," said Pagano.  "He's running as good or better than he has since I've been here, maybe his whole time here.  Right now the way he's running the football, his vision, the cuts he's making, the tackles he's running out of, it's tremendous."
Brown tops the club with 323 yards and a 5.9 average, constantly rising to the occasion when production is needed.
"He's doing a great job, a tribute to his hard work," said Pagano.  "He's never wavered regardless of the situation, regardless of who has come in here.  He's always been a pro."
Coby Fleener was a beneficiary of the club's ground attack by catching eight passes for 107 yards, and he pointed to Brown as a reason why others can prosper.
"You can't say enough about how awesome a guy Donald Brown is," said Fleener.  "To top it off is his amazing play on the field this year.  I'm so happy for him.  He deserves it more than anybody."
In addition to consecutive 14-carry, 80-yard ground games at Tennessee, Brown's career-long rush went for 80 yards against the Titans in 2011, tying the longest scoring run in Colts history.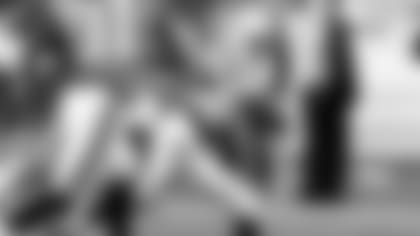 "Guys never gave up and never stopped fighting.  We knew it was going to be a battle," said Brown of a game where Indianapolis recovered from a 17-3 deficit and with its ground attack.  "It's a high-character team, very resilient.  It's just a bunch of guys who go out there and fight 60 minutes."
The win gave Indianapolis a three-game division lead with six contests left.  Brown and the club aim to keep the rushing revival as it moves forward, a prowess seen on the last touchdown march.
"That is Pep's (Hamilton) philosophy – run the football," said Andrew Luck.  "If you can put a drive like that together at the end of the game and score a touchdown and keep the ball out of the offense's hands, that is huge.  
"Since day one Coach Pagano has preached, 'Stop the run on defense, run the ball on offense and win the turnover margin.'  We did all three of those and managed to get a win."