 ](http://careyindiana.com)
INDIANAPOLIS –When D'Qwell Jackson spoke as a Colt for the first time yesterday, he gave a peek at what was a driving force for why he chose to join Indianapolis. 
Of the varied reasons about 1,800 men play NFL football, a good percentage would agree with the one that drove Jackson's decision.
"There's a lot of things that happen in this business and every guy has a reason why they play the game," said Jackson.  "I'm going in year nine.  I've made a great living so far, so the decision for me was easy.  
"It wasn't about the money.  It was a decision to be around a good group of guys, a team that was willing to get to the Super Bowl.  It was about having success with those people.  It's the passion of the game.  That's what it comes down to."
Jackson has tasted one winning season in eight years.  Cleveland went 10-6 in 2007, losing a bitter head-to-head tiebreaker with Pittsburgh for the AFC North title and a dropping a Wild Card tiebreaker to 10-6 Tennessee because of a poorer mark against common opponents.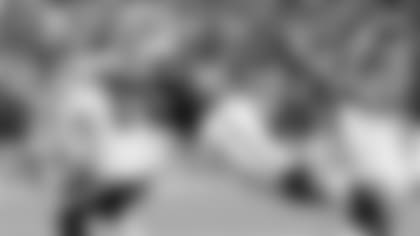 A true scent of the playoffs disappeared, and Cleveland dropped at least 11 games in every other season in which Jackson played.
Not alone as a Browns player with heart, talent and dedication, the post-season math just did not add up for a player who started 96 times, produced 11.5 sacks and 891 tackles.
D'Qwell Jackson Career Statistics
Jackson played under multiple coaches and coordinators in Cleveland, yet saw Indianapolis rebound from a 2-14 2011 season with vigor. 
The Colts went 11-5 twice since then and qualified for sixth and seventh playoff appearances since Jackson's 2006 entry into the league.
"If you haven't paid attention to this organization, then you're not a fan," said Jackson.  "I've been a huge fan of what they've accomplished, a reign of success for 14 years.  It's a testament to what they do."
Jackson's latest Cleveland head coach – Rob Chudzinski – joined the Colts on February 8.  His former mentor helped close the deal to relocate Jackson.  The selling point was a thriving culture under Chuck Pagano.
"That's what attracted me most about this situation – the family atmosphere," said Jackson.  "Everyone I spoke to, that seemed to be the common thread in terms of getting to that next level. 
"It's that piece I wasn't aware of being in Cleveland.  Everyone has to like each other.  You have to like going to work in order to get your job done.  It makes everyone better."
Under Pagano, Indianapolis was 11-5 in 2012, ending a season where only about 16 players remained from the previous year. 
The Colts repeated the 11-5 mark in 2013, joining New England, Denver, San Francisco and Seattle as the only franchises to top 11 wins in consecutive seasons.
Those four teams were conference finalists this past season.  Indianapolis defeated the Broncos, Seahawks and 49ers in the regular season, but fell to the Patriots in the divisional round.
NFL'S WINNINGEST TEAMS 2012-13
Of the NFL's 32 teams, Indianapolis, under Pagano, is the only one not to drop consecutive games from 2012-13.
Jackson cited a chance to play alongside Robert Mathis as one benefit to his decision.  Another was stability at quarterback with Andrew Luck.
"If you've been in this game long enough, you start to realize if you don't have a guy under center, it's going to be hard for you to be in a place with stability and let alone win games," said Jackson, who saw a parade of approximately six different Browns starters since 2006.  "Unfortunately, that's been my career in Cleveland.
"It never stopped my drive, my passion, the way I prepared, the way I played the game at all.  I can only imagine (what it's like).  That's why I'm so excited because there is a guy under center. 
"I feel it's like it's going to re-energize the batteries.  I feel like everything happens for a reason.  I'm in the right place."