 ](http://careyindiana.com)
INDIANAPOLIS –Getting "value-added items" never is a bad thing for consumers, and 15 Colts season ticket members who won their exclusive Colts Season Ticket Member Fantasy Football Leagues this past year were the lucky ones Sunday as they viewed afternoon action at the NFL Combine. 
It is fitting that some of the best fantasy football general managers (and a guest) got a behind-the-scenes look at one of the crucial steps in building an NFL franchise.
"It's neat to see this in person," said Jim Byrd of Winchester.  "When we arrived, Bjoern Werner checked us in.  It's neat seeing those guys and others before they're in the NFL.  This is the first time I've seen a combine in person.  When the combine is on TV, my TV is on it the whole time."
The Colts Season Ticket Member Fantasy Football platform, which was made available through NFL.com, was a new benefit offered to Colts Season Ticket Members during the 2013 season.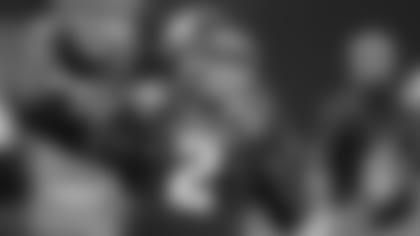 The 15 league winners were presented with trophies from the Colts before watching draft-eligible quarterbacks, wide receivers and running backs go through drills before NFL general managers, scouts and coaches. 
"I was surprised when I won, and it was a nice thing for the Colts to do," said Scott Thompson, a six-year patron from Muncie.  "I've been playing Fantasy for about four years.  I saw the Colts were doing this, and I signed up for three of them.  It was the greatest experience of my life.
"Coming to the combine, you can't ask for anything more (as a perk) than to see new guys coming into the NFL.  Two years ago, we knew Andrew Luck was going to be our guy.  In years past, seeing guys like Antoine Bethea attend wanting to join a top-notch team like the Colts, it's nice to see those guys develop into stars.  (They're) wide-eyed guys itching to become part of the NFL.  It's a priceless situation."
"We are very pleased some of our dedicated fans were able to view part of the combine," said Colts Chief Operating Officer Pete Ward.  "All of us with the Colts hold a deep appreciation for patrons of the club who play such a big part in making this a vibrant NFL city and for making Lucas Oil Stadium one of the league's toughest venues for opposing teams."
The growth of fantasy football is well-documented, with millions of fans getting in on the fun weekly on NFL.com.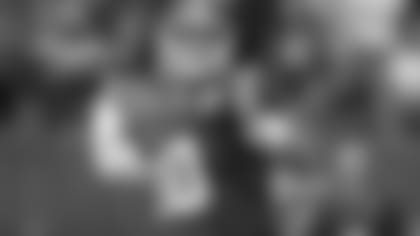 The Colts were one of 12 teams offering special prize leagues to their season ticket members, with more than 8,000 fans participating in 2013 across the NFL. 
"I enjoy Fantasy Football and when I saw the Colts had a league, I went ahead and joined," said Byrd.  "I probably play in four or five leagues.  Fantasy Football keeps you in every game, every week.  You have to play with your head, not your heart.
"To come to the combine is really neat.  I was fortunate to come to Media Day when the Super Bowl was here.  I've been a 30-year season ticket holder.  Anything you can do like this to get more involved with the NFL and the Colts is fun.  We live 90 miles away, but I have 51 season tickets.  I've had them since Day One.  I have the best seats in the house."
Thompson agreed that attending games is a special feeling, one that cannot be gained anywhere else.
"The biggest value to having season tickets is being in the atmosphere," said Thompson.  "You get the chance to cheer with other Colts fans.  Just being in the electric environment you have at a game makes it so much more enjoyable than sitting at home watching on TV. 
"The value of attending is immense.  You get to see things like come-from-behind victories.  Being with the fans in times like those is priceless."
To the Fantasy victors go the spoils, and the club-distributed trophies will have a place of prominence.
"The trophy will be by my TV so I can look at it every time I watch the NFL," said Thompson.  "Every time I play Fantasy Football in the future, I'll look at the trophy knowing the opportunity it gave me."
"I'll probably bring my trophy to the Colts' games next year," said Byrd.  "This program was a definite perk.  This is another memory-building moment, and I have 30 years of memories with the Colts."
With exclusive prizes and experiences offered only to Season Ticket Members, that number is sure to grow in 2014 and beyond.
COLTS SEASON TICKET MEMBERS/GUESTS ON HAND SUNDAY
Alden Masonis and Donna Schroeder-Masonis
Richard and Diane Anderson
Scott Thompson and Nick Davis
Tim McFarlane and Kellen Freeman
Evan Bezek and Jeremiah Beaver
Jameson and Katy McLaughlin
Jay Reaker and Brandon Bennett
Richard and Diane Anderson