 ANDERSON – At the outset of camp, tight end coach Alfredo Roberts said he wanted Coby Fleener to impose his will on the field, saying the second-year tight end "doesn't have to play mad.  I want him to play up to his ability."
Through four practice days, Fleener has been providing a steady production level. 
In an offense that is showing a flair for creative position groupings and alignments under new coordinator Pep Hamilton, Fleener is coming up big among the performers.
"He's probably having the most productive camp, including the time at Stanford, that I've seen," said Hamilton, who saw Fleener at Palo Alto.  "The times I've been around Coby, he's a lot more explosive and confident right now.  He's making plays that big-time NFL players tend to make."
Andrew Luck has thrown seven touchdowns in 7-of-7 and 11-on-11 drills in four sessions, two went to Fleener.  On Tuesday, the Cardinal teammates collaborated on a long completion down the middle of the field.
It was what Colts fans saw from Fleener in the Chicago opener last year when he had six receptions and 82 yards in a career debut.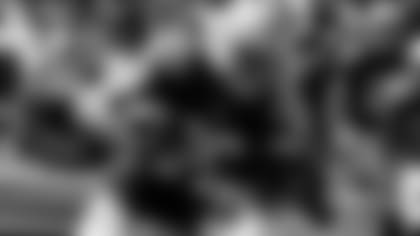 Fleener did not match that output again and was nagged by a shoulder injury that cost him four games.  He totaled 26 receptions for the season, scoring two touchdowns.
A second season affords natural growth, and it yields the addition of Hamilton in place of Bruce Arians. 
Being reunited with Hamilton means a familiar offense, one that fits Fleener like a glove.
"Any time you understand the offense, you feel more comfortable in being able to go out there and just run as fast as you can and do your job at full speed as opposed to second guessing," said Fleener.  "I would say (this offense is) 98 percent different as far as terminology.  We tried to try to bring some of the terms from last year into the offense that we ran at Stanford. 
"There will be some carryover but for the most, part it's very different."
Fleener has 14 receptions from Luck so far in drills, ranking among the club leaders.
"If he can keep stacking practices like that on top of one another, then what we talked about in the offseason about him moving forward and having the type of season in year two building off the first year (can happen)," said Chuck Pagano.  "He's a mismatch, he's a handful for these guys.
"He's going to do better in the run game.  We expect more out of him in the run game and he knows that.  We're going to ask him to do a little more heavy lifting in the run game, but certainly in the pass game, he's a mismatch."
The Colts will employ a more run-oriented attack under Hamilton, but he sees the same mismatch nightmare Fleener presents defenders.
"Absolutely.  (He's) 6-6, 250 pounds, and he runs as fast as wide receivers," said Hamilton.  "It's probably a good chance that he'll have an opportunity to run past a few safeties."
Drafted just after Fleener, Dwayne Allen sees a driven player.
"He's a guy who is hungry and way more physical," said Allen.  "Coby understands his time was limited last year because of injury.  He knows he has some doubters out there, but he also knows he can be one of the best tight ends in this league.  He's going out there this year to prove that."
Fleener is thinking only in small increments as he seeks a big career.
"As cliché as it sounds, you have to take it one day at a time," said Fleener.  "You can't let yesterday's good practice or bad leak into the next day.  Every day is a fresh start.  I'm hoping to do better each day.
"There's definitely a lot of learning going on in this offense.  Thankfully, I've been in it, so I'm more familiar than most.  We're still adding some new things every day and tweaking old things.  It's constant change."
Defensive tackle Josh Chapman was responsible for leveling four offensive players with one push to collapse a running play.  Chapman shoved center Samson Satele and guard Mike McGlynn, who then fell into another lineman and tight end.  Chapman was matter-of-fact when asked about the play coming off the field.  Chapman is fighting for playing time after missing last season with a knee injury.
Andrew Luck hit 17-of-22 passes with no touchdowns or interceptions.  Luck is 88-of-132 for seven TDs in 7-on-7 or 11-on-11 drills in four days. 
On the first play of team drills, Luck zipped a 50-plus-yard completion to Darrius Heyward-Bey to the delight of those in attendance.  Two plays later, Donald Brown made a nifty one-handed reception in stride and gained more than 40 yards before being downed.
Luck had an impressive completion to Wayne later in practice after buying time in the pocket, one of four receptions by Wayne on the afternoon.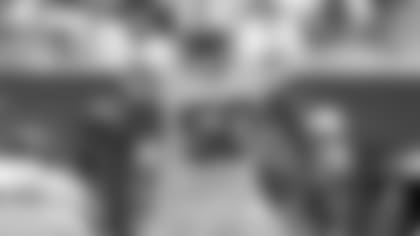 Jerrell Freeman had a pass defensed of Luck early in practice, while Greg Toler had one later while suffering a concussion.  Toler has been the most active pass defender in camp.
Vick Ballard had a busy day with three receptions from Luck.
Cory Redding was involved in a brief skirmish with an unidentified offensive lineman, an incident that cooled quickly.
T.Y. Hilton and Cassius Vaughn got their feet tangled up early in practice on what was to be a long route.  Hilton momentarily stayed down, then shook off the spill and missed no action.
No foul, thankfully, no harm.
The team worked in full pads.
G-Hugh Thornton (ankle), C/G-Khaled Holmes (ankle), LB-Scott Lutrus (knee), S-Sergio Brown (hamstring), DT-Kellen Heard (illness), S-Antoine Bethea (wife's child birth), NT-Martin Tevaseu (shoulder) missed the session.  WR-LaVon Brazill (abdomen), LB-Mario Harvey (hamstring) and Toler (concussion) were hurt during practice.
PAGANO SAYS(On the goal of the first week)
"We need to get better every day.  That's our number one goal.  We're going to stick to the process and individually, as a position group we want to get better every day.  We don't want to take any steps backwards.  You've got to fight the mental part of it.  The physical part's hard."
PLAYER QUOTE OF THE DAY (Coby Fleener on how he measures progress)
"You try to measure it from a mental aspect, (so) mental errors, missed assignments and things like that.  From a physical standpoint, 'Am I beating the guy across from me?'  I think that's what football comes down to.  Hopefully, we can do more and more of that."
Former Colts LB-Barry Krauss attended, as did Anderson University President Dr. James Edwards.
The last season when the Colts scored a safety was 2007, when Indianapolis had two.  Name the two Colts who scored safeties.  Also, name the last opposing player to score a safety against the Colts.  ANSWER:  Dwight Freeney (10/22/07 at Jacksonville) and Michael Coe (at Baltimore 12/9/07) are the last two Colts to score safeties.  Chicago's Adewale Ogunleye tackled Joseph Addai in the end zone on 9/7/08, the only safety scored in league play in Lucas Oil Stadium.
Name the year, opponent and site for the times the Colts played preseason games outside of the country.  Who were the Colts' head coaches in those games?  See the next Colts Camp Notebook for the answer(s).
TODAY'S NATIONAL COVERAGE
Pete Prisco (CBS Sports Network) and John Clayton (ESPN) attended practice.
AFTERNOON ATTENDANCE:  2,148.  TOTAL FOR CAMP:  11,221.
The weather in Anderson on Wednesday was cloudy and threatening.  The morning walk-through was shifted indoors, while the high for the afternoon session was 70 degrees with cloud cover and no wind throughout session.  Thursday's outlook calls for partly sunny skies with a high of 80 degrees.
Thursday's practice session open to the public is 1:50 to 4:30 p.m.