 ANDERSON – T.Y. Hilton made a splashy introduction to Colts fans when Ryan Grigson traded up in the 2012 draft to land the Florida International speedster in the third round.
Hilton did nothing but validate the move by having one of the best rookie seasons ever by a Colts receiver.
He recorded five 100-yard outings, a club rookie mark, and his 861 yards on 50 receptions ranked second-best ever by a Colt.
A number of Colts were asked near the start of camp which teammate they expected to have a solid performance in Anderson.  Many pointed a finger directly at Hilton.
"He showed a whole lot last year, and it was the foundation for the rest of his career," said Vick Ballard.  "He's going keep building and building once he gets comfortable with the offense and his game.  His growth potential is great."
Hilton has been a regular target for quarterbacks in camp.  Among his seven receptions in Tuesday's practice, three went for scores.
The highlight of the night was a long touchdown connection from Luck in tight coverage by Greg Toler.  The duo clicked again to successfully end a two-minute drill at the end of practice.
"I think T.Y. Hilton can be really special as a receiver, and I've been around a lot of receivers," said 15-year veteran Matt Hasselbeck.  "He's a guy I see who could be poised to break out."
The 13th receiver drafted last year, Hilton started breaking out early.  In week three, he became the NFL's first rookie receiver to top 100 yards when he had 113 against Jacksonville.
His second such performance (6-102, 1 TD) came against Miami, and he tied the club mark of Andre Rison with six receptions for 100 yards at New England.
Hilton set the club rookie mark by going past the plateau at Detroit, then versus Houston, and he also set a franchise record by scoring touchdowns via a reception and punt return in the same game – versus Buffalo.
Grigson cited Hilton for his aggressiveness also in hitting on coaches for tidbits during practice.  He was seeking counsel for honing his craft, and he did so repetitively with Reggie Wayne as well.
Hilton said last year having Wayne at his disposal was invaluable.  He said it was like having a math book with answers provided.  He also said going to Wayne was like going to the library, but that he only had to walk across the locker room rather than get in a car and drive to have access to information.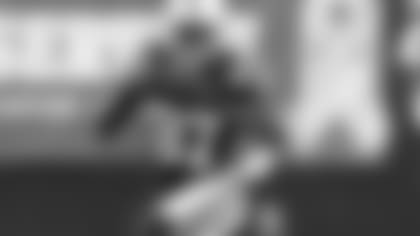 "He's young but he's a professional, he's what you want in a young guy," said Wayne.  "He's in meetings asking questions, writing down notes, making sure he's on the right page with Andrew (Luck).  He's doing everything right.  T.Y. is constantly just growing and growing, that's all you can ask for."
Dwayne Allen made the same rookie splash as Hilton in 2012, and much is expected from both this year.
"T.Y. has become a more confident guy," said Allen.  "Last year he was still young, a little raw and didn't have a lot of confidence.  Due to the success that he had last year, it helped build his confidence a lot.  You see it through his route running, through his trash talking that he does this year."
Hilton was the ninth Colts rookie with 50 receptions and while his yardage was second-most (1,131, Bill Brooks, 1986), his seven touchdowns tied for third-most (8, Brooks; Marvin Harrison; 7, John Mackey; Austin Collie).
"He plays with a quiet confidence that's really fun to be around," said Luck.  "He's a phenomenal teammate.  You can tell T.Y. takes coaching really well.  He's smart, he knows how to play football but he also does a great job of taking coaching.  He's been phenomenal."
Chuck Pagano pointed out how second-year players play more fluidly because the game is more natural and has slowed down more.
"T.Y. is not thinking.  He plays fast," said Pagano.  "You could see him in the middle and toward the end of last season really take off.  He came in in the off-season and picked up right where he left off.  He's a talented guy.  He's going to become an elite guy."
Darius Butler provided the two plays of the day.  Within moments of each other, Butler had two scoring interception returns.  The first came off the arm of Matt Hasselbeck, then Butler intervened on a pass from Andrew Luck to Reggie Wayne.  Butler has been among active secondary members having good camps.  Later in practice, he defensed a pass from Luck to Coby Fleener.
Luck hit 13-of-21 passes with one interception.  He completed five passes to Reggie Wayne and three to T.Y. Hilton.  Luck is 208-of-307 for 19 TDs in 7-on-7 or 11-on-11 drills in during camp.
Luck teamed with Wayne on a crisp pass across the middle with Antoine Bethea in tight coverage, and Bethea made the stop after the reception.
With Dwayne Allen nursing a foot injury, Fleener and Dominique Jones got heavy work at tight end and in passing drills.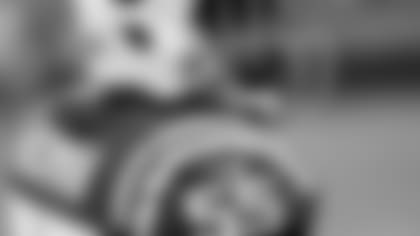 Justin Hickman defensed a Luck pass in drills.  Josh Gordy forced a fumble after a Justice Cunningham reception.
Hasselbeck teamed on a long out pattern with Griff Whalen.
The team did repetitive drills with the offense deep and moving away from its goal-line.
TE-Dwayne Allen (foot), S-LaRon Landry (knee), S-Joe Lefeged (calf), G-Hugh Thornton (ankle), C/G-Khaled Holmes (ankle), S-Sergio Brown (hamstring), LB-Mario Harvey (hamstring), LB-Daniel Adongo (biceps), S-Larry Asante (shoulder, AC joint), LB-Jerrell Freeman (shoulder) and FB-Dan Moore (shoulder) missed action.  No more information is available on Allen.
G-Justin Anderson (pectoral) was waived-injured and WR-Rodrick Rumble was waived.  LB-Shawn Loiseau and S-Ashante Williams were signed.
WR-Darrius Heyward-Bey worked in warm-ups and in the first team drill, doing all things prescribed by the organization.  CB-Teddy Williams (quadriceps), LB-Josh McNary (hamstring) and CB-Marshay Green (hamstring) went down in afternoon work.
PAGANO SAYS(On if he still feels butterflies on game days)
"Everybody gets them, it doesn't matter whether you're playing or coaching, we all have a job to do and we all have responsibilities.  There are always butterflies but once you kick that thing off as a player, you have them but the first time you get hit or you hit somebody, the butterflies are gone and you are in the flow of the game.  The same thing goes as far as coaching.  Obviously, having somewhat of a year under my belt, I don't think it will be as bad as it was the first time."
FEATURED QUOTE (DE-Cory Redding on if there is a position on the line he likes best)
"Hey man, I'm a football player, bro.  If you line me up at free safety, I think I can cover somebody and come downhill and hit, you know what I'm saying?  We play ball, man.  That's what you want to do.  You want to put football playmakers on the field and that's our mindset."
Five different opposing quarterbacks have had five or more touchdown passes in a game against the Colts.  Who are they?  ANSWER:  Joe Kapp (7, Minnesota, 1969), Joe Namath (6, New York Jets, 1972), Dan Fouts (5, San Diego, 1982), Mark Malone (5, Pittsburgh, 1985) and Drew Brees (5, New Orleans, 2011).
Two former Colts assistant coaches had four or more interceptions against the Colts as an opposing quarterback.  Who are they and how many did they throw?  See tomorrow's Colts Camp Notebook for the answer.
TODAY'S ATTENDANCE:  1,450.  TOTAL FOR CAMP:  31,857.
The weather during Thursday's morning work was sunny and 72 degrees.  The temperature for the afternoon practice reached 75 degrees.  Rain and light hail welcomed the start of practice and it remained overcast most of the way.
There will be a Friday afternoon practice open to the public from 1:50 to 3:55 p.m.  There is nothing scheduled for Saturday, and the Colts host Buffalo on Sunday.