 INDIANAPOLIS – On Thursday, a few more things came into focus as the Colts finished preparations for Cleveland on Saturday at Lucas Oil Stadium.
Running back Ahmad Bradshaw worked during the week, but will not play.  Safety LaRon Landry, another big off-season acquisition, worked twice and will play.
Landry will join a number of veteran teammates who likely will toil into the third quarter as Indianapolis provides a longer playing duration in a tune-up for the regular season.
"Typically when you look across the league, everybody looks at the third preseason as an initial indoctrination of a game week," said Chuck Pagano.  "There will always be changes based on snaps you get. 
"There could be a guy like a Reggie Wayne, a Cory Redding who might get a certain amount of snaps and we think they're okay and they don't have to play a first half and come out in the third quarter.  We treat those guys on a case-by-case basis."
Pagano said this is an important game because in the hours after it is over, teams must trim roster sizes from 90 to 75 players.
Bradshaw and Landry do not face the looming deletions, and both are being groomed for the rigors of a 16-game season.
"I feel good.  It's coming along," said Bradshaw of a foot injury that forced two surgical procedures.  "We're just taking it easy, taking it slow.  It's a process, so we're just taking our time with it.
"Definitely, I want to play every game.  I'm just being smart.  I just want to take the best approach to the season.  It's a long season.  I've been there.  I want to be there every game during the regular season."
Pagano and the club take the side of caution in case-by-case physical evaluations.  Bradshaw is a two-time 1,000-yard rusher who will bolster a rushing attack along with Donald Brown and Vick Ballard.
Whether Bradshaw plays at Cincinnati on August 29 remains in the air, but his foot is not slowing him down.
"I feel I'm getting back to where I need to be.  I'm doing a little bit of everything," said Bradshaw.  "There's no limits to my foot right now.
"(I'm) just getting back to running, I've been in a boot for six months.  Just getting your legs back under you and getting used to running again, I guess, is the hardest part.  It's coming along.  I'm almost at full speed.
"We use kind of a clam shell to cover the foot, which helps me not think about it.  I did have surgery there twice.  It's hard not to think about it.  I don't think about it too often."
While Bradshaw will continue building camaraderie with teammates off the field, Landry will make his debut.
"To have LaRon out there Saturday will be exciting," said Antoine Bethea.  "We want him to go out and play his style of game.  We brought him in for his style, his aggressiveness. 
"He's a veteran at the position, and he's a Pro Bowler.  We want him to do what he does, make plays."
Landry did not participate in OTAs, then worked with the club in mini-camp.  His concern was getting to the physical level where he could sustain the crunch of a full season.
"It's been a long time.  Coming in from OTA's, I missed that, coming into training camp and gelling with the team, then missing (time) because of the knee, hopefully I don't overdo it when I get out there," said Landry.  "My whole mindset (was not) to rush it back so I could sustain at least a full game before going into a regular season game.  (I wanted) to test it out."
While some players vary on the value of preseason, Landry is a proponent of action to be ready for September.
"I feel that way," said Landry.  "We're going to play until the third quarter.  That's a good test."
Pagano said Mike McGlynn suffered a bruised bone in his knee and could not finish Wednesday's practice.  McGlynn will be replaced Saturday by Jeff Linkenbach, the first interruption to the line all year.
Linkenbach has four-position value at the tackle and guard roles.  "He's a really bright guy who understands everything what's going on," said Pagano.  "You have to credit a guy like that.  He just comes in every day and prepares and practices as well as anybody.  He's durable, accountable, you can rely on him.  His versatility position-wise gives him a ton of value."
Coby Fleener and Dwayne Allen will not play, creating more action for Dominique Jones and Justice Cunningham.
With Bradshaw out, Pagano said Kerwynn Williams and David Meggett will get a good amount of second-half reps.
Pat Angerer is ticketed for his first action, as is rookie G-Hugh Thornton.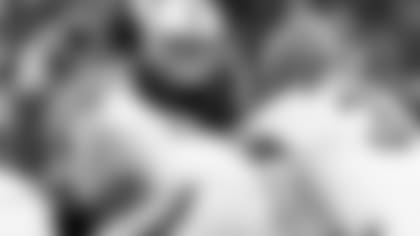 "(Pat) looks really good," said Pagano.  "We'll keep a close eye on him.  I don't think it would be wise for him to play a whole half of football.  If we can get him 15-20 significant snaps and get him out, that would be great."
Players not spotted during the media portion of practice today included Lawrence Sidbury, LaVon Brazill, Maurice Williams, Teddy Williams, Joe Lefeged and Josh McNary.
PAGANO SAYS(On LB-Pat Angerer)
"He's in a great place mentally and physically.  It's a first time in a long time for him.  He's looked really good. 
FEATURED QUOTE(LB-Caesar Rayford on if he is a case of, 'If you can play, they'll find you,' since the Colts found him playing in the Arena League)
"Oh yeah, definitely.  You got the guys that get (in) the front door.  You got the guys that get (in) the back door.  Then you got guys like me that got to climb the house and jump through the chimney.  I'm in the house.  That's all that matters."
When the Colts dabbled with the Wishbone offense in 1988, name two of the quarterbacks who ran it, plus the defensive back who ran one play at quarterback in the formation against Denver that year.  ANSWER:  Gary Hogeboom and Ricky Turner were the quarterbacks.  Defensive back Willie Tullis ran one Wishbone snap against the Broncos.
Peyton Manning and Jeff Saturday set the NFL record with 170 starts as a quarterback-center duo.  Which quarterback-center tandem held the record previously?