INDIANAPOLIS – The franchise quarterback remains in the concussion protocol.
That was the major news for the second straight day at the Indiana Farm Bureau Football Center.
Andrew Luck did not practice again on Tuesday, thus shrinking the necessary time to progress through the concussion protocol by Thursday night.
Here is the Tuesday notebook with Chuck Pagano and T.Y. Hilton meeting the media:
CB-Vontae Davis (ankle): Davis remains in a walking boot, and did not practice again on Tuesday, after he played the entire game on Sunday.
S-Clayton Geathers (concussion): Geathers was briefly present at practice on Tuesday before heading inside. Geathers has not practiced either day this week.
QB-Andrew Luck (concussion): Luck is still in the concussion protocol. The Colts have had three prior concussions this season and, while (of course) each concussion is an individual case, no player has been cleared before the Saturday following a Sunday game. The odds are stacked against Luck playing Thursday.
CB-Patrick Robinson (groin): After missing practice Wednesday-Friday last week, Robinson has practiced both days this week.
Chuck Pagano on Scott Tolzien:
"I have all the confidence in the world in Scott."

Bowen's Analysis:* *For a second straight day at practice, Scott Tolzien and Stephen Morris were the only quarterbacks working. Pagano said Tolzien was in the building until 10:30 p.m. Monday night, in a week that is all about cramming whenever Thursday games arise on the schedule. Tolzien has received extra first-team reps in 2016 with Andrew Luck taking some "maintenance" type rest days this year.
Pagano would not reveal the exact route he is going to take if Luck isn't cleared by Thursday. Tolzien would be the most likely option given his NFL experience (granted Tolzien's last meaningful pass was in 2013). Morris remains on the practice squad and could be called up at any point. The Colts had a similar situation with their starting quarterback injured on a short week last year, but the experience of Matt Hasselbeck was really unlike any other for a backup quarterback.
Chuck Pagano on the Steelers beating the Colts by a combined 52 points in back-to-back seasons:
"Nobody forgets anything in this league."

Bowen's Analysis: In most weeks, this would be the storyline going into the game. But Andrew Luck's situation subsides the Colts trying to move on from losses they would like to forget against Pittsburgh.
The injury situations in the secondary could be critical in how the Colts will play things come Thursday. Is Vontae Davis healthy enough to shadow Antonio Brown, the NFL's top catch man in 2016? Would the Colts want to use Davis in that role, given how much Brown moves around the field and when you also account for the other injuries in the back end? How does Clayton Geathers' status impact the Colts going to their nickel and dime looks against Pittsburgh? Is Darius Butler looking at Round Two at safety? When the Colts have the ball on Thursday, everyone knows where the focus is going to be (the quarterback position). When Pittsburgh has the pigskin, the secondary of Indianapolis has some definite unanswered questions/possibilities in trying to slow down a future Hall of Fame quarterback.T.Y. Hilton on guys stepping up if Andrew Luck can't play Thursday:
"The star players got to play like star players. They've got to step up their games even more."

Bowen's Analysis:* *This quote from Hilton should be plastered onto the forehead of himself, Frank Gore, Robert Mathis, Vontae Davis etc. come Thursday night. If Luck is out, the Colts need their other Pro Bowl caliber players to rise up and lead with their play.
In last year's Thursday night win in Houston (with Matt Hasselbeck extremely sick and having missed practice all week), the Colts got 98 rushing yards from Gore. That is the sort of game the Colts are going to need from their skill guys on Thursday. The defense and special teams potentially setting up short fields and controlling field position in general is another area the Colts are going to have to win.
Here is Tuesday's injury report, which was another very light walk-through practice:
-DNP: CB-Vontae Davis (ankle) S-Clayton Geathers (concussion), QB-Andrew Luck (concussion), CB-Frankie Williams (non-football injury)
*-FULL: DT-Arthur Jones (knee/ankle), OLB-Robert Mathis (rest), CB-Rashaan Melvin (back), CB-Patrick Robinson (groin)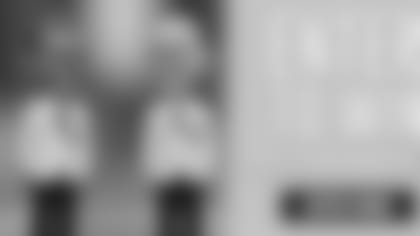 ](https://colts.formstack.com/forms/bobbleheads)