Indianapolis Colts Cheer Show Group | Indianapolis Colts - colts.com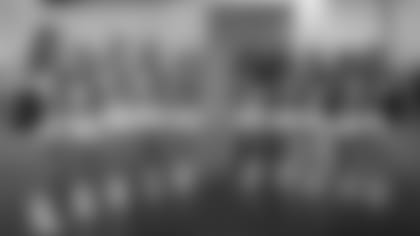 If you need to attract crowds, entertain groups, or leave lasting memories, the Indianapolis Colts Cheerleaders are up to the challenge! A group of multi-talented women will have you on your toes in an upbeat and choreographed production with singing, dancing, and more! The Show Group entertains crowds at pep rallies, sports events and military bases.
Past performances include entertaining our military troops overseas with a South Pacific tour, Mediterranean tour, and Japan tour with Armed Forces Entertainment and also an AKA Productions Tour in Kosovo. The Show Group has traveled to include , Hong Kong, Australia, Honduras, Puerto Rico, Diego Garcia, Korea, El Salvador, and Curacao.
Past visits of the Show Group have included a trip to Mexico City, London, Fort Knox, Wright-Patterson Air Force Base in Dayton, OH; the River Bats Stadium in Louisville, KY; and the Wizards Stadium in Fort Wayne, IN.
For more information regarding the Show Group entertaining at your next event, please contact us.