INDIANAPOLIS – It's an opener both fan bases have been beyond eager for ever since the new pieces began meshing together early in 2015.
With a later Labor Day on the 2015 calendar, the wait has been even longer for the Colts and Bills fan bases.
The offseason anticipation for the teams have been immense, thanks to several moves made earlier this year that had the NFL world buzzing.
Bills head coach Rex Ryan is the headliner of all the new faces who will meet on Sunday afternoon in the 2015 season opener.
For the Colts, that means prepare for a defense that isn't about to sit back and bring limited pressure.
He excelled against the blitz last season, leading the NFL with 18 touchdowns compared to just three interceptions in such situations.
"When you blitz, there's an opportunity for a big play," Luck said earlier this week.
"That's a big play for the defense or if you're on it, that's a big play for the offense. We try to relish it and welcome it. Be ready to make a defense pay, if they do (blitz)."
Veteran quarterback Matt Hasselbeck believes that for an offense to succeed against a Ryan-type defense, an aggressive approach is necessary.
While the Colts will try and combat a defense that led the NFL with 54 sacks last season, the Colts defense must exercise discipline.
Buffalo will start Tyrod Taylor at quarterback. During the preseason, Taylor averaged nearly 10 yards per carry, while showing plenty of ability with his arm, in completely more than 77 percent of his passes.
With former 49ers offensive coordinator Greg Roman now in Buffalo, the Colts are expecting some read-option looks to accentuate the strengths of Taylor and the always elusive LeSean McCoy.
"I'm sure we will see some read-option, some things they kind of did at San Francisco with (49ers quarterback Colin Kaepernick)," Colts starting safety Dwight Lowery says.
"With that, it's more discipline. If it's third-down, stay in your rush lane. If you are supposed to have contain, have contain. It's just being really discipline with whatever your job is, whatever your technique is because (Taylor) does have the ability to make a play a positive play out of what looks like a negative."
After reaching the AFC Championship game last season, the Colts offseason has had no shortage of headlines.
The last of which came in the long-term futures of T.Y. Hilton and Anthony Castonzo staying in Indy.
Now, it's finally about football and a season Owner Jim Irsay has been looking towards more so than any other in team history.
"I'm very excited," Hilton said this week.
"It's time for the live bullets to start flying and guys are excited around here. We got our new pieces that we can't get wait to get ready to use on Sunday."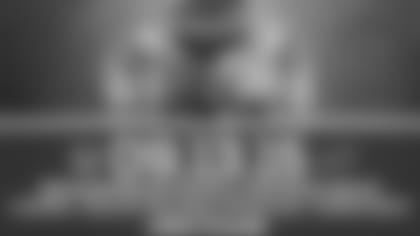 INTERESTING MATCHUPSBills running back LeSean McCoy and against the Colts defense:At 100 percent, there might not be a more electrifying running back in the NFL than McCoy. The "100 percent" gauge is highly debatable this week though, with McCoy fighting a hamstring injury. Even if McCoy is less than his full potential, the term "setting the edge" has never been more true in dealing with the Bills starting running back and dual-threat quarterback Tyrod Taylor.Colts offensive line versus the Bills defensive front: Last season, the Buffalo Bills led the NFL with 54 sacks. A trio of players reached the double-digit sack number. However, the Bills will be without one of those on Sunday---defensive tackle Marcell Dareus (suspension). Even without Dareus, the Bills front will be one of the Colts stiffest tests in 2015. Will the Colts offensive line be able to handle all the exotic looks Rex Ryan will inevitably display?Quick Facts
The Colts will be looking for their first season-opening win on the road since the 2006 season.
Colts quarterback Andrew Luck led the NFL with 40 touchdown passes last season. His 12,957 career passing yards are more than any other player in the first three years of an NFL career.
The Colts will start two rookie defensive linemen on Sunday, the first time they have done that in their 32-year Indianapolis history.
Bills quarterback Tyrod Taylor will be the 15th quarterback to play for Buffalo since Jim Kelly retired following the 1996 season.
The Bills led the NFL with 54 sacks last season.
Several plays have Indiana ties on the Bills: TE-Marquise Gray (Ben Davis High School), KR-Marcus Thigpen (Indiana University) and DE-Jerry Hughes (taken by the Colts in the first-round of the 2010 NFL Draft).
NOTABLE QUOTESColts Head Coach Chuck Pagano(on the eagerness of getting into game action):
"I think everybody is eager to get to that, but you've got to put the time in. It's a necessary evil. You've got to go through the offseason. You've got to go through training camp. You've got to go through the preseason. Everybody wants to get to the regular season, but you've got to build your football team. You've got to develop an identity and a formula, a winning formula. There's no way around that. Again, I think everybody was very eager and excited to come to work today knowing that you've got a game on Sunday to play."
Colts Head Coach Chuck Pagano(on the challenges of facing quarterback Tyrod Taylor):
"No question about it, it's going to be a nightmare. The toughest part is trying to simulate that in practice and get ready for what we're going to see come Sunday and again that's really, really difficult to try and simulate that. You got it on tape, you can see him running the read option stuff and we faced in the past with some athletic guys. Like Rex mentioned, we've faced some good athletes, but Tyrod can really run. He can really, really run and then when he drops back, like I said, he can beat you with his arm talent. He makes great decisions but then the containment becomes an issue. You want to get after quarterbacks and all that kind of thing, but you've got to be very, very smart and you've got to be disciplined in your pass rush lanes. Again, it's going to be a great challenge. When you've got a guy that's a dual-threat, a guy that can beat you with his legs and his arm that makes it a very tall order for your defense."
Colts Quarterback Andrew Luck(on the way Frank Gore runs):
"It's a violent run, you can tell. He's stepped on my foot maybe a couple of times during camp and it hurts. It hurts more than when other people step on your foot. I think he puts a lot of force into that ground. He is violent. He looks like he's a natural runner and nothing is forced. It's very fluid but powerful. It's sort of a thing of beauty actually I think to watch him run."
Bills Head Coach Rex Ryan(on if he can rattle Andrew Luck):
"No. Simple as that. I mean this guy, he is poised way beyond his years and obviously you put him right up there. He is the next (Peyton) Manning, (Tom) Brady and all that type of stuff. The once in every generation, even though the Colts get one every 10 or 12 years. But that's who he is. He doesn't get rattled. Obviously his dad being a former NFL quarterback helps. But he's smart, he's athletic, way more athletic than given credit for, big, strong, his voice. You know he's got everything and obviously it's gonna be a huge challenge for us."
Bills Head Coach Rex Ryan(on coaching with Chuck Pagano in Baltimore):
"The thing with Chuck is Chuck was actually with my brother so he coached with the double header. He got with my brother, he coached with him and he coached with me in Baltimore and one thing we'll say is obviously Chuck is one hell of a football coach. His guys play extremely hard for him as well. But he's a funny guy, a great person, and a guy that is a team builder as well. Not just a great coach, but a team builder as well. He's special in my opinion. There's no doubt about it and obviously his record speaks for itself as a head coach."
Bills Defensive End Jerry Hughes(on what he learned from his time in Indianapolis):
"Learn how to be a professional. Got to be in the d-line room with two potential, two hall of famers with Dwight Freeney and Robert Mathis. So learn how to be a pro from those guys, seeing how they prepare week in and week out. The things that they do, just a lot of small, minute things that they do to kind of take care of their bodies, keep their mind sharp, keep them ready to go on Sunday so that way they're able to. Just how they prepare throughout the week really I think is a huge thing that I learned from those two guys and you can kind of take and help expand your NFL career, at least for more years."