INDIANAPOLIS – This time last year, the Carolina Panthers were in the midst of a season spiraling in the wrong direction.
After winning the NFC South in 2013 and earning the No. 2 seed in the playoffs, the Panthers suffered a two-month winless streak the following the season.
Carolina was 3-8-1 when the final month of the 2014 season arrived, yet still holding a slim chance at a playoff spot.
The Panthers rattled off four in a row to end 2014, including a pair of 31-point road victories to capture the NFC South.
What has Carolina done with last season's finish?
They've now won 10 regular season games in a row, the longest streak in the NFL.
With questions surrounding Ron Rivera's Panthers, they delivered, and are continuing to do so after a 6-0 start in 2015.
"I think the biggest thing really is about the players. Making sure that the players continue to work hard and do things the right way and the coaches continue to work hard and do things the right way. That's really what happened," Rivera said of the turnaround.
In a way, the Colts 2015 script has some early similarities to what the Panthers dealt with in 2014 (albeit Indianapolis is a far cry from a two-month winless streak).
"When I sit there and look at the Colts and look at the personnel they have and look at the players they have, it's a good football team," Rivera says.
"Right now, they've had some bad luck, some crazy things have happened. Still it's a good football team. It's a well-coached football team. To me, it's just be patient and our mantra around here is just keep pounding."
The Colts are going to want to do their own pounding on Monday night.
Frank Gore is the likely recipient of those carries with the 32-year old averaging 4.6 yards per carry in 2015.
Some extra work for Gore is a necessity playing the hottest team in the NFL.
What the Colts are currently dealing with is unchartered waters in the past three and a half seasons.
A win on Monday would keep the Colts from having their first three-game losing streak under Chuck Pagano.
With adversity hitting his team, Pagano is more than a believer.
"These guys will respond. They always have," Pagano says.
"Call it whatever you want to call it, we need to play well and we need to win a game. There's nothing like winning. That cures a lot of ailments."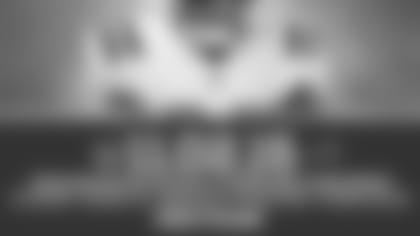 INTERESTING MATCHUPSPanthers running game versus the Colts defense:When Cam Newton falls on the schedule, opposing defensive coordinators do not sleep easy. Newton plays a part in the Panthers leading the league in rushing yards per game (144). Can the Colts prove last week's run defense was a fluke and get back to the improved unit we saw the first month and a half of the season?Colts running back Frank Gore versus the Panthers defensive front: After seven games this season, Gore is averaging 4.6 yards per carry. Yet, in the last two weeks, Gore has had just one carry in the fourth quarter. The Colts know they must stick with Gore, regardless of the score. Carolina has a tremendous defense, but does rank 18th against the run this season.Quick Facts
Monday's matchup pits the two oldest teams in the NFL from a roster standpoint: Colts (27.2 years), Panthers (26.9 years).
Since joining the Colts in 2014, safety Mike Adams is tied for the NFL lead with nine interceptions.
With another game of a 50.0 plus punting average, Pat McAfee will pass Rohn Stark for the most 50.0 plus punting average games in Colts history.
The Panthers have won an NFL-best 10 consecutive regular season games.
From 2011-2012, now Colts assistant Rob Chudzinski was the Panthers offensive coordinator for Cam Newton's first two seasons in the NFL.
Panthers cornerback Josh Norman leads the NFL in allowing a passer rating of 23.4 this season. Norman was the NFC Defensive Player of the Month back in September. NOTABLE QUOTES
Colts Head Coach Chuck Pagano
(on the play of the Colts defense this season):
"I think we've made progress in run defense. We let that thing get out last week on us a few times, which was uncharacteristic. We've been better as far as that goes. Regardless of what happens, our guys know and understand that we can't put our defense in that position. We all know that, but regardless of the situation, you've got to go out and you've got to force field goals. They did that, but when you have a penalty and you give them another opportunity, then you're just shooting yourself in the foot. We've got to better creating third-and-long. We know that. We've got to do a better job putting pressure on the quarterback, but that's two-fold with the ball coming out the way it's coming out. You've got to win on first and second down. Couple pick sixes, scoring defense, that's a positive."
Colts Head Coach Chuck Pagano
(on the difficulty of defending Panthers quarterback Cam Newton):
"His ability – the zone read option that they run. They do a great job with it. Coach (Mike) Shula does a great job with the offense. He's handing it, he's handing it, he's handing it and then if you're not disciplined – back in the day when I played, we faced Air Force Academy. It was quite some time ago. You guys can laugh. It was 1979. Play the triple option and you better be disciplined. Somebody has got to have the dive. Somebody has got to have the quarterback. Somebody has got the pitch. Most of the time when there's a quarterback and just one back in the backfield, you got two phases of the option to take care of. You've got the runner, and you've got the quarterback. There will be times where they'll bring a third element into the backfield. They'll bring a wide receiver back there. He'll end up being the pitch man in the option phase. You've got to deal with that. You've got to deal with him as a runner. You've got to deal with him as a thrower. He's got a really strong arm. He can make all the throws. When things breakdown, his ability to extend plays is outstanding. At 6-6, 255 pounds and running 4.4-4.5, the average man can't get him on the ground. It's going to take more than one guy. Then in the red area, they've got all the quarterback runs, quarterback sweep, quarterback power, quarterback draw. You've only got 11 guys. You put the eighth defender in the box and they can account for everybody if you hand the ball off. If you don't hand the ball off, now it's the quarterback, who's going to take the quarterback? It's going to take great discipline to take care of this guy in all phases of his game."
Colts Quarterback Andrew Luck
(on the responsibility he feels as the quarterback of this team to play well):
"The same responsibility I've always felt. I think any time the ball is entrusted in your hands you have a certain responsibility. I had a college coach who used to say, 'When you have that ball imagine every face of the guys on your team is on that ball.' It's sort of the team's ball and you're entrusted to take care of it in that sense. I've always taken my job seriously and the position seriously and that hasn't changed."
Panthers Head Coach Ron Rivera
"I've already told my guys this is a team that's got a lot of talent. You cannot take this team lightly just because they haven't had some breaks go their way. This is a well-coached team and I do mean that. I've watched the tape and just some unfortunate things happen. Sometimes the ball bounces a different way. Sometimes somebody makes a great play. You've got to give credit to the other team once in a while too. That's probably truth about them more so than anything else that they are getting everybody's best shot."
Panthers Head Coach Ron Rivera
(on the running ability of Andrew Luck):
"We kind of look at Andrew very similar to our guy. A terrific arm, makes great decisions and has the ability to run the football. You've got to play within your scheme, you have to play disciplined and you have to play with your eyes. Again, the guy has the ability to pull it down and run. There is some great tape on who he is as a football player."
Panthers Quarterback Cam Newton
(on the influence Colts assistant Rob Chudzinski had on Newton when Chud was the Panthers offensive coordinator from 2011-2012):
"Coach Chud was very influential in my development as a quarterback and still is. I still talk to him on and off when the time presents itself. I owe a lot of respect to him and I will always be grateful for a guy like Rob Chudzinski and the guys that gave an opportunity for me to come into this league and make the impact like I have. Any time I have an opportunity to thank those guys and prove that those guy's selection wasn't going in vain. I try to make the most of it."