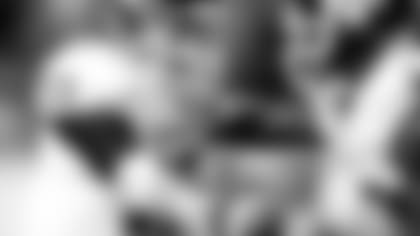 INDIANAPOLIS – Ryan Tannehill will be remembered in College Station, Texas for a football career that spanned 50 games.
After redshirting in 2007, Tannehill, 6-4, 222, competed for the starting quarterback position in 2008, but he ended up moving to wide receiver.
He played 13 more games as a receiver in 2009, while seeing action in three outings at quarterback.  Tannehill's 2010 junior season saw him shift to the starting quarterback spot for the final six games.  This past season, he opened all 13 games under center.
Tannehill's adventure in 2011 was excellent.
Tannehill completed 327-of-531 passes for 3,744 yards, with 29 touchdowns and 15 interceptions.  His levels of production if not record-setting were near record-setting.  Tannehill broke the school seasonal mark for completions, attempts and yards set by Jerrod Johnson in 2009.  Tannehill's touchdown total missed tying Johnson's mark by one, while his 4,050 yards of total offense fell shy of Johnson's standard of 4,085.  Tannehill had six 300 games and his second career 400 game in 2011.  He completed 25-of-37 passes for 415 yards and six touchdowns against Baylor to earn the Davey O'Brien National Quarterback-of-the-Week award.  His other 300 games came against Idaho (337), Oklahoma State (309), Missouri (317), Oklahoma (379) and Northwestern (329).  Tannehill had 80.8 completion percentages (21-26, twice) against Kansas and SMU for career-highs, along with a 71.4 percentage (25-35) against Arkansas.  He tied the school mark with 64 attempts against Oklahoma, while 35 completions against Missouri ranked third-best in school history.  Tannehill was a semifinalist for the O'Brien and Johnny Unitas Golden Arm Awards.
Since the season, he encountered a stress fracture in his right foot that caused him to miss the Senior Bowl and work at the Combine.  Tannehill feels good about how the injury is progressing.
"It happened on the second day down in Florida for me, right there in January," said Tannehill. "I was rolling out to my left, just a normal rollout quarterback drill.  Turned my shoulders to make the throw and felt a pop in my foot.  I probably had a stress fracture there that was kind of a ticking time bomb and just waiting for the right moment to pop.  So it was very frustrating the fact that it happened, but it was kind of a blessing in disguise at the same time, because I was able to get it fixed.
"The rehab on the foot is going good.  I'm a little over four weeks out of surgery right now.  It's feeling great.  The screw looks like it's healing great, ahead of schedule.  I'm really excited about where I'm at and we're to the point now where I can really start pushing it, really start working on my footwork, my running and get ready for my Pro Day (March 29)."
In six outings in 2010, he hit 152-of-234 passes for 1,638 yards, with 13 touchdowns and six interceptions.  Tannehill's 65.0 completion percentage set the school seasonal record, and he approached it again last year at 61.6 percent.  He had 449 passing yards against Texas Tech, with 36 completions in 50 attempts and four touchdowns.  Tannehill topped the 70.0 completion percent mark in three of the team's last seven games.  He won his first five starts at quarterback against teams with a cumulative record of 40-17 in games not involving Texas A&M.
For his career, Tannehill connected on 484-of-774 attempts for 5,450 yards, with 42 touchdowns and 20 interceptions.  He had 112 receptions for 1,596 yards and 10 touchdowns.  He had a career-high 55 receptions for 844 yards and five scores in 2008.  Tannehill is the only FBS player with a 400 passing game and a 200 receiving game (12-210 against Kansas State in 2008), and he is the only player to throw for 4,000 yards and gain more than 1,500 reception yards in a career.
Tannehill knows his career is unique in having played quarterback and receiver, and he expects questions about the extent of his career under center.
"That's definitely a legitimate question.  I did only start 20 games at quarterback.  It's a question that deservedly needs an answer," said Tannehill.  "I learned a lot in those 20 games.  I definitely have a lot to improve on.  But I didn't just play 20 games as a college athlete.  I was out there at receiver. …  I was getting to see the speed of the game, getting a feel for the game as well as going through all the practices as a quarterback."
Tannehill played under Mike Sherman at Texas A&M, and he knows his exposure to the offense will help in the NFL.
"It's always nice having a former NFL coach," he said about Sherman.  "My quarterback coach, Tom Rossley, was also a former NFL coach.  They had a lot of experience coaching NFL quarterbacks.  It was a blessing for me to be able to work with those guys, have them teach me for four years, basically my whole career.  It was great to have the experience of those guys teaching me and just their knowledge of the game.
"Coach Sherman runs a West Coast offense, kind of drop back passing, and well as moving the pocket.  I think that's a couple of things I do well is move and throw on the run.  He likes to move the pocket – bootlegs, nakeds, whatever it may be.  Get outside the pocket and make throws downfield. … We tweaked a little bit of the terminology to run an up-tempo offense.  All of our concepts originated from that. I definitely think it's going to be a help no matter what system I go in, having played for a coach who used an NFL system."
Tannehill earned a bachelor's degree in biology, and he has a career goal of becoming an orthopedic surgeon.  He attended Big Spring High School in Big Spring, Texas.
DRAFT NOTE:  The first overall pick in the NFL Draft has been a quarterback in eight of the past 10 years.  Here is a list of the top two quarterbacks taken since 2002:
Year    Names (team, overall choice)
2002     David Carr (Houston, first); Joey Harrington (Detroit, third)
2003     Carson Palmer (Cincinnati, first); Byron Leftwich (Jacksonville, seventh)
2004     Eli Manning (San Diego, first); Philip Rivers (New York Giants, fourth)
2005     Alex Smith (San Francisco, first); Aaron Rodgers (Green Bay, 24th)
2006     Vince Young (Tennessee, third); Matt Leinart (Arizona, 10th)
2007     JaMarcus Russell (Oakland, first); Brady Quinn (Cleveland, 22nd)
2008     Matt Ryan (Atlanta, third); Joe Flacco (Baltimore, 18th)
2009     Matthew Stafford (Detroit, first); Mark Sanchez (New York Jets, fifth)
2010     Sam Bradford (St. Louis, first); Tim Tebow (Denver, 25th)
2011     Cam Newton (Carolina, first); Jake Locker (Tennessee, eighth)