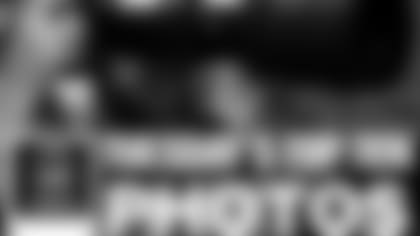 ](http://www.colts.com/media-center/photos/tuesday-top-ten.html)[ ](http://www.careyindiana.com)
Today's Top 10 photo gallery highlights some of my favorite images for our first pre-season game against the Bills.
It was great feeling to be back in Lucas Oil Stadium with the start of the 2013 pre-season! After spending the last two weeks shooting at training camp in Anderson, it was good to see our guys hitting someone else.  Shooting a pre-season game is a little different then the regular season due to the number of players on and off the field.  Other then the standard game action shots, a lot of my time game day is spent looking for that candid moment on the sidelne.  With 90 players on the roster, the sideline is extremely crowded and makes my job a little more challenging.
Some of the images in this gallery were shot during the player warm up period before the start of the game.  This gives me a chance to get great access to the players and try shooting some really cool camera angles.  With the LOS roof open, it just adds to the dramatic effect of the camera angle and makes for some fun images!
I mixed some of these pre-game creative images with some game action to give you a look through my lens on game day!