When Bryce Clausen was born in January of 2018, he spent some time in the neonatal intensive care unit because his lungs weren't fully functioning. But after 15 days, his parents were able to bring him home to meet his big brother, Levi.
"He got out and he was great. It was amazing. He was starting to do some of the stuff we knew he was supposed to do," said his dad, Joel. "And then, almost overnight - he just became very, very irritable. Almost every waking moment, he was crying."
At first, Joel and his wife, Andrea, thought it was colic. They talked to their pediatrician, who recommended they try a few different things. When nothing worked, they continued to make appointments and ask questions.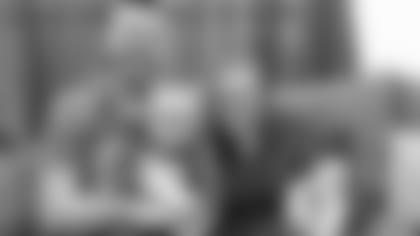 "It took about three-and-a-half months before we realized something was really wrong and we said, 'Alright, enough is enough of this little stuff. Let's get an MRI, let's get some bloodwork, let's get some stuff going.'"
At nine months old, they finally got their answer. But it wasn't the one they were hoping for.
"We were welcomed, quite reluctantly, into the Krabbe family," Clausen said. "The disease eats the lining of his nervous system. It starts at the brain stem and that controls pretty much everything down to your toes. The worst thing is, we know he's dying and we just don't know how long we have. It's pretty tough."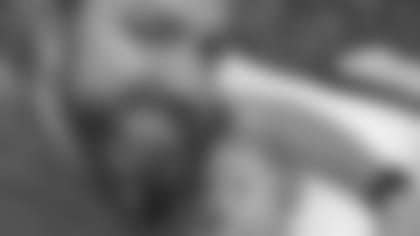 Krabbe disease is a rare neurological condition that starts showing symptoms by six months old - and often results in death by two years old. For Clausen, his family, and every other family affected - it's a nightmare diagnosis.
"I'm waiting for the one person who knows what to say or I find one time that I know what to say," he said. "Because you don't know what to say and you don't know what to do."
What the Clausens decided to do was make a difference.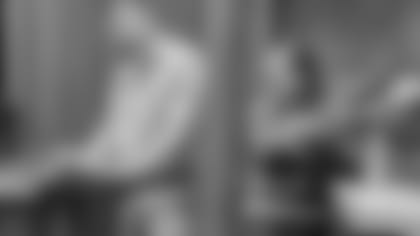 There is no cure for Krabbe disease, but doctors have found success using stem cell transplants to treat babies diagnosed before their symptoms appear. The Clausens launched a campaign to add Krabbe disease to the Indiana newborn screening panel. Senate Bill 41, also known as Bryce's Bill, passed through the Indiana House Ways and Means Committee 23-0 on Wednesday and goes in front of the full House on Tuesday.
"We cannot do anything for Bryce and that just tears me apart because I want so badly to fix my son. I want to help him, but I can't," Clausen said. "What we're going through, no one should ever go through."
In the meantime, they know time is everything. So, they set out to create a lifetime of memories with their son. They put together a list of things they wanted to do as a family - and started checking them off one by one.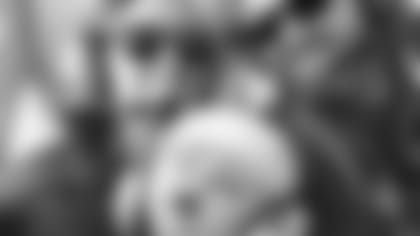 "We have what we call a greatest hits list. We refuse to call it a bucket list. I'm 38 years old and I've lived a pretty full life. I've jumped out of an airplane, things that are on other people's bucket lists," Clausen said. "Bryce just hasn't had a chance to live a full life, so we're trying to get stuff that my wife and I enjoy that we feel like we would have wanted to do with our son growing up - and that includes sports."
On November 25th, the Clausen family was on the field at Lucas Oil Stadium before the Colts game against the Miami Dolphins. Guests of the team, they had a chance to meet General Manager Chris Ballard and his wife, Kristin.
"He told me their story and the circumstances surrounding it and what they plan to do going forward and making memories with his son," Ballard said. "I remember walking into the locker room with tears running down my face just thinking about all they're going through and how they're handling it."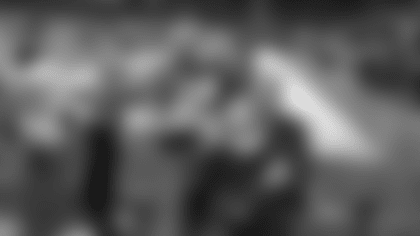 It's a reminder that when you take everything else away, sports really is about bringing people together.
"We're all emotional and passionate about the result of the game, but it's during that three or four hour period together that we create lasting memories," said Ballard. "You have the ability to touch lives because of our platform. Our owner is big into that and we want to continue to do that."
Coach Frank Reich has seen firsthand the pain and suffering caused by Krabbe. His former Buffalo Bills teammate, Jim Kelly, lost his son, Hunter, to the disease and started a foundation, Hunter's Hope, to raise awareness and support other families affected by Krabbe Disease.
In a letter he wrote to legislators on behalf of the Clausen family, Reich said, "Hunter suffered every day of his life… I urge you to do everything in your power to ensure that Indiana's babies have the chance at life that they deserve."
Every parent has hopes and dreams for their child. But the parents of a child with a terminal disease hold those dreams a little closer.
"Bryce's short life has got to mean something," said Clausen. "I would love for one person to reach out to us and say, 'Because of you, this.' That will probably be long after Bryce is gone, unfortunately. I don't know if that would make me cry because I was happy or sad, but that will be Bryce's legacy and that is what we're doing."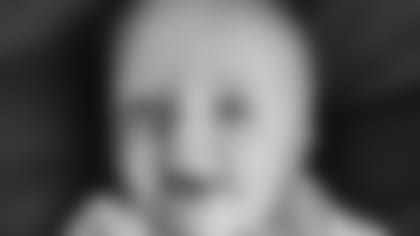 And they're doing it with the full support of the Indianapolis Colts, who are firmly behind them.
"We are. Without question, we are," said Ballard. "The ability to affect future lives and what the Clausen family is doing is going to leave a lasting, lasting memory of their son."
To help the Clausen family support Bryce's legacy, click here.