 ](http://www.indianacarey.com)
INDIANAPOLIS— When Lawrence Sidbury was signed by the Indianapolis Colts on March 13, the five-year pro wasted no time making an impact on his new city.
Sidbury let Colts Director of Player Engagement David Thornton know that he was looking to either start a foundation or partner with one in the local community.
After getting in contact with the Colts community relations department, Sidbury was on his way to setting up an event that culminated on Tuesday night.
Sidbury welcomed the Big Brothers Big Sisters organization to Latitude 39 for a night of bowling, food and drink with his Colts teammates.
There was also an auction that raised $5,850 for Big Brothers Big Sisters, an organization that is close to Sidbury's heart
"Once I decided that I wanted to partner with a foundation, I sat back and thought what I was passionate about it. I've always been the type of person since high school that has worked in mentoring groups and talking with younger people and now I go back to talk to schools," Sidbury said on Tuesday night.
"This organization is the embodiment of what I just said. They are helping out young kids who might be at risk. This organization has been around before I was born and will be around after all of us die."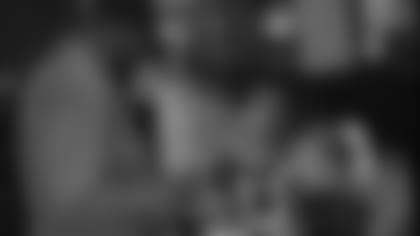 Tuesday's auction included signed balls and gloves from many Colts players along with game worn cleats by Andrew Luck and Trent Richardson.
For Darcey Palmer-Shultz, Chief Executive Officer of Big Brothers Big Sisters, she was more than happy to work with Sidbury when hearing about his willingness to help the foundation.
"Lawrence really just wanted to help out our agency here because he felt strongly about our mission and the kids we are trying to serve," Palmer-Shultz said on Tuesday. "He wanted to do what he could to help us raise awareness, funds, more volunteers and bring people out to try and learn more about the agency."
Palmer-Shultz noted that the organization has over 500 youth (mostly boys) waiting to be matched with Bigs.
It's events like Tuesday night, and people like Sidbury, that can go a long way in changing lives for kids around the Indianapolis area.
"This is wonderful for the agency," Palmer-Shultz said looking over the bowling lanes.
"We work really hard to serve many kids in Indiana but there are many kids that we haven't gotten to yet. It's been really helpful to us to work with people like Lawrence, who can engage more people in our work because of their reach. So we appreciate that."