 ](http://careyindiana.com)
INDIANAPOLIS – Ryan Grigson's personnel knack dates back to when he was trying to make Cincinnati as a rookie offensive lineman drafted in the fifth round in 1995.
An accomplished player at Purdue, Grigson also had a flair for being a "draftnik" – meaning he made it his business to know players and their backgrounds.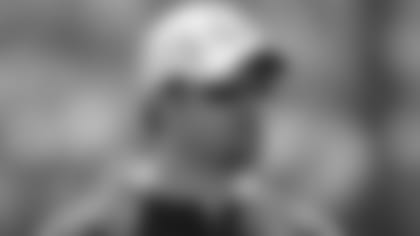 Grigson started his personnel career three years later and rose through the ranks with St. Louis and Philadelphia before inheriting the top personnel chair in Indianapolis in 2012.
Today, Grigson will start building his third draft class and when he does, it will be the culmination of an effort that includes his entire staff.
"We have so many good football minds in this building," said Grigson.  "A lot goes into making a pick.  Why have those people around me if I don't include them on the decision?  I like having these people to bounce things off of.
"A lot of times, I already have things set in my mind.  I'll talk to them and maybe pose a question a certain way and they can influence my thought process because they can see something in a different light than I did.  I can add another piece to it – their football knowledge, wisdom and acumen.  I really am inclusive of so many people in this process."
Grigson was bold in his convictions early in his career with St. Louis, earning praise from the organization for his backbone in proposing the signing of a player off the beaten path – UMass linebacker Kole Ayi – who went on to play in the league.
Grigson still has that passion to kick rocks and shake bushes to land talent.  It is something he does not want to lose.  To that end, he challenges his staff.
"The other day, I had all the area scouts in," said Grigson.  "I wanted them to tell me, 'Regardless of round, give me one player you want in this draft.  I don't care if it's the seventh (round), the second, who do you have to have?  Just one.'
"It's neat when you get those names because a lot of the same names keep coming up in conversations."
Grigson shows support and respect for his staff.  His staff and that of Chuck Pagano stock the shelves with players, but only with ones that fit the specifications of culture and the club's motto of 'Trust, Loyalty and Respect.'
"Everyone who has been here knows what we're trying to accomplish," said Grigson.  "Everyone has a feel for what type of building this is.
"I love that consensus because I feel everyone is on the same page on where we're going, what we're looking for and what we're trying to get to get us to that ultimate goal."
2014 FIRST-ROUND NOTES:  The first round lasts 3 hours, 39 minutes…14 of the 98 underclassmen in the draft were taken in the round, including the top four choices (Jadeveon Clowney, Greg Robinson, Blake Bortles, Sammy Watkins…18 defensive players were taken in the first 32 choices…11 players from the SEC were taken, including three from Texas A&M, while four SEC players went in the top seven spots…the ACC had the second-most (5) players taken…Louisville joined Texas A&M with three players taken in the first round…nine defensive backs went off the board (six in the last 12 slots) in a draft where Ryan Grigson hoped there would be an early run on QBs taken (3 were tabbed)…five WRs and LBs were chosen, while four offensive tackles were taken…there were 12 trades in the first round, underscoring what Grigson said prior to the first round would happen, given the nature of NFL GMs, "They have ants in their pants.  They want to win a Super Bowl just like we do.  They're going to do whatever they can.  If they have somebody within striking distance they feel is a difference-maker, that can change everything, help them get that much closer to the Lombardi (Trophy), somebody that can help them put their kids through high school wherever they're at, there's a lot that goes into play.  To get a true difference-maker, guys are willing to give up a lot.  Even the biggest tightwads out there that are GMs, they're willing to (deal).  That's when they get loose – when they know they can get a player that is a big difference-maker."
"I've been dreaming about this my whole life.  (Texans coach) Bill O'Brien said, 'I'm sticking my next out for you.  You've got to stick your neck out for me.'  I'm here to prove a lot of people wrong.  A lot of people have been doubting me." – DE-Jadeveon Clowney, Houston, first overall pick.
"I would have no problem with it, but I would go into practice every day and prepare every day like I'm a starter.  I think that's the kind of mindset you've got to have when you're in that position.  But I would have no problem (sitting behind veteran Chad Henne) and taking a full year to learn and soak up as much information as I can." – QB-Blake Bortles, Jacksonville, third overall pick.
"I try to put guys in the dirt every time.  I don't care if it is (Jadeveon) Clowney or some slappy on third team off a random team." – OT-Taylor Lewan, Tennessee, 11th overall pick.